Dean Joseph Schofer and Bob Yamada on the Infrastructure Show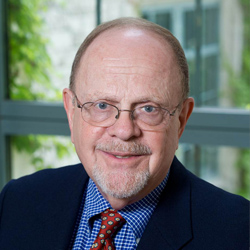 Professor Joseph Schofer hosts a podcast – the Infrastructure Show – on which he interviews experts on many aspects of civil infrastructure systems to inform listeners about U.S. infrastructure, how things work, important new developments, problems and policies. In a recently posted interview, Schofer talks with Bob Yamada, Director of Water Resources for the San Diego County Water Authority.  They focus about the mix of strategies adopted to meet the growing needs of the authority's customers, and the new Carlsbad Desalination plant. This advanced technology reverse osmosis facility was built, financed, and will be operated through a public-private partnership under a water purchase agreement to serve the region for the next three decades.  This interview is the second of a series in which Professor Schofer explores the Water for Life: The Quest for Quantity, Quality, Efficiency, and Equity.
Schofer has been hosting the Infrastructure Show since 2009 and has posted nearly 70 interviews covering a wide range of infrastructure topics.
Listen to the second installment now