Ph.D. Candidate Accepted into First Cohort of Geothermal Interns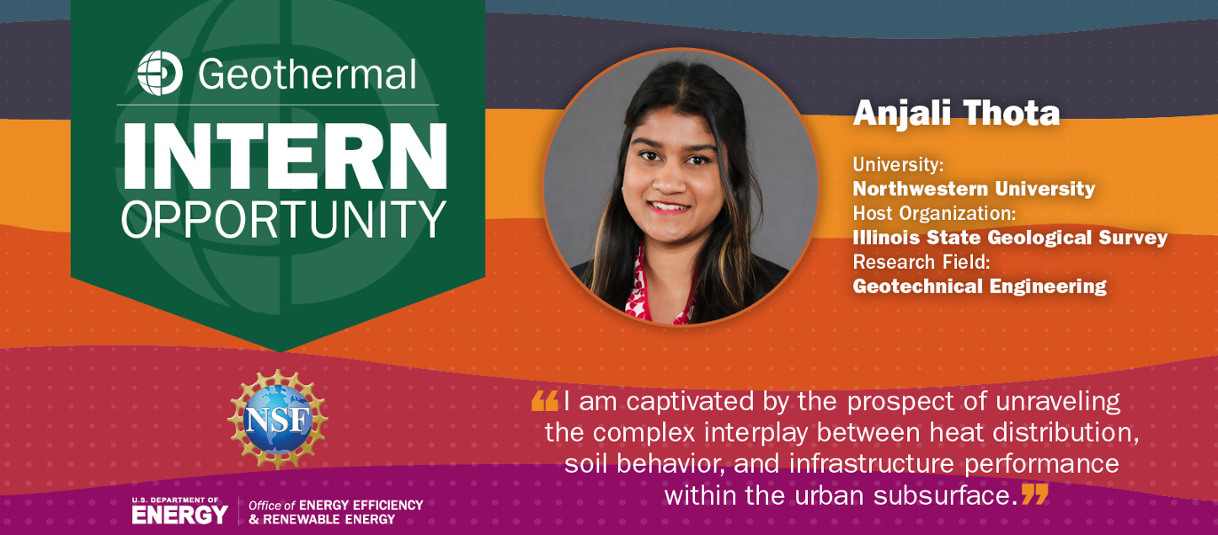 Ph.D. candidate Anjali Thota has been selected to participate in the first cohort of geothermal interns in the NSF INTERN program. This program is made possible through a partnership between the Department of Energy (DOE) and the National Science Foundation (NSF).  
As part of the program, Thota will work on a collaborative project with the Illinois State Geological Survey. The internship started on August 1st and will conclude on December 31st, 2023.   
"I plan to develop a model of the subsurface of the Chicago Loop district using the large dataset available from ISGS," Thota said. "As part of this project, I will also engage in fieldwork with ISGS to collect and test soil samples with the ultimate aim of quantifying waste heat emissions and the geothermal potential of the City of Chicago." 
Work conducted under this new internship program will support the goals of DOE's Enhanced Geothermal Shot™, which aims to bring enhanced geothermal systems (EGS) to Americans nationwide and reduce the cost of EGS by 90% by 2035.   
Established in 2017, the NSF INTERN program provides non-academic research internships for close to 300 graduate students per year. These internships can be up to six-months long and provide graduate students with the opportunity to acquire core professional competencies and skills in a wide range of sectors in the U.S. economy. The NSF INTERN program encourages the participation of graduate students from groups that are underrepresented in science, technology, engineering, and mathematics. With joint support from DOE and NSF, the Geothermal INTERN opportunity is expected to support up to 20 students in fiscal year 2024.   
More information about the Geothermal INTERN opportunity is available on GTO's INTERN webpage and on NSF's website.