Seniors Conclude Spring Quarter By Completing Final Capstone Design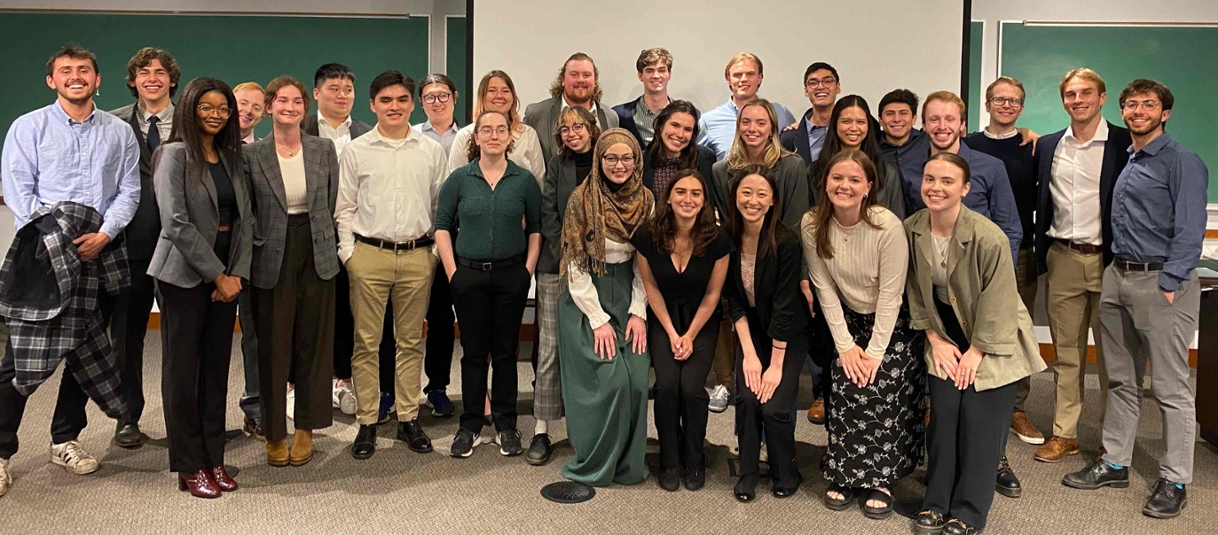 The capstone design class is an essential part of every student's civil or environmental engineering major. For two quarters, students work together on a hypothetical, Evanston-based, urban redevelopment project where each team produces a design related to their specific technical area.  
This year's capstone–Design of Sustainable Urban Developments–was co-taught by Kimberly Gray and Elisa Borowski and was assisted by Heather Nielsen who is working towards her Ph.D. in environmental engineering.  
"I'd like to think students take [this course] because it presents them with a unique opportunity to bring together all the engineering skills they have acquired and apply them in a professional-quality design project," said Elisa Borowski.  
"The reality, however, is that the course is required. Yet, we wanted to make the design experience as meaningful as possible, asking them to think creatively and innovatively," said Kimberly Gray.   
To encourage professional development, the instructors work in conjunction with the Chicago architectural design and urban planning firm Perkins & Will. This year, Neil Reindel and Tom Mozina provided students with realistic advice and critique of their projects.  
"We get a lot of joy working with students at this scale by teaching them the complexities of the systems that make urban spaces successful," said Neil Reindel. "The process is normally a slow burn, especially from a design perspective, but by the end, we can instill in students the importance of what it takes to make buildings, landscape, transportation, and systems integration work together into a successful neighborhood."  
The professional experience that the students develop in the classroom often helps them secure employment after graduating, Reindel said.  
"We have had several positive experiences with the students over the years and still stay connected with many of them as they have moved on to the next stages of life post-graduation," he said. "I think it's safe to say that Northwestern attracts some of the best students from across the country, and although our course material may be outside [some students'] primary area of focus, we have consistently been impressed with the level of participation, engagement, and genuine interest in the material." 
In facilitating the course, Borowski's goals were to provide students with everything they needed to thrive inside and outside the classroom.  
"My primary goals were to connect students with resources to assist them in arriving at their own solutions to complex engineering problems, support them through interpersonal challenges of team-based collaboration, and motivate them to push the limits of their knowledge and creativity," she said. 
In December, Borowski graduated with her doctoral degree in civil & environmental engineering from Northwestern. Her dissertation was entitled, "Accessing Crowdsourced, Social, and Shared Resources: Behavioral Research for Disruption Mobility." She says that her background in transportation engineering, structural and materials engineering, and English inspired her unique approach to teaching this course.  
"Drawing from my background, I also emphasized social equity and technical writing skills more so than had been done in previous years," she said. "This year's seniors rose to the challenge of highlighting social equity in every technical area of their project. By the end of the quarter, the camaraderie and support within and across teams was exceptional."  
This year's design capstone was called Viridian Park; the goal of designing this park was to create a sustainable and decarbonized community in Evanston. To do this, students formed teams where they designed their project in the fall and then created a comprehensive technical presentation of the design in the spring.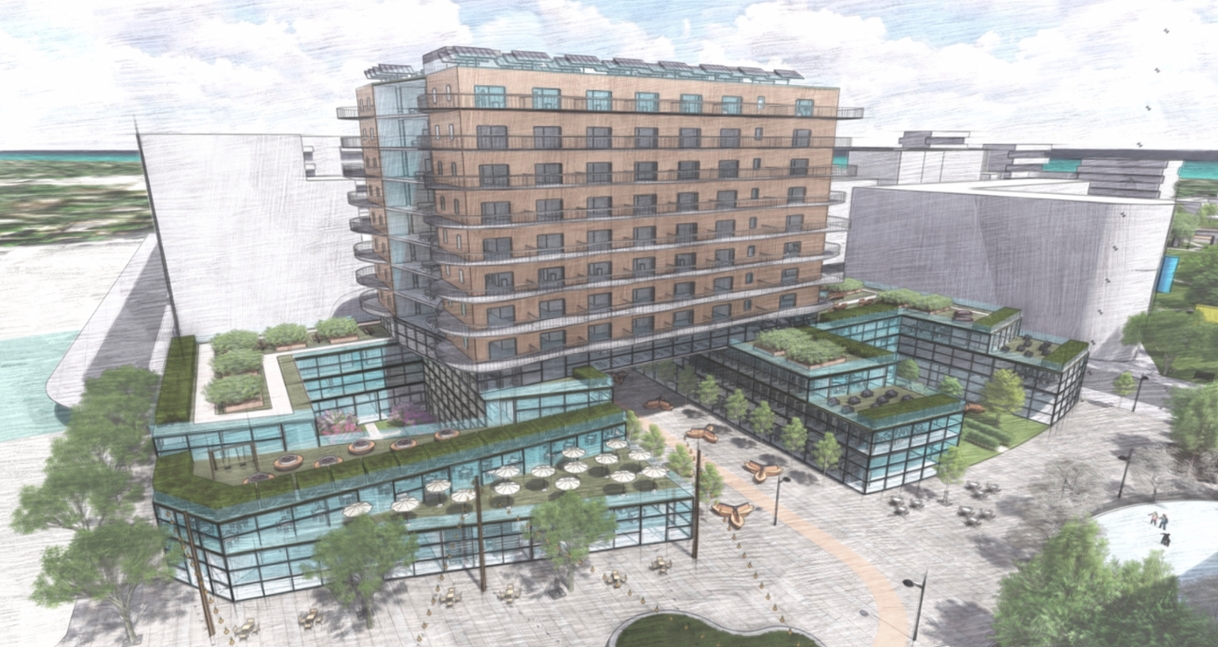 The "Gateway Green," a mixed-use community center, as rendered by Jose Marquez. The entire team worked on elements of the design. 
For this capstone, students form teams where they design their project in the fall and then create a comprehensive technical presentation of the design in the spring.  
Tom Mozina said that this course can be a student's first exposure to architectural design and urban planning.  
"The structure of capstone really does reflect the real world by bringing together the various disciplines into one holistic collaborative team," he said. "We find the comprehensive presentations at the end of the year very rewarding." 
Since completing the course, many in the class of 2023 have also felt their experience to be extremely rewarding. 
MaryKate Anderson, a senior double majoring in environmental engineering and economics, worked on the Green Infrastructure Team responsible for designing a comprehensive green infrastructure system for the class's site.  
"This consisted mostly of designing a natural stormwater management network to treat urban runoff," she said. "However, my role in the team was the 'Biodiversity Manager,' meaning I was focused mostly on bolstering many of the site's ecological systems while also introducing significant biodiversity development. I designed a restoration plan for the North Shore Channel to make it a more ecologically valuable and stable water body, planned for several pockets of protected habitat throughout the site, and developed plans for native vegetation for the project."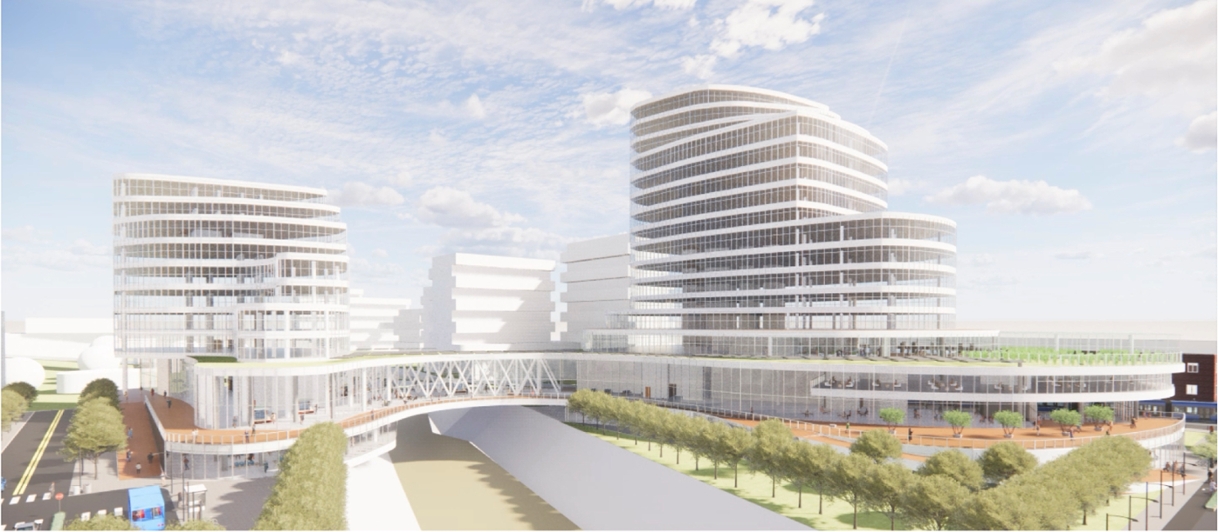 "NeighborLink Transit Hub," as rendered by Grace Hochberg for Viridian Park. 
Anderson felt that the course brought together aspects of both her environmental engineering and economics degrees.  
Evains Francois, a senior majoring in civil engineering, was also on the Green Infrastructure Team as the 'Conveyance Manager.' 
"Conveyance is essentially how we will move stormwater throughout the site," he said. "As rain falls during storm events, water begins to run off the ground surface, especially in a region such as Chicago where the soils have poor infiltration. My job as the conveyance lead was to find an efficient way to move water to its destination at a large sedimentation basin in the corner of the site."  
For his part of the project, Francois designed a bioswale network. Bioswales are shallow, vegetated trenches that collect stormwater and convey it in any given direction.  
"I decided to use bioswales as the main form of conveyance because they are green, adaptable, and effective at moving stormwater," he said. "Bioswales are known to be the best management practice for green infrastructure because they provide treatment and storage benefits along with their main job of conveyance. For this project, I had to design the bioswale network for the entire site and verify that the system can withstand the demand of a 100-year, 24-hour storm." 
Senior Jose Marquez, who majored in civil engineering and economics, was part of the second Building Design Team.  
"Our design project was to design a mixed-used building that contained commercial, residential, and library programming," he said.  
Christian Johnston, a senior environmental engineering major with a minor in business institutions, was part of the Site Planning and Design Team.  
"The Site Planning and Design Team coordinated the entire masterplan for the site and its sustainability, cost, and construction management. My role was in cost and construction management specifically."  
Overall, Johnston felt that the course was intense but "provided great practice in working on a large team and experiencing all of the coordination and communication that goes into it."  
Learning how to work as a part of a team is just as important as the work the students individually put into their projects, Mozina said.  
"What we have come to realize historically is that most progress and innovation is usually the result of a dedicated team working together and challenging each other in a true collaborative spirit," he said. "Our students are exposed to the art of negotiation and learn how to merge their ideas with those of their colleagues or through persuasive and thoughtful storytelling to convince their teammates that theirs was the strongest direction to rally behind. These are important real-world skills that will serve the students well, regardless of where their career will take them." 
Through Perkins & Will's involvement, students learn to find a balance between design and technical thinking.  
"Through our lessons, we aim to teach students within the program how to marry technical delivery and design thinking into an integrated process. Finding that balance and helping shape a process of creative problem solving will not only set these students apart from competitors but give them the tools to challenge the many roads that lie ahead as they evolve into valuable future practitioners." 
This, said Reindel, prepares students to be better citizens of the world.  
"Helping them recognize the good they are capable of within their communities and the impacts they can have has always been our biggest driver."