Stefanie Huttelmaier Awarded NSF Graduate Research Fellowship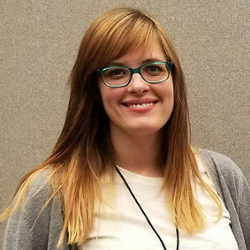 Second-year Environmental Engineering and Science PhD student Stefanie Huttelmaier was awarded a prestigious National Science Foundation Graduate Research Fellowship in the 2021 application cycle. Stefanie is co-advised by Professors Erica Hartmann and George Wells. She received her B.A. with a double major in Biology and Environmental Sciences at Carthage College. Her research proposal for the NSF GRFP leverages her biological and environmental training by using bacteriophage as process control for biological nitrogen removal in wastewater treatment systems. 
Biological wastewater treatment, a process that relies heavily on microbial activity, is essential for protecting public health. However, traditional wastewater treatment plants are energy intensive, accounting for 3% of energy consumed in the US annually. About half of this energy goes towards aeration, which provides oxygen for the aerobic consumption of contaminants in wastewater influent, like reactive nitrogen species. There are several shortcut nitrogen removal processes of interest to wastewater engineers that rely on the outselection of certain microbes, like Nitrite Oxidizing Bacteria (NOB), in favor of a more efficient community. This is where bacteriophages come in! Through a suite of bioinformatic and lab-based techniques, Stefanie aims to characterize phage ecology in biological nitrogen removal systems, isolate bacteriophage that target NOB, and test the potential for phage to control NOB in a bench scale reactor. To kick off the project, Stefanie is working on a meta-analysis of metagenomic data from several types of biological nitrogen removal systems. From this study, she hopes to better understand the diversity of bacteriophage within these systems, as well as establish a link from phage to NOB hosts. 
The NSF GRFP is a highly competitive award, which provides support, including 3 years of funding, for students entering or enrolled in research-based graduate programs. The program receives around 13,000 applications every year and makes only 2,000 fellowship offers. The GRFP is a critical program in NSF's overall strategy to develop a globally engaged workforce necessary to ensure the nation's leadership in advancing science and engineering research and innovation.