Prof. Erica Hartmann Receives NSF CAREER Award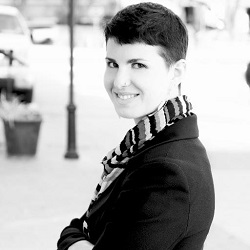 Professor Erica Hartmann has received a CAREER Award from the National Science Foundation, which provides $500,000 to support Hartmann's research and educational activity over the next 5 years. Hartmann, whose project is entitled "Redefining 'antimicrobial' in the context of microbe-chemical interactions indoors," will investigate the impacts of antimicrobial chemicals on actual indoor microbes to understand how chemicals and indoor microbes interact. She will accomplish this by looking at where microbe-chemical encounters happen, as well as what happens to the microbes that survive these encounters. The results will profoundly change the way we design and maintain indoor environments. Her research will maintain a tightly integrated outreach component to engage design professions and the public about building materials, chemicals, and indoor microbes.
The National Science Foundation CAREER awards are awarded in support of junior faculty who exemplify the role of teacher-scholars through research, education, and the integration of education and research within the context of the mission of their organizations. Such awards come with a federal grant for research and education activities for five consecutive years.
To read the full abstract, click here.
To see the details of his award, click here.