Art Through Architecture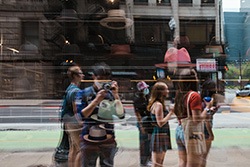 In the course Structural Art (CIV_ENV 220 in Spring quarter), CEE students explore the history of structural design and learn how the best examples of structures can be evaluated by their social, scientific, and symbolic impacts, and seen in the creativity designers use in the resolution of forces. There are few better places to experience, in person, these impacts than in downtown Chicago. Although CIV_ENV 220 was taught remotely for the past two spring quarters, this spring the pandemic eased enough such that an in-person field trip to downtown Chicago was possible. 
During the field trip, Professor David Corr led the class past buildings spanning over a century of structural design, starting with the Monadnock and Rookery buildings from the 1890s, the Sears Tower from 1973, and ending on the Chicago River and multiple modern-era skyscrapers, including 401 N. Wabash from 2008. Civil Engineering sophomore Joshua Jung chronicled his experience on this field trip, collecting high quality video and photographs, which he assembled into a video attached below. Experience the field trip yourself through Joshua's amazing experiential style of videography. Congratulations to Joshua!