Akono Awarded NIH Grant to Investigate Novel Patient-Specific Bone Scaffolds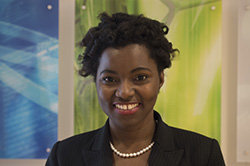 Prof. Ange-Therese Akono was awarded an NIH grant to investigate a new breed of bone scaffolds for regenerative engineering by the National Center for Advancing Translational Sciences. Dr. Akono will study remedial solutions for bone trauma, a subset of musculoskeletal diseases, which affect 1 in 2 adults in the United States and result in an annual loss of 5% of the Nation Gross Domestic Product in both direct and indirect costs.
Musculoskeletal trauma creates a major challenge for restoring full function and appearance. The problem is crucial for patients who have endured massive injuries as well as for elders following an osteoporosis-induced hip fracture. Dr. Akono's research will provide advanced clinical solutions to reduce the current reliance on titanium-based, polymer-based, and ceramic-based orthopaedic implants, which often result in complications such as infection or bone degeneration due to a mismatch in both geometry and physical properties between the implant and the surrounding natural bone structure.
The $400k award will empower Dr. Akono to discover novel functionally-graded materials for tissue regenerative engineering that are patient-specific, can mitigate bone loss, and promote bone proliferation around the host bone structure. The grant will provide didactic training and career development opportunities in the areas of stem cell engineering, developmental biology, physical sciences, and materials science. The research findings will translate recent advances in materials science and materials design to provide crucial relief to cancer survivors, war veterans, osteoporosis patients, and gunshot victims. Throughout her research work, Dr. Akono will receive the full support and mentoring of the Northwestern University Clinical and Translational Science Institute, see here.
To read the full article on NUCATS, click here.