AE&D Student Trip to Stuttgart
Nine Northwestern University's Civil and Environmental Engineering (CEE) students, accompanied by Professors David Corr and Scott Cyphers, visited ILEK (the Institute for Lightweight Structures and Conceptual Design) at the University of Stuttgart this past September. The students were part of CEE's Architectural Engineering and Design (AE&D) program that encourages engineering students to use both artistry and technicality to create solutions for sustainable societies. Northwestern and Stuttgart have alternated visits for the past three years, and the AE&D students were excited to be back in Germany.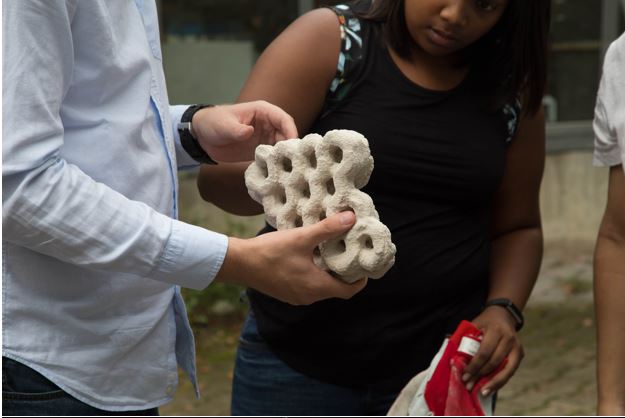 The NU students were invited to participate in an intensive one-week workshop on 3D hydroplotting of concrete formwork. This unique subject allowed students to exercise skills in conceptual design, 3D modeling, and experimental research, and explored multiple important topics like the limits of the use of concrete as a building material, concrete surface characteristics than can be achieved with unique processing, and the importance of rheological properties of fresh concrete. In designing formwork, the design challenge is to visualize how complex geometries become the negative space of the finished product. The students used 3D modeling programs Rhinoceros and Grasshopper to program a Computer Numerical Control (CNC) machine fitted with a water jet. The CNC machine traversed a bed of dry sand and cellulose binder, forming a train of damp sand that realizes the students design.  Following this hydroplotting procedure, the sand was dried to harden the binder, forming a rigid formwork into which a self-consolidating concrete mixture was poured.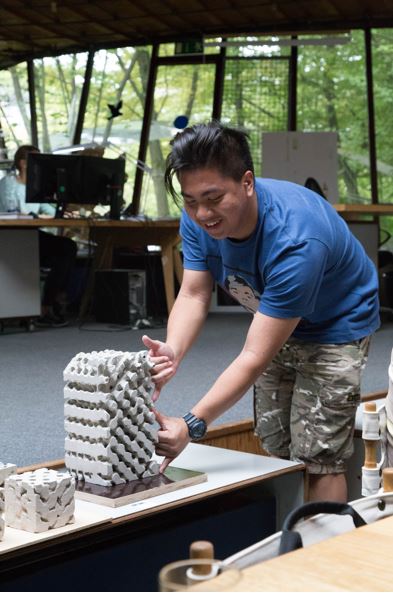 Aided by ILEK researcher Daria Kovaleva and architecture students from the University of Stuttgart, three groups of three AE&D students each pursued their own creative approach to the design challenge. One group designed a hexagonal pattern, the second group conducted a more organic design influenced by the human vertebrae, and the last group investigated moiré patterns of intersecting waves. After a week of design iteration and prototyping, the three groups completed their final designs and made presentations of the fished products to a jury comprised of both Northwestern and ILEK professors.
While the students were working hard on their projects, they also spent time exploring the beautiful city of Stuttgart. They were able to visit House B10, a zero-energy house designed by Werner Sobek, the director of ILEK. House B10 is a model home with active control of engineering systems, and which generates all its own energy, including the energy to charge electric vehicles used by the occupants. The students also visited the Mercedes-Benz Museum (also Sobek-designed) where they learned about the evolution of the automobile industry from 1886 to current day.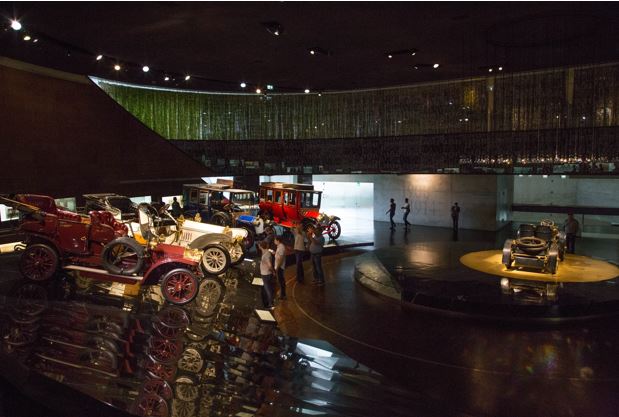 Northwestern University is proud to provide these enriching experiences for the students of AE&D. The exchange programs allow our students to step outside their comfort zones and participate in a global community of architects and engineers. The week in Stuttgart was short, but the knowledge gained and relationships formed from this trip will help these students with their engineering careers for the future to come.