Dean Joseph Schofer and Robert Glennon on the Infrastructure Show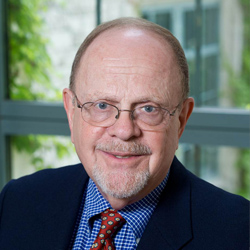 Professor Joseph Schofer hosts a podcast – the Infrastructure Show – on which he interviews experts on many aspects of civil infrastructure systems to inform listeners about U.S. infrastructure, how things work, important new developments, problems and policies. In a recently posted interview, Schofer talks with Robert Glennon, Regents' Professor and Morris K. Udall Professor of Law & Public Policy at the University of Arizona, author of Unquenchable: America's Water Crisis and What to Do About It, about using a scarce resource wisely.  They focus on the tradeoffs between competing demands for water, the conflicts in allocation, and strategies for both conserving and sharing scarce water more effectively.  This interview is the first of a series in which Professor Schofer explores the Water for Life: The Quest for Quantity, Quality, Efficiency, and Equity.
Schofer has been hosting the Infrastructure Show since 2009 and has posted nearly 70 interviews covering a wide range of infrastructure topics.
Listen to the first installment now