Adrienne Masterton (CE 2012) Builds Community Library in Ghana
NU alumna Adrienne Masterton (Civil Engineering 2012) is halfway through her Peace Corps service in Ghana's arid Northern Region, and is seeking support on her most recent and vital project yet - a small community library.
As an engineer she has long valued the art of problem solving, a skill that is severely limited by the high illiteracy rates in her community in the Karaga District. By creating a library she hopes to give both kids and adults the resources to inspire reading and learning. The library will include hundreds of donated books and a computer for access to additional reading materials and learning opportunities.
If you would like to help Masterton and her community construct a space dedicated to learning, self-improvement, and capacity building, please visit the secure crowd funding site provided by the Peace Corps. One hundred percent of your donation goes directly to the purchase of construction materials and skilled labor, and the website provides a receipt for tax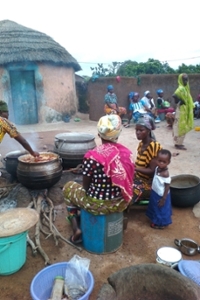 purposes.
Masterton and her community are grateful for all the support they have received and extend their warmest regards to everyone for their donations and positive thoughts. If you have any questions or want to learn more you can email Masterton.