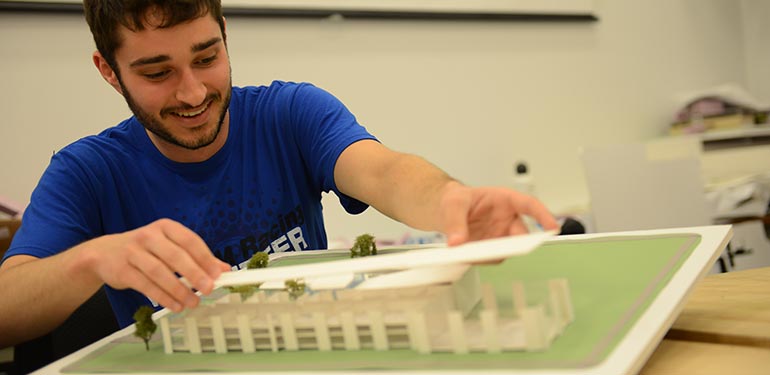 Academics

  /  

Architectural Engineering & Design Minor

Curriculum & Requirements
Jump to a Section
Required Courses
Students who wish to earn and complete the Architectural Engineering and Design Minor are required to take eight courses in total.
AED Seminar -- 1 required unit 
The AED seminar, spanning over the Fall, Winter, and Spring Quarters (280-1,2,3), includes lectures from architects, engineers, and construction managers from renowned firms in the Chicago area and beyond, focusing on the large topic of sustainability in the built environment. In the Winter and Spring Quarters, students conduct independent research on a topic of their choice related to sustainability, which they present in the last class of the Spring quarter. Students are required to create and print a summary booklet of their research to distribute to the audience. Students will work with a faculty adviser on their research. The combination of the lectures and student work over the three quarters accounts for a total of 1 unit (0.33 units per quarter). The AED seminar is intended as a sequence and should be taken sequentially. It is strongly suggested to take the sequence in the senior year.
Core Studio Courses –– 3 required units
Students must attend the three design studio courses: 
The Design Studio courses are intended as a sequence and must be taken as such. It is strongly suggested to attend the sequence in the junior year.
Architecture History Courses –– Choose 1 unit
CIV_ENV 220 – Structural Art
ART_HIST 232 – Introduction to the History of Architecture and Design, 1400 to Present
ART_HIST 370-1 – Modern Architecture survey
ART_HIST 370-2 – Contemporary Architecture survey

 
Design & Analysis Techniques –– Choose 3 units
Students must choose three of  the following courses: 
Additional Conditions for Earning minor 
Maintenance of GPA of 2.0 or above in courses required for this certificate.
Courses with grades lower than a "C" will not be accepted.
Complete the Declaration of Petition to Receive the Minor in Architectural Engineering and Design form.
The declaration form must be completed two weeks before the beginning of the final undergraduate quarter.
More in this section