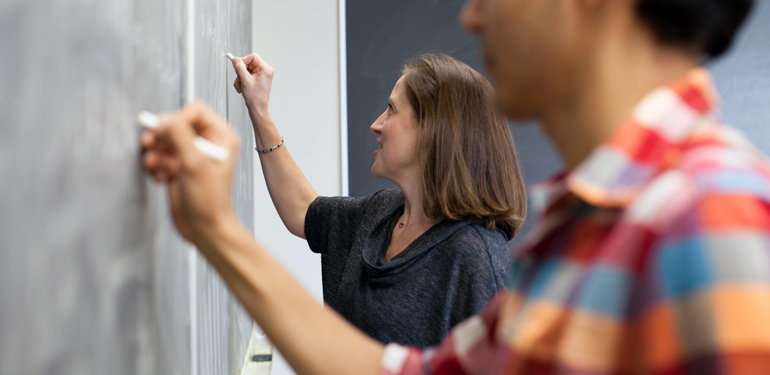 Program Overview
Housed in the Department of Computer Science at Northwestern University, this full-time, 15-month professional master's degree immerses students in a comprehensive and applied curriculum that explores not only artificial intelligence technologies, but also the creation of systems that function well when embedded in human workflows. Supplemented by an internship and projects working with industry partners, graduates will be exceptionally well equipped to create artificial intelligence products with practical impact on the world.
Jump to a Section
Program Goals
The goals of our program focus on providing students with both technical skills and design expertise. When they leave, we want our students to:
Understand the depth and breadth of the technologies of artificial intelligence
Identify opportunities where these technologies can be applied in the world today
Know how to design and deploy systems to work in human environments and with business workflow
Communicate clearly and persuasively to a variety of audiences
Lead teams in the design and development of new artificial intelligence technologies and products
Program Curriculum
The curriculum is structured around a cohort model in which all new students enter the program during the same quarter and progress together through a five-quarter sequence that includes four quarters of class work and a one-quarter internship.
In the third quarter, students will work with faculty on an independent project.
In the fourth quarter (summer), students will complete internships at external companies or will take on full-time summer positions within Northwestern AI labs to focus on specific projects at the cutting edge of research. Students will be able to choose from a set of options that can provide the level of industrial interaction that suits their needs.
In the fifth and final quarter, students will focus on capstone projects in conjunction with industry partners.
Learn more about the curriculum and view courses
The Cohort Experience
To further enhance the academic experience, the program is limited to approximately 40 students per year. This ensures that students receive a high degree of individualized instruction and also have the opportunity to form close friendships and bonds with their fellow participants. These connections often transcend academia and continue into the workplace.
Program Faculty
Artificial intelligence is one of the core strengths within the computer science division at Northwestern Engineering. Our faculty lead world-class research in machine learning, natural language processing, and automated reasoning systems. They work in perceptual systems, robotics and integration of analytical methods with higher order cognition. Our faculty benefit from extensive industrial experience in the development of enterprise-grade solutions to the problems of today.
The program is also supported by other computer science faculty working in human-computer interaction, data analytics and statistics, and by faculty from outside of CS whose research focuses on psychology, business management, and behavioral economics.
The program brings together a suite of knowledge and skills aimed at the goal of teaching our students how to understand, design, and deploy impactful AI systems.
Industry Connections
In order to provide students with experience in designing and deploying artificial intelligence systems into business workflow, the program will provide opportunities for extensive industry interaction. Drawing on the connections and partnerships within computer science and the McCormick School of Engineering, and benefiting from the plethora of technology-focused companies in Chicago, the program will link students to internship and recruiting opportunities. The program will also draw on these resources to provide both speakers and mentors from industry who will share their view of the needs and requirements of companies in the sphere of AI.
Project Portfolios
Over the course of the five quarters that the students spend in the program, they will develop systems and demonstrations that will become part of their individual "calling cards." As part of the program, the students will pull together these systems to create coherent portfolios of work that can demonstrate their skills to potential employers. Our goal is to help students use this model of "show don't tell" as a communication tool that will serve them for their entire careers.
More in this section