News
Study by Sanjay Mehrotra Earns Harold Kuhn Award
By Brian Sandalow
IEMS Department News, 7/18/23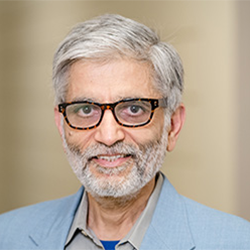 An academic paper by Northwestern Engineering's Sanjay Mehrotra has earned the Harold Kuhn Award for the best paper in the journal Naval Research Logistics.
Published in May 2020, "A Model of Supply-Chain Decisions for Resource Sharing with an Application to Ventilator Allocation to Combat COVID-19" was named the best paper published in Naval Research Logistics over the past three years. The award is named after the late Harold W. Kuhn, Professor Emeritus of Mathematics at Princeton University, who won the 1980 John von Neumann Theory Prize.
Mehrotra is a professor of industrial engineering and management sciences at the McCormick School of Engineering. Also the director of the Center for Engineering and Health who develops methods for decision-optimization under uncertainty by studying the geometric and algebraic properties of these problems, Mehrotra wrote the paper with postdocs Fengqiao Luo, Hamed Rahimian, Masoud Barah, and research specialist Karolina Schantz. 
---
Karen Smilowitz Named 2022 INFORMS Fellow
By Alex Gerage
Engineering News, 9/12/22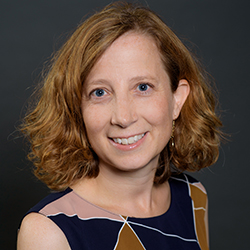 Northwestern Engineering's Karen Smilowitz, James N. and Margie M. Krebs Professor in Industrial Engineering and Management Sciences, has been named a 2022 fellow of INFORMS. The honor is one of the most prestigious in the operations research (OR) profession. 
The largest association for the decision and data sciences, INFORMS annually recognizes fellows for their outstanding lifetime accomplishments and contributions in OR and analytics.
Smilowitz was honored for "outstanding research in transportation, logistics and nonprofit operations, significant contributions to the practice of OR for social good and advancing equity and diversity."
An expert on humanitarian and non- and for-profit logistics, Smilowitz studies the opportunities and challenges of introducing operational flexibility into logistics systems. Her research has led to collaborations with several organizations, including the Red Cross and non-governmental organizations in Africa. She uses these connections to create opportunities for her students to engage in real-life prosocial work.
---
 Optimizing Transplantation Systems

By Brian Sandalow
Northwestern Engineering Magazine, Spring 2022
To produce optimal outcomes, kidney transplantation systems require a complex mix of medical and logistical procedures to be completed quickly, efficiently, and skillfully. With the greatest speed possible, a medical team must harvest the organ, determine how suitable it is for transplant, find the right donor, and deliver it there—a process mired in protocols and hampered by geography.
The potential implications for improving the process are big. In 2021, according to OrganDonor.gov, 90,483 people needed a kidney transplant. Only 24,670 received one.
Professor Sanjay Mehrotra uses analytical modeling, data science, and machine learning to optimize kidney transplantation systems by creating new processes to determine which organs are suitable for transplant and who the best recipient will be. With colleagues from Northwestern Feinberg School of Medicine, the RAND Corporation, Duke University, and Yale University, he hopes to change the transplant system in the United States, making it more efficient while wasting fewer donated organs.
In an effort funded by the National Institute of Diabetes and Digestive and Kidney Diseases, Mehrotra collaborates closely with individuals who have held leadership roles at the United Network for Organ Sharing (UNOS), the national organization that seeks to develop policies and procedures that improve the organ transplant and donation process. The final deliverable of this patient-centered project will be a scientifically validated policy structure that over five years could save 5,000 to 7,500 lives from among the nearly 100,000 patients on dialysis waiting for a kidney transplant.
---
How the Chicago Marathon Will Keep Track of 1.7 Million People

By Michele Gorman On 10/5/16 at 10:10 AM
Newsweek.com: Tech & Science
As more than 40,000 runners prepare this year to toe the line at the Chicago Marathon on October 9, Northwestern University engineering professor Karen Smilowitz and her team of students are set to monitor the event with a data-visualization system that will display a detailed breakdown of the race as it unfolds. Learn more Here
---
IEMS Professor Sanjay Mehrotra has been selected as an INFORMS Fellow, Class of 2016. "INFORMS Fellow are examples of outstanding lifetime achievement in operations research and the management sciences. They have demonstrated exceptional accomplishments and made significant contributions to the advancement of OR/MS over a period of time." Professor Mehrotra will be honored at the upcoming INFORMS Annual Meeting award ceremony in Nashville.
---
Professor Sanjay Mehrotra to lead ground breaking panel at INFORMS annual conference in Nashville
Professor Sanjay Mehrotra will lead a panel of doctors at the Institute for Operations Research and Management Sciences (INFORMS) National Conference in Nashville on November 13, 2016 at 1:30pm. The panel is entitled "Challenges and Lessons Learned from Influencing Policy Change in Organ Transplant." Learn more HERE
---
Mikhelson, who specializes in signal and image processing, machine learning, and circuit and system design, was lauded for his approachableness, enthusiasm, and dedication to students.
Learn more
---
Thousands of participants in this Sunday's Bank of America Chicago Marathon will run the race as marathon organizers, with key assistance from a Northwestern University and Chicago Marathon research team, will utilize big data — both historic and real-time — to supply a comprehensive picture of the race as it unfolds.
Learn more
More in this section