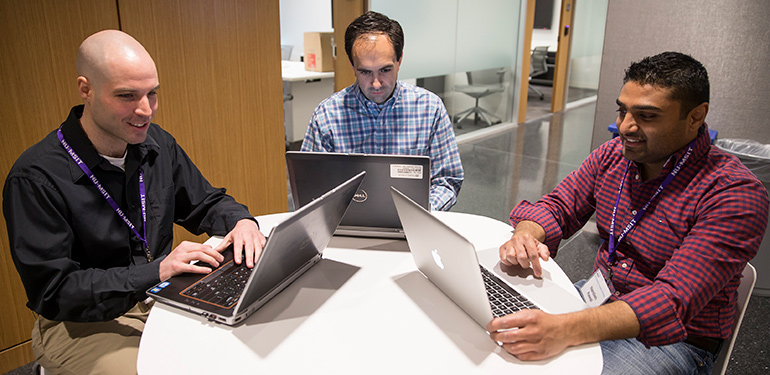 Program Overview
Northwestern University's McCormick School of Engineering is a highly competitive world-class school, ranked 21st nationally in overall graduate engineering programs. The EECS department at Northwestern, where the MSIT program is housed, offers a Computer Engineering degree that is ranked 26th nationally and an Electrical Engineering degree ranked 27th nationally, and MSIT professors are pulled from these selective programs.
The Master of Science in Information Technology program uses a cohort model in which students progress through the program as a group. They take courses covering computer and networks technology, as well as key business elements involving finance, marketing, and project management. This provides students with a competitive edge and the ability to transform organizations with their unique understanding of the business implications of IT strategies.
Jump to a Section
Why Earn an MSIT Degree?
Watch the video below as professor and program director Dr. Randall Berry discusses the value of the MSIT degree.
Program Goals
Our program teaches students and working professionals the necessary skills to:
Implement better IT solutions that reflect the demands of today's evolving marketplace
Understand the cross-functional perspective of information technology and its place in business operations
Bridge the gap between fundamental technologies and business strategies
Lead information technology teams and projects
MSIT Perspective
The graphic below demonstrates where the MSIT program falls on the continuum of graduate degrees relating to the IT industry. As illustrated, this program straddles the business and technical side of information technology.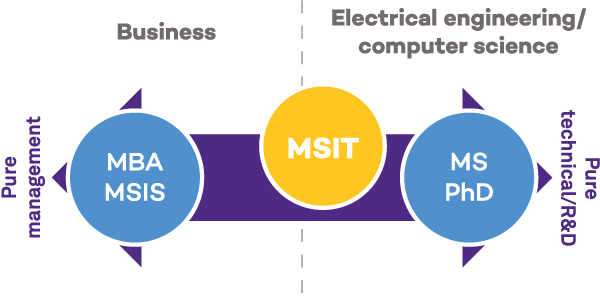 Unique Curriculum
Northwestern's unique MSIT curriculum blends technical (70%) and business management (30%) coursework, while focusing on three fundamental areas:
Communication systems and networks
Computing systems engineering
Business and management principles
Technical courses combine those that teach fundamental engineering principles with those that discuss newer, emerging technologies. Business courses in finance, marketing and management help provide a framework for students to understand how to better translate their technology ideas into practical business solutions. Courses typically require both individual and team-based assignments and involve collaborative work in study groups. The program culminates with a 10-week capstone course that requires students to apply their new-found technology and business skills to a case study presented by a practicing IT professional.
Students also have the option of:
Taking up to two independent study courses to replace two regular courses
Completing an industry internship (full-time only)
Part-time Option
The part-time, Saturday-only option is offered for working professionals. The program is completed within two years, from September to June each year. Students take two courses each Saturday from 9:30 a.m. to 5 p.m.
An ideal option for those who:
Wish to continue working while in the program
Have obligations that would prevent them from attending weekday classes
Learn more about part-time study
Full-time Options
A full-time option is completed in either 10 months (fall, winter, and spring quarters), or in 12 months (fall, winter, and spring quarters plus the following fall quarter—which allows for a summer internship). Full-time students take half their course load on weekdays and half on Saturdays.
An ideal option for those who:
Are interested in completing a summer internship (optional)
Are international students
Come from a technical background
Have proficiency in math and programming
Learn more about full-time study
Our Faculty
Faculty members give MSIT students a balanced view of academic principles and practical applications. Our faculy members are known for their research accomplishments and often hold leadership positions in the greater academic community. Industry leaders also add their considerable talents to the program as adjunct faculty by bringing their professional successes and relevant experiences into the classroom.
The MSIT faculty is drawn from:
More in this section