Creating a Community of Makers
Don Layne (MSIT '12) relies on the technical and business acumen he developed in Northwestern Engineering's Master of Science in Information Technology (MSIT) program to help inspire students and the public in Moreno Valley, Calif.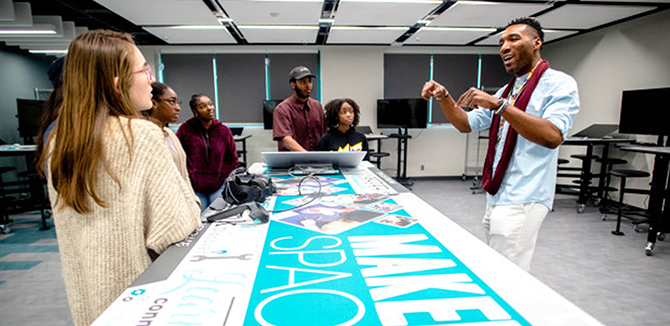 When Don Layne (MSIT '12) was considering graduate programs, he wanted to find a place that would prepare him to respond to virtually any technical or business challenge thrown his way.
He found what he was looking for in Northwestern Engineering's Master of Science in Information Technology (MSIT) program, where the curriculum blends technical (70%) and business management (30%) coursework. Layne utilizes his MSIT experience today as director of the STEM Innovation Center/Makerspace at Moreno Valley College (MVC) in southern California. In that role, Layne works to:
Increase the number and success rate of non-traditional STEM students

Train faculty in technical skills and certifications that can benefit their professional development and teaching ability

Provide resources for instructional design strategies that can help improve classroom collaboration

Create a safe and equitable environment for learners
"The lessons I learned in MSIT created the perfect mind for this role," Layne said. "On a daily basis, I leverage my lessons on wireless, networking, business finance, marketing, and even nanotechnology." 
Since he started in 2018, Layne has been able to outfit a 38-foot mobile Makerspace bus and a 4,150-square-foot static Makerspace to inspire and educate students and the community. The two Makerspaces, funded by the US Department of Education's Hispanic-Serving Institution Title III STEM Grant, are related to the Nation of Makers initiative launched by President Barack Obama in 2014. The goal of the initiative was to provide greater access to cutting-edge technologies.
"Access to technologies such as 3D printers, laser cutters, easy-to-use design software, and desktop machine tools is growing, along with information about how to use, modify, and build upon these technologies and crowdfunding platforms," Layne said. 
"America has always been a nation of tinkerers, inventors, and entrepreneurs. Empowering students and adults to create, innovate, tinker, and make their ideas and solutions into reality is at the heart of the Maker Movement."
The two Makerspaces offer access to 16 3D Printers, two laser cutters, two vinyl printers, biology lab equipment, virtual reality, CNC Mills, and a 56-seat multipurpose classroom.
The two spaces were crucial in helping Layne develop new STEM Career and Training Education (CTE) pathways like coding preparation, computer maintenance and security, operating systems and internet literacy, and stackable certificates in entrepreneurship. He also helped to launch programs in cybersecurity, graphic design, Python programming, computer repair and maintenance, and Internet of Things administration.
In his role, Layne helps MVC students accelerate success in mathematics courses, provide academic support, and expand STEM CTE outreach and education to the community through the Makerspace. Past outreach ranged from having the mobile Makerspace on site at more than 100 local events to hosting 700 middle school students from the surrounding area. 
Layne said his biggest challenge is not having enough time to interact with and offer support to more students.
"The global pandemic forced us to go virtual, reducing face-to-face interaction," he said. "Many of my students benefited from seeing faces that looked like theirs surrounded by bleeding edge technology. The message was clear – you belong here."
Layne is undeterred by the challenge, in large part because of the preparation he received in MSIT.  
"The way the MSIT program is structured gave me a more holistic perspective on being a technology executive," Layne said. "It has truly given me an advantage because I have proficiency in so many different technical areas." 
Learn more about the MSIT curriculum by visiting the MSIT Program Overview page.