Teaching While Stranded in Ireland
Northwestern MSIT Adjunct Instructor Wayne Montague talks about shifting his business innovation course to a remote model amid the COVID-19 pandemic and how he's prepared for the change while being stuck in Ireland.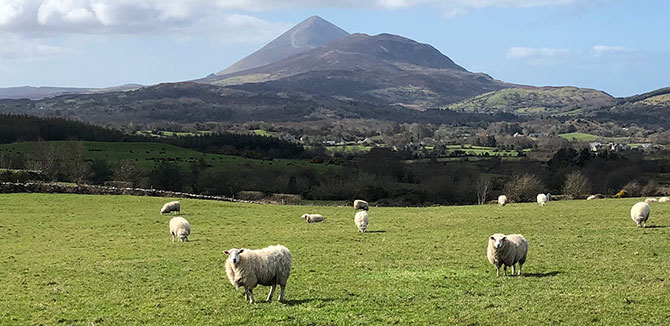 Wayne Montague is putting the finishing touches on his preparation for Managing IT Business Model Innovation, a five-week course he teaches through Northwestern University's Master of Science in Information Technology (MSIT) program that starts on Saturday, May 9. 
Like his Northwestern colleagues, Montague's preparation has been different than past years as he gets ready to teach his course exclusively online. Unlike his fellow faculty members, Montague's preparation has taken place further from campus than even he would have imagined. 
Montague and his wife have been stranded in Ireland since January, unable to fly back to the United States because of the COVID-19 pandemic. The couple has a house on the west coast of Ireland, approximately three hours from Dublin. Both Montague and his wife have family from Ireland, and the two traveled to the country together 36 years ago for their honeymoon. Since then, they've made numerous trips back and forth. 
The couple is scheduled to return to Chicago next week, but in the meantime, Montague will teach the course's first class this Saturday from Ireland. He recently talked about that reality, the experience of shifting his course to an online model and what he's looking forward to about the experience. 
How do you like to describe the goal of your course?
Business model innovation combines many disciplines — such as product development, market research, finance, and information technology — to bring new products, processes, or services to market. This survey course introduces frameworks, tools, and techniques that innovators can adopt to improve the odds of success. 
The course focuses on the key role that IT leaders or entrepreneurs play in the overall innovation growth process. Also, innovation within large, established firms will be contrasted with smaller or startup companies. How did Steve Jobs succeed, for example, when so many others failed to lead innovation? 
The students will utilize the Business Model Canvas online framework to design and pivot their class project business models. As appropriate, innovation case studies, readings, class discussion and student experiences will be used. Upon completion of this course, students should be able to effectively participate in or even lead entrepreneurial IT innovation efforts.
What excites you most about the opportunity to teach online?  
Remote teaching presents a lot of opportunities for me to pivot the class toward the needs of more students. For example, I plan to pre-record my lecture and post it to Canvas just in case we have technical problems during class. This will probably be a good idea for the class even after we return, hopefully soon, to face-to-face engagement. Students with limited English skills would benefit the most since they can 'replay' my comments/jokes as much as they need to better understand the material.
What do you think the biggest challenge will be for you and your students with your course now being online?  
The nature of innovation strategy and business model design is that it is a team sport. It is very dependent on group interaction and a series of rapid short, agile, business prototypes and field tests. The classroom helps students interact with each other — online this will be more of a challenge, especially for the 'back row' students, meaning those who tend to be more quiet and reserved. Fortunately, I am pretty good at drawing them into the conversation.   
The next biggest challenge for this first class will be bandwidth. I have an OK internet connection here in Ireland — it's good enough to watch Netflix but not great with lots of video streaming traffic though my VPN.  I have learned how to reduce the bandwidth load with my consulting clients, but I will want to see all faces all the time during class. My wife has already agreed to be banned from watching Netflix during class time to preserve precious bandwidth!
How, if at all, will you incorporate the technology innovation or technological challenges that have surfaced during the COVID-19 pandemic? 
The first class has an exercise with the class about building the business model for Uber, but this year, we will focus on how to pivot Uber's business model to save it from the COVID-19 related drop-off in business. In addition, we will cover business models in the hard-hit business sectors such as restaurants, hotels, small retailers, and taxis in order to show the students how to use the frameworks for good causes, as opposed to just to make money.
I also plan to cover the failure of the federal government to innovate a new, faster/better/much cheaper ventilator as part of the class discussion around the role market consolidation plays in limiting innovation.
How does market consolidation limit innovation?
The US economy ($19.42 trillion 2017) consists of approximately 900 different industry sectors, and 66% of these sectors have become more concentrated since the 1990s  This is the result of the increase in mergers and acquisitions. M&A is normally a good thing unless it is used to stifle competition and limit innovations. 
This behavior surfaced with the limited supply of expensive ventilators needed for the COVID-19 pandemic in profound ways. Here is a New York Times piece highlighting what happens when a larger healthcare firm acquires a disruptive small firm, and then 'kills' the product innovation in order to preserve existing high margin (meaning expensive) ventilators. 
Probably the poster child industry that shows why market consolidation is not good in the long run is the airline industry. We now have 5 U.S. carriers controlling more than 90% of all U.S. domestic flights. We also now have crazy fees (except for Southwest) charged for everything related to taking a flight. These fees are the biggest source of profit for most airlines today, and they are able to exist unchecked because the U.S. has an oligopoly in the domestic airline business.
Is there anything else you'd like to add?  
This is my tenth year teaching this MSIT class, and I look forward to engaging with students, albeit remotely this year! They are a wonderful group of future leaders who serve to keep me on my toes.