MSIT: The Gift That Keeps on Giving
Sasha Korol (MSIT '10) explains how she continues to benefit from her time in Northwestern Engineering's MSIT part-time program option.
By Sasha Korol (MSIT '10)
It's been eight years since I graduated from Northwestern Engineering's Master of Science in Information Technology (MSIT) part-time program option, and I still take advantage of the lessons I learned on a daily basis.
The first boss I ever had told me that in order to be good at technology, I have to understand the business I am building the technology for. The MSIT program at Northwestern offers a compelling mix of business and technology courses, and my ability to grow both my business skills and my technical skills has served me well in my career.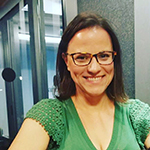 While I was considering the MSIT program, I was working as a team lead at Allstate Claims Technology, and I still remember a conversation I had with a friend about whether I could balance school and work. My friend told me that in two years, I could say "I've earned a master's degree," or I could say "I've watched so many episodes of Law & Order." The compromises you make are short lived, she said, but the benefits are for a lifetime.
My friend was certainly right.
My time in MSIT was a rewarding experience in many ways. It was very challenging at the time, but I learned how to manage that kind of workload, and then that became a strength I can leverage the rest of my life. The knowledge I gained has differentiated me as a well-rounded professional capable of leading organizations through tackling complex problems.  
Today I am the Director of Claims Product Management at Duck Creek Technologies, where I am responsible for the profitability of the software product that I manage. That means that I determine where to invest R&D budget, work with my Engineering lead to ensure that the right resources are working on the right things to deliver ROI on my investment, and build relationships with other software vendors and partners.
I confess that I kept all of my MSIT class notes and books and continue to reference them regularly. All of the classes apply to my work from understanding the insides of how virtualization works for my hosted software product, to understanding how to price the product and realize revenue based on GAAP accounting rules. Professor Chung-Chieh Lee taught me that no matter how efficiently you design something, bits and bytes still have to travel over a wire to transmit data so there is a physical and non-negotiable limitation to how fast things can get done; I'd say that's a lesson in life as much as it is a lesson in technology. The Marketing course has proven to be priceless knowledge when working with a pool of individuals with only technical training.
At my job, I am not the expert on any of these things, so I would say the lesson I apply every day is knowing what questions to ask of what departments in order to improve my bottom line.
Hands down, the study groups were the best part of my time in MSIT (Shout out to Hi-5, the best study group I've ever been in). Eight years after graduation, the folks who were in my study group continue to be a very important part of my personal and professional life.
The ongoing connection to MSIT still does, and always will, continue to add to my professional success. And the people are amazing. Again, rewarding is the main word that comes to mind to describe the experience.
If you are considering the MSIT program, here is my advice. Unlike undergrad, you will likely apply everything that you learn at some point in the next five years of your career. And when you do apply it, you will most likely be doing something that few (if any) people in your organization can do. Try to soak in all the knowledge that you can, and then make it a goal to use it. Oh, and go to as many events as you can.
Most importantly, stay connected to the MSIT community. It's the gift that keeps on giving!