Advice for This Year's Graduates
MEM faculty share words of wisdom with this year's graduating class.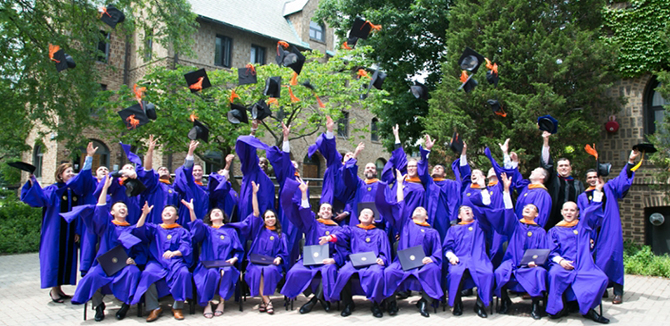 Graduation is just a few days away for students in Northwestern's Master of Engineering Management (MEM) program. Before they officially graduate from the program, their professors have some parting words of wisdom and advice.
What is one piece of advice you would give to our soon-to-be graduates?
"The best piece of advice I could give is one told me by Erik Qualman, who is a futurist and expert on social and digital media. His advice was "Network Forward". Today, you need to build your LinkedIn network with the people who are at the forefront of technologies you need to follow or those who lead companies you want to work at after graduation. Use social networking to begin connecting with them now. It will pay you benefits forever." — Randy Hlavac
"Graduation is a time when many people set goals for themselves - similar to New Year's resolutions. But too often we lose sight of our goals and they fall by the wayside, swept up in the busyness of life. Write down your goals, and find an accountability partner. Establish regular check-in times and hold each other accountable so that you can attain your aspirations." — Gail Berger
"Continue to learn broadly and deeply. You can't anticipate what of the things that you learn will ultimately be useful, and the world is moving more and more toward rewarding advanced tools and understanding as a competitive advantage." — Barry Nelson
"This is the time for you to roll up your sleeves and get to work while learning basics about your field of choice that will pay dividends 10-15 years from now." — Birju Shah
"Don't let your employer define your identity. Be prepared to continuously reinvent yourself." — Mark Werwath
"Find a job that you love to do so that you wake up each day and are excited and eager to start the day. You may start in a position that doesn't fit this description, and that's OK. Move on when the right opportunity presents itself." — Jeff Lefebvre
How do you think students can best use their degree and the Northwestern alumni network to help them personally or professionally?
"The MEM graduate network is a global entity spanning all of the engineering disciplines. These graduates know the best path to success. Use them as a potent network to help you move forward faster in your career." — Randy Hlavac
"Update your contact information with NU whenever you move! NU will continue to offer useful alumni networking and continuing education opportunities." — Barry Nelson
"Your degree from Northwestern is one of the best assets you will invest in that continuously pays dividends. Make sure you come back for that yearly game, and join your local chapter alumni groups. Northwestern individuals love to help each other out and develop kinships that last long no matter what market you are in. Leverage your degree to help others, and reach out to alumni with a win-win scenario in mind for both of you." — Birju Shah
"Use your MEM degree and your network to start a technology business." — Mark Werwath