Curriculum

  /  

Student Projects

  /  

Project

Resilient solar+storage+EVcharging microgrids
What is a microgrid?
An integrated energy system consisting of interconnected loads and distributed energy resources which can be controlled as a single entity operating in parallel with the grid and/or in an intentional islanded mode.
Benefits
Reliable Energy
Ability to proactively "island" from utility
Preserve critical loads 24/7/365
Repurpose grid tied inverters for island mode operation
Determine root cause of outages and restore power quickly
Efficiency & Optimization
Minimize energy costs through fuel switching and energy savings

Harness combined heat and power, maximize incentives

Prioritize critical loads

Monetize energy flexibility with the grid
Green Energy
Incorporate low cost solar, low emission DER

Implement net-zero projects

Reduce green house gases
How can a solar+storage+EVcharging microgrid pay for itself?
Self-funded solar+storage+EVcharging by ISO & utility programs: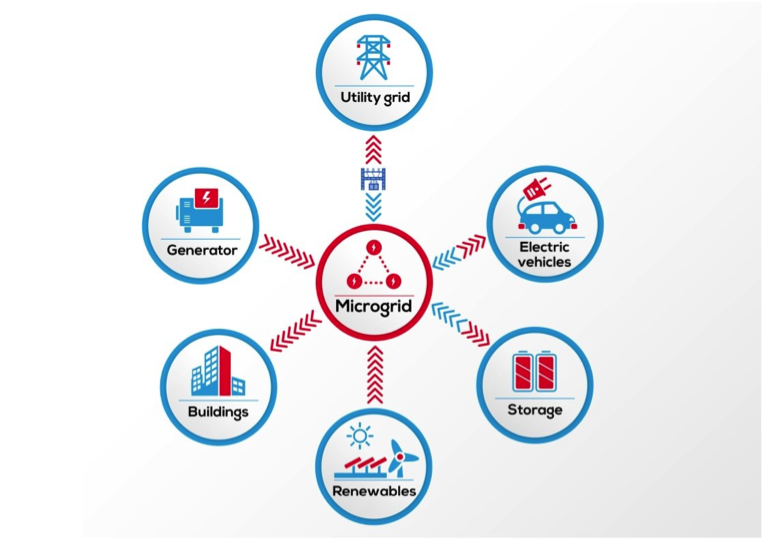 All we need is the chosen site's 12-month 15-minute interval data in kW, kWh & tariffs to do a financial analysis
1. Financial analysis: historical usage modeling
Step 1: Understand current onsite Cost of Energy and consumption profile by analyzing bills, tariff structure, and interval consumption data 
Integrate electricity supply/delivery tariffs with the load profile into Homer
Create graphical representation of current cost of energy
2. Financial analysis: costs of solar+storage plus energy/power costs
Step 2: Estimate the value of PV + ES by economic optimization
Integrate the CAPEX of PV+ES at this site, informing the model of the value of PV+ES
Step 3: Sizing of PV + ES + other components of the system
Optimization based on the value of PV+ES to get value to get optimized energy/power values
If site includes resiliency or ancillary services, requirements loaded into Homer
Step 4: Solve for the future cost of energy/power onsite
Integrate electricity supply/delivery tariffs with PV+ES with the site load profile into Homer
Homer outputs annual savings of energy/power with PV+ES
3. Financial analysis: paybacks with ISO & utility programs
Step 5: Demonstrate savings from microgrid by loading data into pro-forma
Integrate the CAPEX of PV+ES at this site, informing the model of the value of PV+ES
Step 6: Estimate the value of ancillary services
Utilization of the battery is checked to account for savings/ancillary services and avoid double counting
Ancillary services are then brought into the Financial Pro-Forma

Energy storage applications
Renewable Energy Generation
Renewable Energy Shifting and Firming
Charge the battery with excess of renewable energy during off-peak periods to release it onto the grid during peak periods, and possibly to follow a pre-defined generation pattern
Renewable Energy Smoothing
Charge/discharge the battery to smooth intermittent generation and follow soft power injection ramps.
Large End-Users
Electricity Rate Optimization
Store electricity when the market price is low and consume it when the market price is high
MicroGrids, Diesel Abatement
Use storage in isolated grids in conjunction with renewable energy and fossil fuel sources
Power Transmission and Distribution
Ancillary Services
Provide or absorb active power (respectively reactive power) in order to keep the grid frequency (respectively the grid voltage) within allowed boundaries 
Peak Shaving
Charge the battery with excess of renewable energy during off-peak periods to release it onto the grid during peak periods
Investment Deferral
Store Energy close to consumers during off-peak  periods and release it during  peak periods to avoid having to re-invest in new transmission or distribution lines
Complete portfolio for holistic care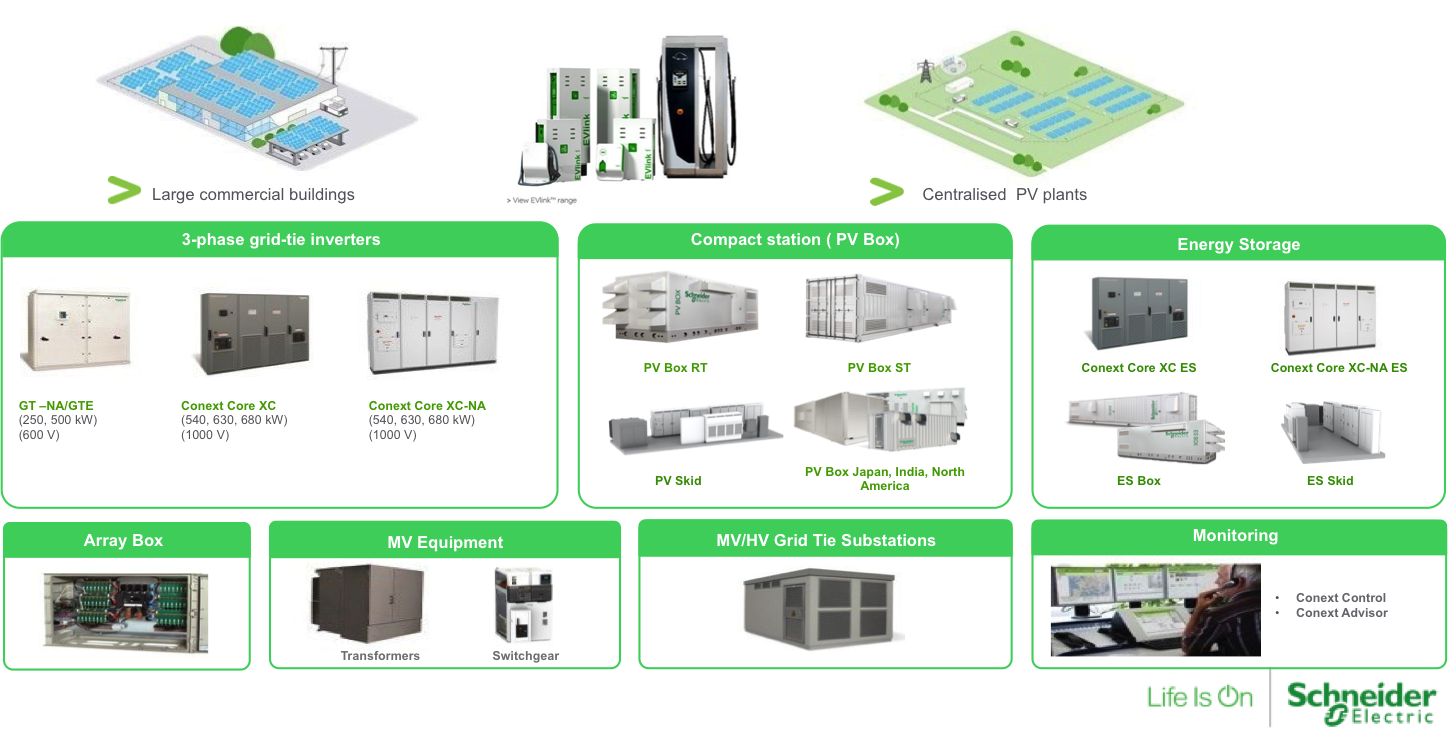 Microgrid inclusions
Planning
Financial, Regulatory and Power Systems Feasibility
Full Power Systems design for Microgrid and Interconnection
Licensed in all 50 states
Full Power Systems design for Substation/Feeder Area of Distribution network to incorporate 1 or many microgrid and DERs
Incorporation of the MG/DERs into the Control Center Operating procedures
Equipment for MG and Distribution System
SE Square D Metalclad MV Breakers or Selected Vendor Switchgear (S&C partner)
Square D Low Voltage Switching, Controls, Motor Operators
Nulec Reclosers or Selected Vendor Reclosers
ION Power Monitoring/Quality/Revenue Metering
Automation Servers, RTUs, PLCs, Protective Relays, IEDs
Building Management Systems (BMS)
ArcFlash Mitigation Solutions for all apparatus
Smart Inverters (Conext)
ViZn Battery Energy Storage Systems
IT/OT Integrated Software Platforms
Demand Side Operations (DSO) for 1-n Sites
PowerScadaExpert (MG SCADA) for 1-n Sites
Advanced DMS (ADMS) and DSCADA Platform for Utility Control Center
DCS for larger Generation Facilities
Asset Monitoring (PRiSM)
Time Series Historian (eDNA)
Weather Information Services (Weather Sentry) for Utility Control Center and Sites
Demand Response Platform
Service
Installation, integration, testing, commissioning and/or EPC
Program Management, IT/OT Integration with Control Center
Maintenance and extended services in the field
Microgrid controller & event management

Solar+Storage demand side ops
Ease of Operation

Automation and optimization of when to consume, produce, store, or sell energy using the best intelligence

Remote monitoring of DER
Save money while increasing comfort
Be greener
Contribute to the grid stability (DR) while earning revenue
Multi-level DER box controls
Microgrid Controller
Reactive management of DER (ms, s, minute)
Dispatches orders and collects DER data
Data storage for improving reliability
Management of Islanding Disconnection/Reconnection to the Grid
Black start capability
On demand use case development
Demand Side Operation Hardware
Predictive management of DER (minute, hour, day forecast)
Weather and Load Forecast information
Interaction with third party actors (utilities, commercial aggregators etc)
Typical architecture
Schneider Electric solutions include everything you need to efficiently control the energy flows between the energy storage component and the point of interconnection
Our offer includes everything from the DC protections and power conversion, to the grid-tie substation; monitoring & control systems and
long-term service contracts
Bi-directional inverters for utility scale battery storage charge/discharge
XC ES
Certified to EN50178, EN61000-6-2 and EN61000-6-4
Indoor rated, wide range of full power operation from -10°C to 45°C
Best in class efficiency:

Inverting mode: 99.1% peak, 98.5% Euro
Rectifying mode: > 97.5
XC-NA ES
Certified to UL1741 (including IEEE 1547)
Outdoor rated, wide range of full power operation from -20°C to 50°C, with -35°C option
Best in class efficiency: Inverting mode: 99.1% peak, 98.5% Euro

Inverting mode : 98.6% peak, 98% CEC
Rectifying mode : > 97.5%
Common Features
Based on PV inverter à Scale effect, easier servicing
Field proven with more than 2 GW installed in PV power plants in the harshest environments
Full 4-quadrant operation to provide active and reactive power support
Full suite of automatic and interactive grid support features: VRT, P(f) * drooping, Q(V) ** drooping, P and Q control via both PF (power factor) and P/Q references, power ramping
Fast Response Transient time for mode reversal (active power sinking/sourcing) < 5 msec to support all applications
Different methods & options enable installation in all geographies and environmental conditions…
ES box ST+
540kVA to 2.04MVA
For Conext Core XC ES inverters
IEC 62271-202 compliant
Containerized, optimized to reduce the cost of long haul shipment by sea or rail
3 compartments: low voltage, transformer and MV switchgear
2 doors in the LV compartment to comply with most stringent Occupational Health & safety rules
Optional integrated filtering units for desert, coastal, or tropical environments
Outdoor skid-mounted solution
ES Skid
1 to 2MVA substation
For Conext Core XC-NA ES inverters
NEC compliant design
Integrated utility scale storage solution

Power conversion DC to AC
Electrical protection
Voltage increase from LV to MV
Monitoring and Control
What is a Flow Battery?
Long proven history of safe, resilient & certified zinc/iron flow batteries:
8 Years of USDOE & NASA research followed by
8 Years of ViZn commercialization
ISO 9001-2008 certified manufacturing facilities
Idaho National Lab customer specializing in vulnerability assessments & infrastructure resiliency for electric grid reliability, control systems, cybersecurity and physical security systems.
What's Inside a ViZn Flow Battery?
Anolyte: Zinc Oxide
Catholyte: Yellow prussiate of soda
Alkaline solution: KOH and NaOH
How is it made?
Safe electrolytes blended
Local tap water onsite
Alkaline solution
Shedd Aquarium, Chicago, USA
Frequency Regulation in the PJM wholesale electricity market
Goal
Skid with XC-NA ES inverters, 1MW / 500kWh
Li-On batteries provided by Eagle Picher
What's next?
Steps to success
12-month 15-minute interval data in kW, kWh & tariffs to do a no-cost financial analysis
Investment-grade audit & electrical engineering study
More in this section