Programs Overview
Engineering Career Development coordinates four different work-integrated learning programs for both undergraduate and graduate students. Click the links below to learn more about each of these programs.
Jump to a Section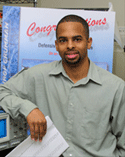 The co-op program allows engineering students the opportunity to integrate periods of classroom study with periods of paid, practical work experience related to their academic major and career goals.
Internships allows engineering students the opportunity to gain practical work experience with an employer in industry, commerce, or government. 
Students may engage in a formal engineering research experience, either at a university (including Northwestern University) or a government laboratory. 
Open to all McCormick students, service learning provides opportunities to volunteer with a non-profit or publicly-funded organization.
Program Features & Enrollment
Each work-integrated learning program provides the following student benefits:
No tuition for work term
Full-time student status maintained throughout work term
S/U grade (no impact on GPA)
Appears on transcript
Evaluation of experience by both student and employer
Click here to view a PDF outlining the enrollment options for each program.
More in this section