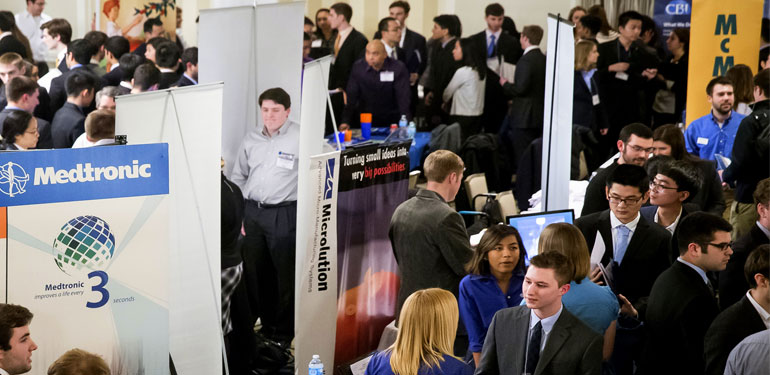 Events
Engineering Career Development manages, collaborates, and hosts many student career events throughout the year. For a complete listing of our upcoming events, please visit our Plan-it Purple event page.
Jump to a Section
Engineering Career Development offers several career fairs throughout the year. These events allow students to meet employers and learn about job opportunities, and they assist employers in achieving their recruiting needs. While our office operates remotely, all career fairs will be held online through Brazen.
New to Brazen? Please check out our tutorial!
On-Campus Interviews
Engineering Career Development coordinates with employers to host on-campus interview days for students to interview for various positions throughout the year.
Students should keep their resume and profile updated in McCormickConnect and check back often for interviewing opportunities. Students should also be aware of our No Show Policy for interviews, which is strictly enforced for all on-campus interviews.
Employers can set up a day to interview students on or off-campus by reaching out to Michelle Bledsoe at 847-491-5994.
Student/Employer Networking Events
Engineering Career Development hosts company days, information sessions, meet and greets, and other events for students to engage with recruiters and engineers on-campus.
Check out our Plan-it Purple page and our Recruiting Calendar to view upcoming events.
Engineering Career Development coordinates various career programs and events for students throughout the year.
More in this section