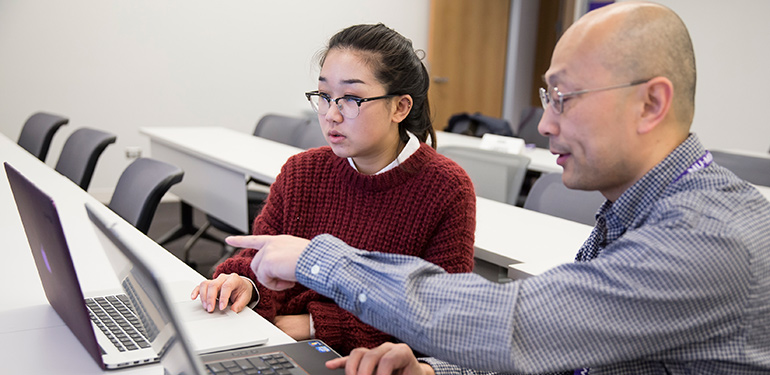 Full-Time Program Option
Designed to be completed in one academic year (3 or 4 quarters), the full-time MSIT program is ideal for domestic and international IT professionals with an electrical engineering or computer science undergraduate degree (or equivalent technical degree).
Jump to a Section
Program Structure
The MSIT program offers two completion options for full-time students. Both options have the same requirements, but offer students the flexibility to choose which one aligns better with their career goals and timeline.
Three-Quarter Option
This option allows students to:
Take courses during the fall, winter, and spring quarters
Take four courses per quarter (2 MSIT courses & 2 ECE/CS courses)
Complete the program in 10 months
Four-Quarter Option
This option allows students to:
Take a lighter course load by distributing courses over a four-quarter timespan (fall, winter, spring, and the following fall quarters)
Participate in an optional summer industry internship
Keep their visa for a longer period of time (international students)
Complete the program in 12 months
View examples of full-time student schedules
Class Schedule and Location
Full-time students take half their course load on weekdays (primarily through Northwestern's Department of Electrical Engineering and Computer Science) and half on Saturdays (IT courses). Both completion options allow students to customize their curriculum based on area of interest and academic background. Students take 3 or 4 courses per quarter on Northwestern's Evanston campus.
View the MSIT academic calendar
Curriculum
Full-time students take a course load focused primarily on technical skills (70%) and complemented with business and management skills (30%). All MSIT program courses stay on the cutting edge of information technology. Classes typically require both individual and team-based assignments. Student also:
Complete a capstone course
Participate in study groups
Have one open elective
May petition to substitute a different course to fulfill a requirement
May take up to two independent study courses that fit their area of interest
Example of an independent study project completed by MSIT full-time students:
Learn more about full-time curriculum
View the MSIT course schedule
The Cohort Model
The MSIT program uses a cohort model in which part-time and full-time students in which approximately 25-30 students progress through the program as a group. Participating in a cohort allows for greater networking opportunities with classmates as students share similar academic experiences, personal challenges, and rewards.
Who Should Apply?
The program is designed for students who are looking to advance their careers in information technology. All full-time applicants must have at least two years of industry experience and must possess a bachelor's degree from a regionally accredited institution. For the full-time MSIT degree, any major will be considered, but the majority of students who apply have a technical degree and all must have proficiency in math and programming. The full-time option is ideal for international students wishing to enroll in the MSIT program.
Learn more about the typical student profile
Review admissions requirements for the full-time program
Faculty
MSIT courses are taught by tenured faculty from the McCormick School of Engineering and Applied Science, Northwestern Law School, Medill's Integrated Marketing Communications program, and by leading IT professionals from top corporations.
Career & Internship Resources
Full-time students who have graduated with an MS in Information Technology from our program have accepted jobs within the last few years at many well-known companies. A high percentage of our students have job offers before they graduate from our program.
Learn more about jobs and internships
More in this section