Learning Product Management and Business Analytics
Northwestern MSIT student Shipra Singh reflects on the highlights from her internship at Gogo.
Shipra Singh enrolled in Northwestern Engineering's Master of Science in Information Technology (MSIT) program to learn emerging trends in technology, product management and analytics.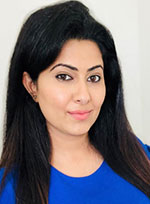 Singh was able to build her course schedule in way that gave her that desired foundation. Additionally, she spent three months working as a product management intern at Gogo, an organization that provides broadband connectivity products and services for the aviation industry.
Singh, who will graduate in December, sat down to talk about her internship and how it moved her closer to her goal of finding a job that bridges the gap between business and technology.
What were your internship responsibilities?
I helped in agile product development team management, and I participated in daily stand-ups, sprint planning sessions and team retrospectives as a liaison between the technology and business. I created re-usable Jama templates that imported and exported feature summary and customer requirements into the tool.
Additionally, I interacted with diverse teams to gather data and insights and conducted process analysis. I also consolidated a tableau report after analyzing the software releases process at the company and recommended best practices for tracking releases with outages.
How would you describe your internship experience?
It was a great experience interning with Gogo. I learned to use the agile framework to help implement leading software development. It was interesting to understand the business/customer needs from the senior management and communicate those to the technical teams. It was a great diverse learning experience. The people were very supportive. Despite, the busy schedule, they were always welcoming to take my queries and have discussions.
What did you learn from the opportunity?
The experience enhanced my product management skills and understanding of the agile work environment.
How did your internship build on what you learned in your MSIT courses?  
The best thing about the MSIT program is that you can customize the course work to align with your professional goals. The internship added to what I learned in class. Through my experience as an intern at Gogo, I was able to apply my learnings from the program in a real-world industry scenario.