From Pixar to Tokyo to MSIT
Jolyne Chang discusses her background in animation and how a degree in Information Technology can help her grow professionally.
As an undergraduate at the University of Iowa, Jolyne Chang had an internship at Pixar Animation Studios. That experience sparked an interest in computer-generated animation.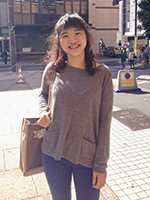 After she received her degree from Iowa, as the first computer science and fine arts double major in university history, Chang went on to spend five years working in Tokyo at Kamikaze Douga, an animation company. Now she is back in the midwest as a student in Northwestern Engineering's Master of Science in Information Technology (MSIT) program.
Chang recently spoke about her animation background, what led her to select MSIT and what she hopes to accomplish during her time in the program.
When did you first develop your love for animation?
My first interest in animation started with Saturday morning cartoons. I always love the visual delivery of information, so animation was right up my alley.
What were your responsibilities at your Pixar internship?
As a technical director intern, I learned the various parts of the Pixar animation pipeline. I also worked on a final creative project, both independently and on a team.
What did you learn at Pixar?
I became familiar with elements of 3D design, as well as the ins and outs of computer-generated animation. I also learned to use various programs, both commercial and proprietary.
What types of day-to-day jobs were you doing while in Tokyo at Kamikaze Douga?
I wore many hats but worked primarily as an art director and a technical director. As an art director, I oversaw the look and feel of the final product by personally designing characters, backgrounds, layout, and lighting schemes. I was sometimes in charge of the final compositing process or managing other members of the creative team. As a technical director, I coded scripts to automate more labor intensive cuts and constructed many of the final digital assets.
What did you learn while at Kamikaze Douga?
In addition to visual and technical skills, I learned to work on a tight moving deadline and in diverse, dynamic teams, within and outside the company.
What was it about the MSIT program that appealed to you?
I like the focus on honing your technical skills while also getting a foundation in business and management. It is also fast-paced and geared toward students with significant work experience.
What do you think differentiates the Northwestern MSIT program?
The chance to work with people from different backgrounds, who have insights from past professional experiences.
The emphasis on applying lessons to a workplace environment.
Access to the Electrical Engineering and Computer Science department at Northwestern.
What are you hoping to do professionally after completing the MSIT program?
While I continue to be interested in the visual presentation of information, I am pursuing that interest on a more technical level. The focus of my study has been on software and web development, and ideally, I want to work in these fields.