Discovering the Importance of Internships First Hand
Vijeta Gupta (MSIT '17) shares how her internships prepared her for her current data analyst role.
It's only been one year since Vijeta Gupta (MSIT '17) graduated from Northwestern Engineering's Master of Science in Information Technology (MSIT) program, but already she has seen the incredible value of her degree and the significant education she received along the way.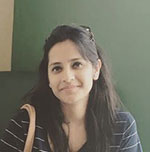 Gupta learned a variety of new strategies and gained new knowledge during her year in the MSIT program, but some of her best learning opportunities actually came outside of the classroom in the form of internships. Gupta spent the summer of 2017 as a full-time intern at FCB Chicago, and the fall of that year as a part-time intern at Franklin Energy Services.
Today she is a data analyst at Franklin Energy, and the work she did there as an intern directly relates to her daily responsibilities, which include:
Providing report implementation for energy efficiency programs
Executing customer data imports, integrations, and exports
Performing savings and incentives analysis.
Gupta took time to talk about her internships and the meaningful role they played in her MSIT experience.
What were your internship responsibilities?
During both internships, my responsibilities included managing a CRM database using T-SQL, analyzing data using Sql, Excel, and Tableau, providing recommendations based on my analysis using reports and dashboards in Tableau and business intelligence tools, and providing ETL services using SSIS and business intelligence tools.
What were two highlights from your internship experiences?
I automated the manual reports that were created by processing data in Excel using SQl, and it reduced the creation time for the reports from eight hours to 30 minutes. Also, I got the opportunity to work in a small team responsible for the entire information management tasks.
What surprised you most during your internship?
I was surprised to work so directly with the clients from day one during both internships.
What were two or three things you learned from the opportunity?
I learned that asking questions is not "dumb". It makes you look interested and dedicated in your work. We should ask as many questions as possible from the beginning and not procrastinate. The later we ask , the more hesitant we are. Also, taking on responsibilities and volunteering for work is a must.
How did your internship build on what you learned in your MSIT courses?  
What I learned in MSIT was great theoretical knowledge along with the experience of working on projects with industry-based leaders. My internship added to my learning in the MSIT program by adding the opportunity to work on company-based, real-time projects involving business risk and client interactions.
Is there anything else you'd like to add?
In my opinion, internship experience is a must in the MSIT program. It gives you a lot of confidence before you embark on your journey in a full-time position.