The Transformational Cheese Mover
Coco Shen (MSIT '18) is helping companies find growth through change in her new role with Accenture.
Coco Shen won't hesitate to move your cheese. 
In May, Shen (MSIT '18) joined information technology consulting giant Accenture as a transformation excellence consultant. Her role is one that would appeal to Spencer Johnson, author of the 1998 best-seller "Who Moved My Cheese?"
In the fable, two mice and two "Littlepeople" try to track down their cheese when they find the supply dwindling from its usual place. The moral of the story highlights the possibilities brought about by change and the principles to guide change management.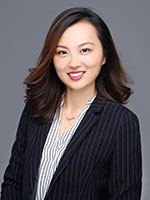 That is at the heart of Shen's mission with the clients she's working with in her new role. One focus of her job is to serve as a trusted advisor to business and technology leaders looking to build and unleash changes that boost their companies' performance. 
To do that, Shen has to be a cutting-edge master of two things:
The smallest intricacies of the industry in which her client competes 
The full range of information technology solutions available to bring about positive changes for the business. 
"I enjoy the variety of industries and technology I am able to learn and work with," she said. "(I have) opportunities to work on cutting-edge technology and empower clients to be more competitive by leading initiatives that unlock value and drive growth."
Accenture's transformation excellence consultants must be expert strategists who can synthesize diverse opinions to develop meaningful plans that will help companies move quickly in competitive environments. Their goal is to, as job postings for the position say, "decimate problems." 
Shen developed the ability to do just that during her time in Northwestern Engineering's Master of Science in Information Technology (MSIT) program. 
"(MSIT) gave me the opportunity to learn the technology and learn from my classmates, who are diverse technology practitioners," she said. "All the classes were great." 
She said the most valuable one focused on agile project management, a highly collaborative system of work designed to create constant incremental improvements for a company over time. Those agile skills, combined with MSIT's technology lessons on everything from cybersecurity and 5G to blockchain, enabled Shen to hit the ground running when she started her new job with Accenture. 
"I'm able to understand and communicate from both business and technology perspectives," she said. "I have a broad understanding of all the issues that a C-suite member can encounter, leveraging both technology and non-technology levers to reach the desired target state." 
That desired target state is often vastly different from the state she finds when she walks in the door of a new client's headquarters. The biggest challenge Shen said she faces is becoming familiar with the details of a new business or industry. Yet even there she's finding her MSIT education has given her an advantage. 
"I'm able to manage the learning curve when working on a new project," she said. "The team and technology can be different each time. Even if they stay the same, the challenges clients face are different." 
The one constant with all her clients, however, is change, which is what makes Shen an unashamed cheese-mover. She's seeing the power change can unleash for a business, and she said she's realizing how important the MSIT program was to her ability to help those companies create better futures. 
"I really enjoyed the program and the people I met at Northwestern," she said. "It was definitely an investment for myself and my career."