Leading Cybersecurity Defenses
Lisa Statland (MSIT '06) shares how the lessons she learned in Northwestern Engineering's Master of Science in Information Technology (MSIT) program help her daily in her work at CrowdStrike.
Lisa Statland is a senior manager at CrowdStrike, a cybersecurity company with a mission to stop breaches. 
The defenses she helps companies deploy against cybercrime were sharpened in Northwestern Engineering's Master of Science in Information Technology (MSIT) program. And the skills Statland (MSIT '06) possesses are in more demand than ever before. 
According to CyberCrime Magazine editor in chief Steve Morgan, global estimates put the dollar figure for cybercrime in 2021 at $6 trillion, which would make it the world's third-largest economy after the United States and China, Morgan said.. That number is expected to balloon to more than $10.5 trillion by 2025.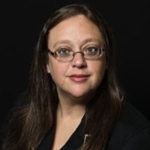 Statland was already an accomplished professional with more than a decade of work experience when she enrolled in the MSIT part-time program. She wanted a degree that combined technology and business with a focus on training professionals to be future leaders. 
"I wanted a program that addressed the real-world challenges I faced day-to-day at work," she said. "MSIT provided that and more." 
Statland found confidence during her time in the program that, combined with her increased technical knowledge, helped her learn to ask the right questions when working to strengthen a client's digital defenses. 
The benefits of MSIT went beyond academics.
"Completing the program while working full time taught me tenacity and how to keep going," she said.  "When things are tough at work, I am able to persevere, stay productive and build solutions. I learned and practiced this with my study group and it has proved invaluable over time."
Statland's role is to lead large, cross-functional initiatives and process improvements by managing all phases of multiple projects and programs. In the high-pressure world of cybercrime defense, Statland draws on lessons from the MSIT program to build a vibrant workplace environment for her team. 
"I am able to create a productive, fun culture based on how my study group worked together," she said. "I apply the teamwork muscle I built with my study group on a regular basis." 
For companies looking to enhance cybersecurity, Statland said educating employees about security best practices is a good place to start. From there, she encourages companies to delve into their processes and technology to find innovative ways to keep sensitive data secure. Find the points of greatest risk and shore them up using technology designed to stay a step ahead of hackers, she said. 
Statland has seen the value of MSIT firsthand and experienced its benefits in her career. That's why she strongly recommends it to professionals looking to accelerate their IT career growth. 
"Think about MSIT as an investment in yourself," she said. "You will grow, learn and have many opportunities as a result. The concepts and skills I learned, along with the friendships I made, helped me immeasurably. I am grateful to have attended the program."