Capstone Course Lifts the Curtain
MSIT's final class provided a valuable real-world scenario for Wanqin Chen and helped her develop a new career plan.
If the first day of a real-world job can be seen as the premiere of a Broadway play, think of the capstone course for Northwestern Engineering's Master of Science in Information Technology (MSIT) program as the dress rehearsal. 
But for Wanqin Chen (MSIT '22), it was more like a dress rehearsal for a part for which she'd never seen the lines.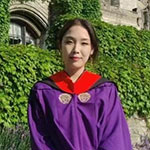 "I had no experience with this type of case due to a lack of job experience and understanding in the sector," said Chen, who along with her classmates was asked to help a fictional nonprofit work through the technological aspects of a digital transformation. 
But by the time she was finished? 
"This opportunity provided me with valuable hands-on experience (where) I could be the chief information officer and, with a group of people, make the right decisions," she said. "That will help me greatly in my future career."
That's the kind of transformation the MSIT capstone course is designed to provide. 
This year's class dove deep into the nonprofit world, one that can be perceived as a slow adopter of new technologies and maintains tight controls on every dollar. This combination created special challenges for Chen and her classmates as they sought solutions to present to the fictional nonprofit's board, made up of MSIT's Advisory Board members. 
"Our group explored a cost-effective approach to digital transformation, which I believe is critical, particularly in the aftermath of a pandemic," Chen said. "Technology has played a significant role in so many different sectors, such as remote working. Companies are seeking solutions to either move their data to the cloud or restructure their business architecture." 
Both factors – moving data to the cloud and restructuring the business – were part of the students' solution. They recommended ditching older software for the power of a cloud customer relationship management system and acquiring another company to gain efficiencies, all while leveraging the combined businesses' data to find new revenue and cost-control opportunities. 
In the end, the students were able to present a plan they believed would boost the nonprofits' customer base 10 percent within two years while reducing its debt related to technology by 20 percent annually. 
For Chen, the most valuable part of the class was being teamed with others of varying experience and work histories. 
"When you work in a group, you can learn from others with diverse backgrounds," she said. "Our group cooperated very well, and I learned a lot through discussions with my groupmates." 
Being a part of a team helped provide Chen with the most important takeaway from the class. She said she learned how important teamwork is in information technology, and that it's valuable to have a variety of inputs when considering big changes. 
"You not only need to keep up with new technological developments and learn about them, but you also need to consider both the technical and commercial aspects of a situation when making decisions," she said. "Not every new technological development will be appropriate for every business, but the way you select and implement it will be crucial for improving productivity and generating future profits." 
Now with an MSIT diploma, Chen is pursuing a PhD in information systems at the University of Rochester. She said her MSIT lessons will serve her well when she is done with her education. 
"Before I came to MSIT, I wasn't sure if I should continue with my studies or work in the industry, but I do believe that MSIT has helped me to develop my long-term goals," she said. "I want to learn more and concentrate on data science, conduct more research to advance this field, and possibly become a professor in the field."