An MSIT Knowledge Facilitator
As associate director, Stephen Dowling helps create the learning environment that allows students in Northwestern Engineering's Master of Science in Information Technology (MSIT) program to thrive.
Stephen Dowling is the first to admit he should never teach a class in Northwestern Engineering's Master of Science in Information Technology (MSIT) program.
That doesn't mean MSIT students aren't learning from him – or, more precisely, because of him.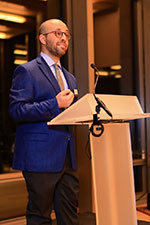 Dowling came to the MSIT program as its associate director in August 2021 with a background he sums up simply as "not tech." Yet that background allows him to serve as a catalyst for MSIT students looking to accelerate their careers in information technology. 
"I have deep experience in classroom teaching and education administration," said Dowling, who taught in high schools for seven years and earned two master's degrees from Northwestern – one in music education and one in higher education administration and policy. "I understand what teachers need to best teach and what students need to best learn."
Much of Dowling's time is spent doing the behind-the-scenes work that creates the best environment for students to gain knowledge and experience. That includes everything from facilities and technology logistics to scheduling, academic advising, and designing career development curriculum. 
During his first year with MSIT, Dowling himself was a student of sorts. He said he's learned more about the pervasiveness of technology in society and the wide variety of fields MSIT graduates go on to change because of their education. 
"IT is the operational backbone of society in ways that are obvious and ways that we don't even think about," he said. "It's really and truly everywhere." 
No longer does he think of IT as only for those who perform help-desk functions. Instead, he sees MSIT students flowing into leadership positions in everything from law to libraries, healthcare to education.
"I've learned so much in the last year about the importance of law, ethics, contracts, and compliance in IT work, especially at the leadership level we hope to see MSIT graduates advance toward," he said. "It's a far more holistic field than I gave it credit for." 
MSIT is a program designed for a particular type of professional, he said, and it has an excellent track record for delivering results for those students. 
"MSIT isn't a degree program for someone interested in fundamentally changing careers," he said. "Our curriculum (is) designed to support someone on a leadership track within the field."
Part of that support rests in the strong sense of camaraderie among those involved in the MSIT program. It's an environment he tries to foster whenever he can by bonding with students over meals or at program events. 
"For a program that only formally meets once a week, I have been surprised by the spirit of community I've felt among students, staff and faculty," he said. "The MSIT network is a tight one, and we're working hard to not just sustain but continue to build opportunities for those relationships to flourish."