A Different Vantage Point
Ross Wasserstrom (MSIT '20) spoke with current MSIT students about his career journey and how the program prepared him to make a professional leap soon after graduating.
Ross Wasserstrom recently returned to Northwestern Engineering's Master of Science in Information Technology (MSIT) program, and his perspective was a little different than the last time he was in an MSIT classroom – both figuratively and literally.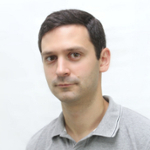 Wasserstrom (MSIT '20) has changed jobs since he was an MSIT part-time student listening to working professionals share their personal stories and experiences in the IT industry. Now he was the professional returning to the classroom, telling current students about his MSIT journey and how it helped spark his recent career growth. 
"I am able to work with many of our customers in many different areas – reporting, crisis management, containers, networking, deployment, finance, and others – largely because MSIT provided me with a baseline of knowledge in key areas," he said. 
Wasserstrom was a technical account manager with an IT services company when he entered the MSIT program in 2018. Shortly after graduating, he landed a position as senior technical account manager with CrowdStrike, an Austin, Texas-based cybersecurity technology company with a simple mission: "We stop breaches." 
His presentation to the MSIT students had an equally simple title: "Career liftoff."
"I work with experts in many different fields everyday – internally and customers," he said. "I am much better at incorporating their knowledge, delegating, and coordinating complex projects because of the managerial and technical skills I learned in MSIT." 
Wasserstrom already was an accomplished professional when he joined the MSIT program. He ran his own web design business before joining Onward Technologies in 2016. The MSIT program came highly recommended and lived up to his expectations, sparking that career liftoff he shared with students. 
Among the most important things he learned in the MSIT program were advanced skills to manage collaboration across different specialties and groups. Those are skills he's leveraging now with CrowdStrike, where he is the primary point of contact on technical matters for customers who deploy the company's cyber-defense products. 
"I help our customers protect their organizations with the work I do each day," he said. "I also enjoy that every day brings something interesting – a new technology I haven't used before or a new use for our products. It's never boring." 
Indeed, the rise of cybercrime presents a significant threat to businesses that don't proactively strengthen their defenses against ever-changing infiltration attempts. Global estimates put the cost of cybercrime in 2021 at $6 trillion, which would make it the world's third-largest economy after the United States and China, according to CyberCrime Magazine editor in chief Steve Morgan. That number is expected to balloon to more than $10.5 trillion by 2025.
Wasserstrom's presentation put him in front of students who could potentially one day join him in the fight to make those numbers less severe.
"MSIT provided me with a foundation of knowledge and skills that has been critical to my career advancement," Wasserstrom said. "Hopefully other students will have a similar positive experience."