MSIT Answers to the Most Commonly Asked Pandemic Questions
The Master of Science in Information Technology (MSIT) program's admissions team discusses this application season's six most common questions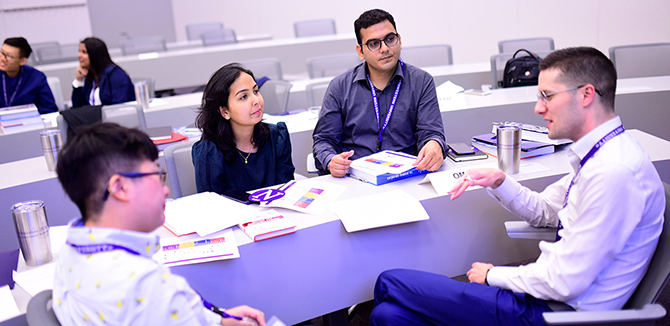 The admission team for Northwestern Engineering's Master of Science in Information Technology (MSIT) program has connected with hundreds of prospective students the past few months. Almost universally, the most common question is how their experience will be impacted by COVID-19.
With that in mind, the admissions team came together to answer six of the most frequent questions. 
How will my MSIT student experience be different because of the pandemic?
Currently, some MSIT classes are being held in a fully remote format while others are being taught in a hybrid fashion. Due to the pandemic, all classes are being recorded so that if necessary, students can watch asynchronously. The specific setup of courses in the fall will depend in part on the state of the public health situation at that time.
In-person offerings follow COVID-19 safety procedures, which include a mandatory daily symptom check for every member of the Northwestern community, reduced class sizes, mask-wearing, and social distancing. Northwestern is taking COVID-19 and the safety of students seriously while continuing to offer a top-notch educational experience. The University requires a weekly negative test from take-home test kits for evening and weekend students. Northwestern also provides on-campus testing any time a student wishes.
Additional staff has been hired to support Zoom classes, so students can continue to focus on course content and not technical issues. These staff members have also helped build bridges between in-person and remote students for collaboration.
Extracurricular offerings such as game nights and industry-related events have moved to a remote setting but continue to provide both social outlets for students as well as resources and networking opportunities.
What's changed about the application process as a result of the COVID-19 pandemic?
We're proud to say that when it comes to the application or how we evaluate prospective students, not much of note has changed due to COVID-19, meaning we still will take a balanced look at each applicant.
What ways are there for applicants to connect with current students or alumni?
You can email the program  and we will make an email introduction to an MSIT student or alum. Sometimes alumni take part in information sessions to answer questions and can also become points of contact for future questions or conversations. If you want to chat with an alumni working in a certain industry or with a similar educational background, we are happy to make this sort of useful connection.
Does MSIT weigh certain parts of the application more heavily than other parts?
We look holistically at each application and how it relates to the program's offerings and mission. We like to see an applicant have at least two years of work experience in an IT-related position, although it doesn't matter the industry or job level. We also value students who have experience working on teams and are excited about the idea of being challenged by classmates who have different collaborative and leadership experiences and perspectives.  
What additional application advice do you have for prospective part-time applicants?
When it comes to recommendations, the best are those who can speak to your strengths, skills, character attributes, and professional goals. MSIT asks specific questions to recommenders within the application, in contrast to a more general letter of recommendation. 
Your personal statement should reflect a clear understanding of how program offerings will fit with your professional goals and interests. Take time to show you know how your goals and achievements align with graduate study in the MSIT program.
Also, talk to your loved ones about your decision so you can ensure all parties are prepared to navigate the impact being a graduate student will have on your daily lives. 
How soon will I hear a decision after applying?
Typically, you will hear from the program about next steps within four to six weeks of the time you submit your application. Those applicants under final review will receive an interview invitation. 
For more information about the MSIT curriculum, the application process, or to connect with a current MSIT student or recent graduate, please email the program at msit@northwestern.edu.