Married IT Professionals Reflect on Impact of COVID-19
Aaron (MSIT '05, PhD '13) and Annie Ballew (MSIT '10) share how their daily lives — as well as IT as a whole — have had to adjust due to the COVID-19 pandemic.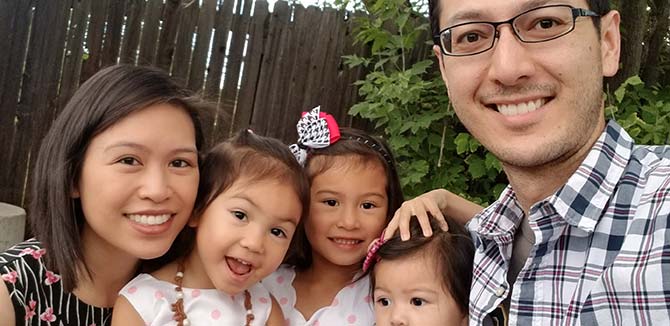 Aaron and Annie Ballew have three girls, ages 2, 4 and 7. They also each have a degree from Northwestern University's Master of Science in Information Technology (MSIT) program.
With the onset of COVID-19 and "stay-at-home" orders in their home state of Colorado earlier this spring, the Ballews had to make some changes — with work, as well as at home. Annie (MSIT '10) was already working from home before the pandemic started, but now without childcare options, the day-to-day experience was far different for her, as well as for Aaron (MSIT '05), who was forced to switch to a work-from-home arrangement. 
As they lived through their own personal changes, they also witnessed changes they think will impact the IT field for years to come. The two recently sat down to talk about their experiences and how they think COVID-19 will impact the world of IT.
How would you describe what the transition has been like for you working from home? 
Aaron: I am extremely fortunate to be able to transition to working from home at all. Once upon a time, I happened to pick a career that can be done from a laptop. Many people picked something different, and now they're experiencing a much more challenging situation than I am. Recovering my morning and evening commute time has actually helped me get a little more done, both in terms of work and getting the kids ready for the day. 
Annie: Being in IT, I've had the luxury of working from home for the majority of my career with access to remote access tools. Because of this, my workspace hasn't changed, but the daily routine certainly has without access to childcare. I was originally worried it would get a bit crowded with everyone in the house, especially with Aaron now being at home too. But it's been extremely helpful to have him around, especially to share in watching the kids and tradeoff doing chores such as making dinner. It's also been somewhat of a blessing in disguise. The day to day is definitely a lot harder trying to juggle everything, but I've really enjoyed the extra time we get to spend all together. Even something as small as eating lunch with the family every day has been a nice change.   
Aaron: My favorite part of the workday is giving the kids a squeeze between meetings. On the occasion that one of them makes an unplanned on-camera appearance, I invite them to come wave hello to my colleagues.
How do you like to describe your day-to-day responsibilities? 
Aaron: I'm vice president of demand generation at Ping Identity, a recent IPO that specializes in cloud-based security software. That's a pretty broad category. If you think of things like single sign on and multifactor authentication, that's us. I run the marketing campaigns and the technical infrastructure to support them. Our tech stack gives us abundant data about what our audience is interested in. This informs our decisions about what to do next. It also helps us honor our responsibilities with regard to individual privacy. We actually don't want to invade your life with irrelevant ads or content. It's not efficient for you or for us. Most of what we do is intended to show you things you actually want to see, at the time you're looking for it.
Annie: I recently transitioned to a new job in product marketing at a very small information security startup with less than 30 employees. Day-to-day responsibilities vary greatly depending on what the needs and priorities are for that specific day. One day I might be preparing a technical demo and doing research for a presentation, and the next day I might be developing strategy or writing content for a big product launch. One thing I love about startup life is the ability to try on many hats; the opportunity to actually try out ideas and see what works has been a huge learning experience.  
Recognizing that things could be much worse, what would you say has been the biggest challenge for you with this transition?  
Annie: The hardest thing is not having childcare to help keep the kids engaged throughout the day. In many ways, it seemed like both work and home life was suffering because I could only devote half of my attention in either direction and not fully commit one way or the other. Aaron and I originally tried working as though nothing had changed — taking meetings and managing the full workload. But we soon realized that wasn't working, so we moved toward taking shifts throughout the day, which allowed us to be more present when it was time to be with the kids or participate in a work meeting.  
Aaron: It's a real dance to put in a full day's work and keep the kids mentally engaged in something other than a screen. Even keeping them safe is hard. At first, Annie and I were just tag-teaming on the fly. She'd hop on a meeting for an hour while I watched the kids, and then we'd switch. That happened several times a day. We couldn't mentally enter or exit work completely with so much back and forth. One day I was watching the kids but my head was still in something corporate, so I was multitasking. My 2-year-old dived headfirst into the coffee table and got a bruise. After that, we decided our strategy was making us mediocre employees and parents at the same time. It's no fun having guilt on two fronts. Now she takes a full morning shift with the kids while I work. Then, I take a full afternoon shift with the kids while she works. Overflow work happens around 10 p.m. 
What have you learned about time management from this shift to everyone being at home? 
Annie: Remembering to be present actually helped a lot with time management and even stress management. Initially, I tried working and watching the kids at the same time and everything was a disaster! Tasks would never get finished and stress levels skyrocketed. I found that if I could split my day to where work time was completely devoted to work and family time was completely devoted to the kids, I could manage my time much better.  For one, I could set expectations with work by outlining what I could reasonably accomplish with the reduced schedule. And with the kids, I could stay completely engaged without bringing work stress when it was their time. 
Aaron: When working hours are tight, it amplifies the consequences of vague meetings with too many attendees. This is the time to go back to first principles. Have an agenda. Have a clear objective to accomplish in the meeting. Invite the people who can contribute to that objective, not just everyone you think should be 'in the loop.' You can still achieve good communication without locking up an hour of someone's day to sit in listen-only mode. In my home life the biggest revelation is how much I enjoy spending time with my family in the absence of a big daily mission. Before the stay-at-home order, every weekend we were going, going, going somewhere. Go to the museum, go to the dance recital, go see people, go shopping, and in the blink of an eye the weekend was over. Without that hustle, we're playing in the backyard, doing little projects together, or just talking. We still like the hustle, but I feel more comfortable balancing that with quieter times. 
How do you think this experience will change how you or your company view supporting remote employees? 
Annie: I am lucky to have found a startup that has been extremely supportive of the challenges trying to handle both family and work at the same time. And since we are a SaaS company, we've embraced a strong remote collaboration culture since the beginning. One thing we've done since this all started was open up a new Slack channel called "COVID-19 Life", which opened up more chatter around non-work things related to how we are coping with this new change. It's been a lot of fun and allowed us to all get to know each other a bit more on a personal level.  
Aaron: I think my company will continue to be supportive of remote employees. Even as offices open back up, there will be people who are reluctant to return right away. The process of returning to offices is going to be a long one and employers should be patient. There are also many companies who significantly improved their IT infrastructure in the past few months to enable more remote work. Now that the infrastructure is in place, I doubt they'll tear it down. 
How do you think IT as a field will be impacted whenever society is able to move beyond COVID-19? 
Aaron: As a field, I think IT was probably better prepared than most. We always thought communication and collaboration tools were critical to a modern workforce, but I think we just redefined how critical they really are. 
Annie: Being in IT security, in some ways COVID-19 was a test of many business continuity plans and caused IT teams to reevaluate their strategies. Especially whether their business continuity plan took into account securing their assets and information. At my company, we saw tons of security implications as users were allowed to bring their machines home where they're no longer protected by an on-prem security stack, or others who allowed personal machines to connect to the corporate VPN. Not only that, we also saw a huge lift in phishing and social engineering related to COVID-19 with attackers exploiting the heightened sensitivities of users looking for PPE or pretending to give away free Netflix accounts. 
How did your MSIT experience prepare you for your current job, and maybe even this current transition? 
Aaron: My ability to open up my laptop at 10 p.m. and work for three hours is entirely due to my time at Northwestern. I got a lot of practice back then and it stuck with me. It's probably my most productive time window. 
Annie: I've recently stepped away from engineering and took a role doing product marketing. My MSIT experience definitely factored into my decision to make this move, in particular helping me build confidence that I could handle a move from engineering to marketing. I actually still reference former MSIT Professor Chernev's Strategic Marketing Management all the time!