Looking Back on My Northwestern MSIT Experience
Ruma Anand (MSIT '18) reflects on her time in the program prior to graduation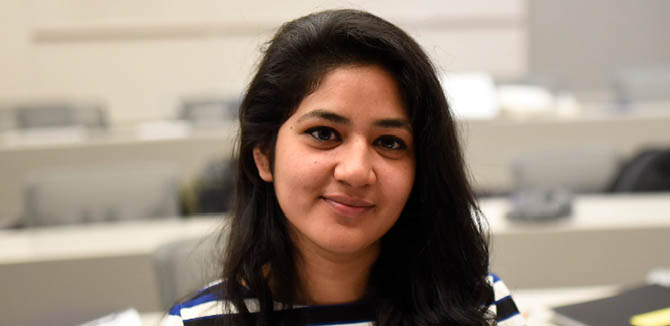 Before Ruma Anand (MSIT '18) enrolled in Northwestern Engineering's Master of Science in Information Technology (MSIT) program as a full-time student, she was working in India as a business analyst at Ameriprise Financial. She worked there for four years and primarily focused on data ingestion, analytics and delivering insights to business partners using effective visualization.
Now, as Anand prepares to graduate from Northwestern, she took time to look back on her year in the MSIT program.
What was it about the MSIT program that most appealed to you?
The MSIT program is an excellent blend of business and technology courses. There is a wide variety of courses that give you the liberty to make the most of your experience as a graduate student.
What is the biggest thing you learned during your time in the program?
Teamwork! Most courses offered by MSIT involve collaboration (as well as individual contributions). This helps with sharing varied skills and encourages participation among team members. In the real world, one does not always get the opportunity to choose their team. MSIT courses prepare you for such situations and help you learn and respect other opinions.
In what ways have you seen yourself grow during your time in the program?
I am much more confident and have conviction in my work now. The MSIT program has made me more independent and has taught me to trust my instincts better!
What advice would you give to someone considering the MSIT program?
It's really up to you what you want to make of your experience at Northwestern. You can opt to enroll in more technical courses and build a career as a Software Engineer and at the same time expand your skill set on the business side and proceed in a management role. Spend ample time figuring out what direction you want to take and what courses meet the expectations and vision you have for yourself.
Is there anything else you'd like to add?
The MSIT staff and faculty all make the experience worthwhile. I will cherish my time here at Northwestern. It is an experience that will stay with me forever. Go Cats!