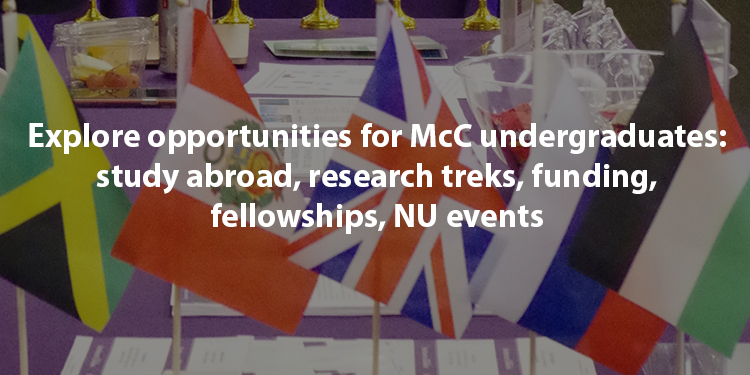 Student and Post-Doc Opportunities

Undergraduate Opportunities
News and Updates

Stay informed about new events and research abroad opportunities. Join our mailing list below.
ENGINEERING ABROAD:
Study Abroad for a Quarter!
Engineering students have study abroad opportunities that meet their programs' credit requirements.  McCormick Global Initiatives is dedicated to sharing and facilitating opportunities for McC students to spend extended time studying internationally while still enrolled at NU. 
See the links below to explore existing programs at international institutions, a historical list of approved international courses for McC credits, and fellowships available for application.
Engineering Abroad Documents
Have an international program already in mind?  Browse historical list of McC courses previously approved for credit.  Department and school approval are still required for every course credit request and each department reserves the right to not continue granting credit equivalence in the future:
McC Global Initiatives with the Global Learning Office (GLO) compiled the following table of existing international engineering study abroad programs by country:

The Office of Fellowships, the Global Learning Office, and Global Health Studies maintain the following list of available fellowships:
Interested in study abroad but not sure where to start?  The planner below provides guidance and direction based on your answers to a questionnaire:
GLOBAL ENGINEERING TREKS (GET)
In the fields of sustainability and energy, engineers turn abstract ideas into innovative solutions. Wi this in mind, McCormick Global Initiatives offers weeklong Trek programs in Germany, Israel, Taiwan, and Chile that expose students to real-world advances in water management, hi-tech innovation, and sustainability in energy and the environment.
In summer 2023, Engineering Treks will go to the following 4 countries:
Germany- Global Engineering Trek: Sustainability and Energy
Israel- Global Engineering Trek: Water
Taiwan- Global Engineering Trek: Innovation and High-Tech
Chile- Global Engineering Trek: Energy Storage and Critical Materials
Costs for all treks are highly subsidized. Please note that completion of each trek does not convey course credit, and is intended as a supplemental learning and enrichment experience.
LEARN ABOUT GLOBAL ENGINEERING TREKS
STUDENT AMBASSADOR AWARDS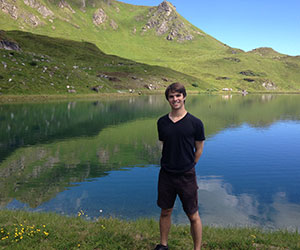 The Global Initiatives office offers BS and MS students additional funding to offset their planned academic pursuits abroad via an application process.  Accepted students serve as Global Initiatives Student Ambassadors to inform their community abroad about NU and about their international experience within NU's community.
Learn more about previous Student Ambassador experiences, and APPLY
---
McC GLOBAL INITIATIVE EVENTS AT NU
Karneval Kaffeeklatsch:
Celebrate Fasching, the German 'Mardis Gras'
Please join for a coffee and chat event hosted by the German Undergraduate Advisory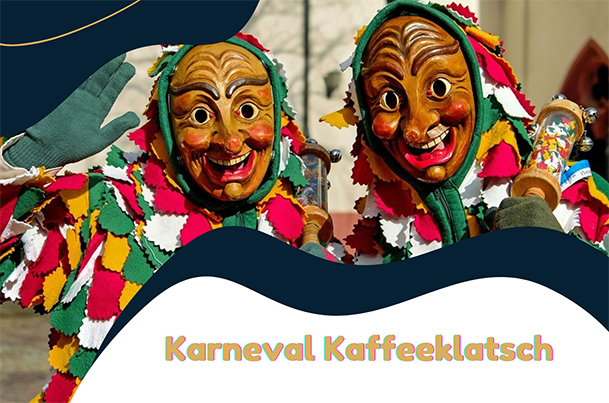 Board (GUAB) and McCormick Global Initiatives.
Come to practice German, meet students interested in German or engineering, and enjoy some seasonal pastries!
Tuesday, February 21, 2023
5 - 7 pm
TECH L440
Global Initiatives Fair
Each fall, McCormick Global Initiatives convenes relevant units across the university for an event in Tech Lobby that showcases student opportunities abroad such as study abroad, co-ops, internships, global research projects, and NU academic programs abroad.
Learn more about this year's Fair, see participating units, relevant documents, and about some of Northwestern's global science, language learning, and engineering opportunities on the Fair page below.
Global Exchange Welcome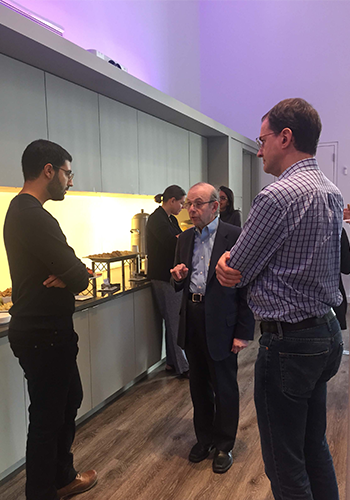 Global Initiatives hosted its third annual "Global Exchange Welcome" on October 4th. This was a social event for all incoming engineering foreign exchange students to connect with McCormick students who returned from abroad exchanges. Faculty and staff members who assisted with these exchange programs were also present. McCormick partnering institutions represented at this year's event were Tel Aviv University, ETH Zürich, and Hong Kong University of Science and Technology. The event connected those with special interests in research and study abroad.
Undergrad-Abroad Mixer & Spring Send-Off
Our 5th Annual Undergrad-Abroad Mixer & Spring Send-Off took place on May 8th in Cohen Commons. This was a social event for all McCormick students considering, about to embark on, or returning from an abroad experience. Global Initiatives' mission is to inform our engineering students about the multiple international opportunities available abroad and how to pursue them. This event intends to connect these students who either performed or are interested in performing international research, internship, study and projects abroad.
---
INTERNATIONAL FELLOWSHIPS, COMPETITIONS, INTERNSHIPS
Internships
Interdisciplinary Research in Korea on Applied smart systems (IRiKA)
The goal of the National Science Foundation's International Research Experiences for Students (IRES) program is to provide high-quality educational experiences for small groups of U.S. students through active research participation in collaboration with foreign researchers at an international site and provide students with international collaborative research training and a personal network on which to build future collaborations.
IRiKA is a competitive program. The five (5) students selected for the Summer 2021 cohort will each receive:
• US-Korea Roundtrip plane fare and transportation in Korea (~$2000)
• 8-week paid research internship in Korea ($4000)
• Accommodation in Korea (~$2000)
• Optional Research materials supplement
• Support to publish work at a local/regional/national/international conference
Applications for Summer 2022 have now closed. 
Fellowships
The Projects for Peace program enables undergraduates around the country to design grassroots "projects for peace" that use a summer to address global social issues. The grant provides up to $10,000 for a summer project focused on some dimension of enabling peace in a global world. At Northwestern, the Office of Fellowships facilitates the grant process. One Northwestern student is awarded the Projects for Peace grant each year. First-, second-, and third-year students are eligible to apply.
Applicants must submit all materials to Jason Kelly Roberts by 12:00 PM on January 24th, 2023.
Northwestern - National Taiwan University Virtual Research Poster Workshops
On March 1st through March 3rd, 2022, Northwestern University and National Taiwan University co-hosted a virtual research poster exchange, offering graduate students, post-docs, and undergraduate researchers a forum for sharing information about their research interests and networking with their international colleagues. With nights for Energy & Sustainability, Biomedical Engineering, and Electronic Devices and Systems, the event saw an excellent turnout.  More information on the sessions can be found in this article.
---
GLOBAL ENGINEERING PROGRAM
It is increasingly important for our undergraduates to engage in the global technological community, which includes professional and academic institutions outside of the United States.  Preparation to enter such a global technological landscape transcends mere classroom preparation and requires service learning, studying, researching, living, and/or working abroad. 
This program is designed to structure a path whereby students can successfully incorporate significant international experience into their already rigorous engineering curriculum.  This program will encourage the development of formal ties between Northwestern Engineering and educational, research, and engineering organizations around the world, by engaging the Engineering School's most valuable asset – its students.
Successful completion of this program will be include in your undergraduate transcript.