Student and Post-Doc Opportunities

Student Ambassador Awards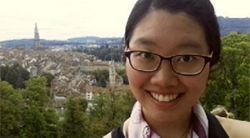 The Global Initiatives office invites undergraduates and BS/MS students with global perspective in their engineering careers to serve as Global Initiatives Student Ambassadors.
Apply for a support stipend of up to $1,000 to help offset the travel costs of conducting scientific research, project work, industry internship or summer study abroad. Student Ambassadors will serve the Global Initiatives mission creatively, using their opportunity abroad to inform the general public and/or their research/work community in their host country about Northwestern University, and upon returning, inform fellow McCormick students of their experience abroad. Note only summer Study Abroad programs are eligible for these awards.
How to Apply
Fill out an application.
Provide an NU transcript.
Write a motivation letter about the importance of this opportunity to your professional development, and explain what tasks you will undertake to serve as a student ambassador to fellow McCormick students upon your return.
Verify that you have already received the necessary support to conduct the research or industry internship, or acceptance into the program that coordinates the project work.
Submit your completed application, NU transcript, motivation letter, and verification of current financial support to global.initiatives@northwestern.edu.
Student applications will be reviewed on a rolling basis in the order they are received, but must be submitted at least 5 weeks prior to the start of the quarter abroad.
---
PREVIOUS AWARDEES
Matthew Sweers
Joint Undertaking for an African Materials Institute (JUAMI) 2023, Kenya
Materials Science and Engineering Student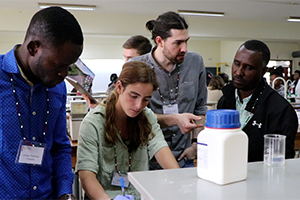 "I spent 2 weeks in Nairobi, Kenya attending the Joint Undertaking for an African Materials Institute (JUAMI) school. This was a workshop that featured a 50-50 mix of researchers from U.S.-based and East African Institutions. The focus of this meeting was "Materials for a Sustainable Future" – most of the attendees work on decarbonizing energy technologies, but we also welcomed colleagues that study a broader range of sustainability topics. Each day featured research and tutorial-level talks from field-renowned scientists on topics such as electrochemistry, solar cells, life cycle analysis, and nanomaterials. The tutorials were accompanied by hands-on lab exercises to familiarize students with various technological platforms. The 2-week program culminated in project proposals, with project ideas ranging across research, outreach, and education. My multinational team is building a network of available scientific instruments that we will use to increase access to needed materials characterization tools through a searchable web database, starting with East African universities. Beyond the educational content, my favorite part of JUAMI was meeting people. The opportunity to interact on a personal and professional level with so many extraordinary researchers, both at the faculty and student level, is an experience I won't soon forget."  
Jenna Trost
Joint Undertaking for an African Materials Institute (JUAMI) 2023, Kenya
Chemical and Biological Engineering Student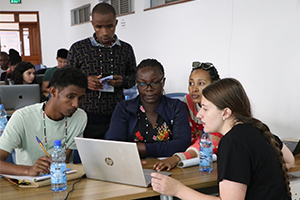 "Spending two weeks in Nairobi, Kenya is an adventure on its own, but it became an unforgettable experience when coupled with the Joint Undertaking for African Materials Institute (JUAMI) school. JUAMI is a two-week program meshing research from many disciplines in materials science – batteries, electrochemistry, membranes, solar cells, and nanomaterials – with brilliant students and researcher leaders from the United States and East Africa. Each day had detailed lectures and hands-on tutorials on these topics. Most students' research focused on decarbonization technologies, but some students' work (including mine) branched into broader sustainability research. My work focuses on life cycle analyses (LCA) of mineral acquisition, and I was invited by Prof. Jennifer Dunn to help lead the lecture and tutorial on LCA. Our session was the first of JUAMI to help weave broader sustainability concepts into the other sessions. I really enjoyed working directly with students and sharing tools and resources of my research. Once our session was over, I became a student for the other sessions – eagerly learning about other aspects of materials science and broadening my perspective on sustainability. Creating and pitching a project proposal is the capstone to JUAMI. Students form teams to cultivate project ideas. Most projects highlighted potential solutions to challenges in research, outreach, and education. My group concentrated on university outreach programs to encourage women to pursue science and engineering degrees both in the U.S. and East Africa. Our all-female team spans across 5 countries, offering unique education perspectives and networking opportunities. Our team plans to continue our efforts beyond JUAMI. Outside of academics, the people were undoubtedly the best part of JUAMI. Everyone was very kind, excited, and passionate about their work. I formed friendships and experienced opportunities that have changed my academic, professional, and global perspectives. I am so grateful to have participated in JUAMI."
Kristen Greene
Universita Ca'Foscari, Italy
Chemical Engineering Student
"This summer I spent time in Venice, Italy, researching representation of the wastewater treatment sector in integrated assessment models (IAMs). This research is part of a collaboration between the Dunn lab at Northwestern and Enrica De Cian at the Universita Ca'Foscari in Venice and is focused on using IAMs to investigate how energy demand and greenhouse gas emissions of wastewater treatment will change as a result of climate change, urbanization, and increasingly strict water quality standards. We are also interested in investigating how these outcomes will change as novel treatment technologies offering energy and resource recovery are developed and adopted in different regions. Being able to collaborate in person and learn about representation of the wastewater treatment sector in existing IAMs from experts who developed them was extremely helpful to advance the project in addition to helping me to grow as both a scholar and a professional engineer. I developed a clearer idea of the current representation of wastewater treatment plants in IAMs and how representation will need to improve in order to achieve the desired analyses. When I was not working on our project, I got the chance to explore and appreciate the beauty and culture of Venice and neighboring cities in Italy."
Owen Lubben
Hochschule Bochum, Germany
Mechanical Engineering Student
"I had the opportunity to intern for 10 weeks at the Laboratory for Sustainability in Technology at the Bochum University of Applied Sciences in Bochum, Germany. I conducted research on solar charging stations for light electric vehicles such as e-scooters, e-bikes, and e-mopeds. I worked on user testing of the current station to recommend updates for the next round of stations that will be installed in surrounding cities. I looked at the addition of inductive charging plates and evaluated the sustainability through Life Cycle Analysis. I was able to work with other German companies and also researchers from Don Bosco Technical Institute in Ghana on the project as well. This experience has made me a better engineer, and now I hope to use the knowledge to work on sustainable designs here in America.
Furthermore, I was able to experience much of the culture of Germany and Europe. I took weekend trips to Berlin, Munich, Amsterdam, Zurich, and London. I was even able to see the Northwestern football game in Dublin. I learned just as much from these travels as I did from the research itself."
Chelsea Ye
Daimler AG, Germany
Mechanical Engineering Student
"I was very fortunate to have the opportunity to work at Daimler AG in Sindelfingen, Germany the summer before my Junior year. I interned in the Materials Engineering group and worked on a project correlating mechanical properties with the surface quality of pressed 5000 series Al sheet parts in the Mercedes Benz car bodies. I found that the most enjoyable aspect about working at Daimler AG was the ability to see and interact with many different parts of the plant. Since there is production done on the plant, I was able to see the press shop and assembly lines. In my own project, I used many resources from the plant such as the prototyping shop, surface characterizations, tensile testing lab, press shop and more. I experienced the day to day workings of industry and met many colleagues that told me about their experiences as well.
Another great part about working in Germany was experiencing the culture and being able to travel and explore Europe. Every weekend I was able to travel to places such as Munich, Berlin, Prague, Paris, Dresden and more. I loved living in another country, immersing myself in the surroundings and meeting new people."
Biraj Parikh
Technische Hochschule Ingolstadt, Germany
Computer Science Engineering Student
"During my internship, I was able to learn about research in the field of computer science, interact with German researchers and learn how research is organized on a local as well as national stage in Germany, make friends with interns from around the US, Canada, the UK, and Ireland, and lastly explore Germany and Europe. During my time there, I visited Heidelberg, Munich, Berlin, and Vienna, Austria.
My internship was in the Vehicle to "X" Communication Lab and revolved around a project funded by the Connected Motorcycle Consortium (CMC). The CMC is an initiative led by multiple German universities and automobile companies with a goal of creating a motorcycle that is able to communicate with other vehicles and infrastructure on the road. This provides a safer riding environment for the motorcyclist. I specifically worked on how GPS data can be combined with measurements such as the motorcycle's speed and roll, pitch, and yaw to accurately track the motorcycle."
Soram Kim
Werner Siemens-Chair of Synthetic Biotechnology (WSSB) Lab at Technical University of Munich, Germany
Chemical Biological Engineering Student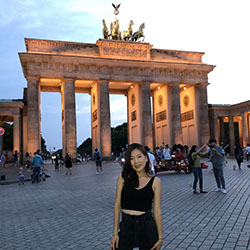 "When I was in Munich, Germany, I was able to work with Werner Siemens-Chair of Synthetic Biotechnology (WSSB) Lab at Technical University of Munich. While at the lab, I conducted research to produce bioplastics from microorganisms such as E. coli. This technology would enable plastics to be produced from non-petroleum derived sources and also to be biodegradable. At the lab, I was able to genetically engineer E. coli cells, culture the cells, and also extract, purify, and test proteins from the E. coli cells. The opportunity to research at this laboratory and to also have this experience abroad was incredible and honestly better than anything I could have expected."
Jason Kwon
Social Engineer Corps, Guatemala

Biomedical Engineering Student
"I had the opportunity to spend 8 weeks in Guatemala through the GESI Program at Northwestern. I spent my time in both Antigua and Nebaj working with Soluciones Comunitarias (SolCom), an NGO that works with local entrepreneurs to provide sustainable products to people in their community. During my time there, I worked on developing a trash collection system for a nearby community called La Pista, which had a problem with improper trash disposal. The lack of a central system led to trash being burned, buried, or littered. By working with the municipality of Nebaj, we organized a way for the trash to be delivered weekly to a local garbage dump. Another project we worked with a school for students with learning disabilities. We worked on locally selling bracelets that the students had made so the school could buy school supplies. Throughout the internship, I interacted with many people in the community that gave us insights on how we could implement our projects. The employees of SolCom as well as municipality officials also played a large role in our success. While working with SolCom, I was lucky enough to stay with host families in Antigua and Nebaj. Both families were incredibly kind and provided amazing support throughout the immersion. Much of my exposure to Guatemalan culture was through spending time with the families. I also made major improvements in my Spanish with their encouragement. My experiences in Guatemala are ones I will never forget, and I am thankful for the opportunity Global Initiatives gave me."
Andie Gomez-Patron
Social Entrepreneur Corps through Global Engagement Studies Institute, Guatemala
Electrical and Computer Engineering Student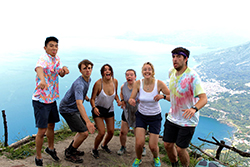 "This summer I lived in Jocotenango, Guatemala for two weeks and Nebaj, Guatemala for six weeks through the GESI program at Northwestern. I was a community development consulting intern with Soluciones Communitarias through the Social Entrepreneur Corps. We worked on three different projects alongside three different local organizations. We worked with Regala Una Sonrisa on an anti-suicide campaign, where we designed flyers and filmed a video at various schools in town for suicide awareness. We collaborated with a school called La Escuela Especial, facilitating communication between the teachers and other parties for their upcoming construction and worked with an after school program director and staff to write a grant proposal in hopes of buying land and expanding facilities. I gained great experience in working with many different groups and challenges, some technical and some much more creative. This experience has definitely shaped my understanding of what I want to do as engineer in the future; working alongside people all over the world to solve problems together. I had a great time working with all the different people I met and spending a lot of time with my wonderful host family!"
Caleb Han
Foundation for Sustainable Development, Uganda

Industrial Engineering and Management Sciences Student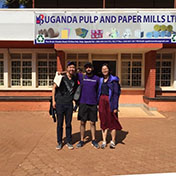 "I went abroad to Jinja, Uganda with several other Northwestern students to work with the Foundation for Sustainable Development. During our two months there, our team worked on a strategy plan for an initiative called Trees for Education and built upon the gaps observed. We worked with the local communities to define several needs and objectives to improve the plan, which included a lack of training on tree maintenance, a scarcity of available markets, as well as absence of a database. To meet these needs, we conducted training workshops, created a reference manual to educate the communities on best practices, reached out to local markets, and developed a process map which could be used to keep track of available trees."
Alexander "AJ" Johnson
Research at Nagoya Institute of Technology in Nagoya, Japan
Electrical Engineering Student
"I spent the summer at the Nagoya Institute of Technology in Nagoya, Japan doing an independent research project sponsored by the Office of Undergraduate Research, the Buffet Institute, and Global McCormick.  At the University's Tokuda-Nankaku lab, I researched methods in signal processing for increasing the intelligibility of synthesized speech in broadband noise.  Under Professor Keiichi Tokuda's direction, I partnered with a graduate student to process speech stimuli and conduct a variety of hearing tests in noise to give insight on the best processing methods to increase intelligibility.  In this project, I not only gained technical skills and research experience, but also made several valuable connections while improving my Japanese." 
Soram Kim
Internship at the Foundation for Sustainable Development in Udaipur, India

Chemical Engineering Student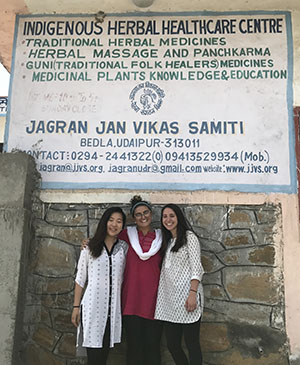 "For 8 weeks, I was able to live in Udaipur, India through the GESI program at Northwestern. I had a truly unforgettable experience while interning at Jagran Jan Vikas Samiti (JJVS), living with a host family, traveling around India, and interacting with locals in the city. The internship at JJVS allowed my team and I to conduct interviews and surveys that led to a published booklet promoting the Indian traditional healing processes called Aaditherapy. As the internship progressed, we were able to meet and talk to countless patients as well as healers to see the effectiveness of Aaditherapy. We found that Aaditherapy was very effective, especially in rural village areas that did not have a sufficient access to western medicine and healthcare. Not only was it an eye opening experience to learn more about traditional healing methods in India, but it was also amazing to meet and speak to members of the communities that we visited. This experience allowed me to grow not only as an engineer but as a person, and I am grateful to Global McCormick for enabling this opportunity."
Riley Hanus
Teaching Assistant with the Joint Undertaking for an African Materials Institute (JUAMI) in Arusha, Tanzania 
Materials Science Engineering Student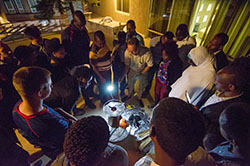 "I traveled to Arusha, Tanzania with JUAMI to help with the instruction of the thermoelectric portion of the institute. The mission of JUAMI is to connect US scientists with scientists of East Africa in an effort to accelerate scientific development in these developing nations. These international connections also educate and inform US researchers as to what scientific and technological advances would help developing countries, and what steps can be taken for their advancement.  During my time there, I wrote, presented, and instructed a thermoelectric device engineering lab, as well as participated in JUAMI activities.
From an academic and scientific perspective, JUAMI was a bit of a gold mine. Every day was essentially a crash course on a different energy technology. Each morning was a condensed introduction given by a world expert and each afternoon we worked in randomized teams involving energy technology. In my experience, this type of thorough, efficient introduction to any materials research field is hard to come by.
On a more personal note, of everything I've gained from my experience at JUAMI, I would say awareness stands out the most.  I became aware of things I had expected to become aware of - like the luxuries we take for granted in the U.S. - but I also became aware that the locals are proud, ambitious, welcoming, and happy. I became aware of the global nature of energy research, and how scientists from all parts of the globe are motivated to solve these universal problems. I feel fortunate to have made friends with some these scientists during the past two weeks, and look forward to working with them in the future."
Elizabeth McTighe
Research Intern at the Institute for Lightweight Engineering and Polymer Technology at the Technical University of Dresden, Germany  
Mechanical Engineering Student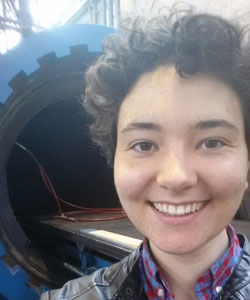 "Through the DAAD RISE program, I worked for three months as a research intern in the Institute for Lightweight Engineering and Polymer Technology at the Technical University of Dresden. I constructed composite test specimen to investigate controlled delamination as a method of increasing energy absorbed under dynamic loading and ran FMEA analysis on the effect of pin orientation in through-thickness reinforced composite joints in tension and in shear delamination. I worked alongside other interns from the US and UK and was able to grow my technical German vocabulary, as I conducted my internship in German."
Kenneth Hua
Research Intern at the Institute of Surface Modification in Leipzig, Germany

Electrical Engineering Student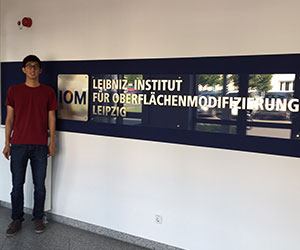 "This summer, with the help of the DAAD and Global McCormick, I conducted research on the shape memory alloy, Fe70Pd30. My project was to find ways to grow better quality Fe70Pd30, specifically smoother surface quality with less defects while maintain the right ratio of Fe:Pd. This was done by isolating certain growth variables and seeing how that impacted the properties of the material. The experience provided me with the time, resources, and proper guidance to develop important lab skills involving material growth and characterization. My graduate supervisor, professor, along with everyone else in the lab, composed a supportive and relaxed working environment that I really enjoyed. My experience in Leipzig, Germany was a memorable one. While there were many challenges to living in a new country, the skills learned through this adjustment and the perspective gained are pretty invaluable. I met many new people, learned (or at least tried to learn) German, and traveled to some cool places on the weekends. All in all, it made for a very enriching summer, both personally and academically."
Anna Beatrice Leenay
Project at the Global and Ecological Health Engineering Projects (GEHE) and through the Jal Bhagirathi Foundation in Rajasthan, India
Environmental Engineering Student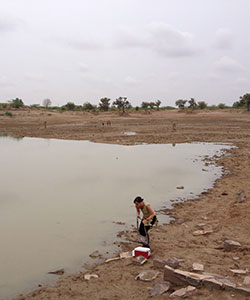 "My trip was focused on testing and treating drinking water in Jodhpur, Rajasthan, India. Another student and I collaborated with a clean drinking water NGO that one of our professors had been working on for a few years. Many small villages in the area collect rainwater during the monsoon season to use throughout the year rather than depending on government water mains, which distribute highly saline, undesirable water. The NGO we worked with, then, helped these communities build structures to collect, store, and treat rainwater. We worked on a number of projects during our time there, involving collecting data, conducting experiments, and constructing and testing a solar-powered disinfection device. Through this experience I discovered a lot about conducting fieldwork, especially in foreign communities, that I could never have learned in the classroom. After our research, we traveled a bit around the country and were overwhelmed by the energy in hyper-populous cities and the beauty in sweeping landscapes. I am glad to have had this unique experience, which was made possible in part through the Global McCormick Student Ambassador program."
Lucia Brunel
Research at Politecnico di Milano's Department of Chemistry, Materials, and Chemical Engineering in Milan, Italy
Chemical Engineering Student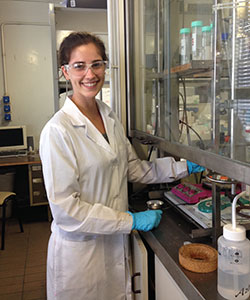 "I spent the summer conducting research at the Polytechnic University of Milan in the lab of Dr. Davide Moscatelli. My research concerned kinetic studies of synthesis reactions for polymers that have demonstrated promising characteristics for use in drug delivery systems. Once I had completed kinetic analyses and models of these polymer reactions, I transformed the synthesized polymers into nanoparticles. Using nanoparticles of these novel materials has potential to greatly improve the efficiency and effectiveness of the transport of medical drugs into the body. Dr. Moscatelli's lab also works in collaboration with ETH Zurich in Switzerland, which I was fortunate to visit to better understand and appreciate the international scope of the research and benefits of global collaborations. My experience abroad especially helped me to develop my international awareness as an engineer. In an increasingly global workplace, it is essential that engineers not only possess the technical skills of their field, but also the ability to communicate and interact with people of a diverse set of backgrounds and cultures. Living the everyday life of Italian people both socially and in the workforce helped me have a greater appreciation and understanding of the importance of accepting different views and ways of living. The experiences and knowledge gained from the immersion in a culture abroad are invaluable and cannot be taught in a traditional classroom setting. With this international awareness, I hope to be better equipped to understand and plan for the effect of technologies on societies beyond my own."
Shreya Udani & Taryn Bogda
Project at the Post Graduate Institute for Medical Education and Research (PGIMER) and Project RISHI (Rural India Social & Health Improvement) in Haryana, India
Biomedical Engineering Students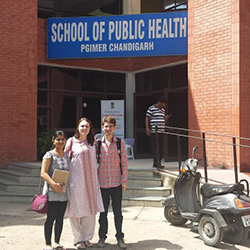 "During the summer of 2015, I worked with six other Project RISHI (Rural India Social and Health Improvement) members in the village of Charnia, next to the city of Chandigarh in India, to better understand and abate the medical ills that are prominent in the community. In particular, we conducted several interviews throughout the village to determine the sanitation practices of the villagers. These interviews served as the basis for future projects we implemented in Charnia. We also coordinated with doctors at the Post Graduate Institute for Medical Education and Research to arrange a health camp to provide the villagers with much-needed medicines and treatment. This trip was very rewarding, as it brought to life the global health problems we try to solve throughout the year on campus. I am grateful to Global McCormick for providing me with an award that helped make this trip a reality."
Elizabeth Piotrowski Conger
Research at RW Technische Hochschule Aachen University, Institute for Combustion Engines in Germany

Environmental Engineering Student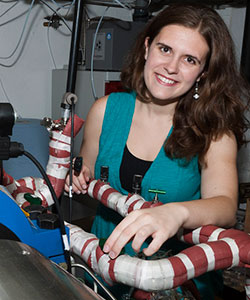 "Through the DAAD RISE program, I worked as a research assistant at RWTH Aachen University (Germany) in the Tailor-Made Fuels from Biomass group. I specifically operated a Rapid Compression Machine (RCM) to investigate the ignition delay times of novel biofuel compounds. My abroad experience taught me how to adapt to an ever-changing and foreign environment. I worked in an international lab where the language spoken was mostly English, but communication barriers were still a concern at times, and it took a great commitment by my co-researchers to keep everyone well-informed on the project objectives and necessities. I strived to always ask questions, especially since this very mechanical engineering research was not directly correlated to my education, but by being proactive I received an amazing experience and gained truly valuable skill sets in a new field. In all aspects of life abroad, I learned to put myself out there and take risks. If I didn't try new things while traveling around the country or in every-day tasks as banal as grocery shopping, I would have gained nothing and made so many fewer connections to this country."
Chintan Pathak
Project at the Post Graduate Institute for Medical Education and Research (PGIMER) & George Institute for Global Health in Haryana, India
Biomedical Engineering Student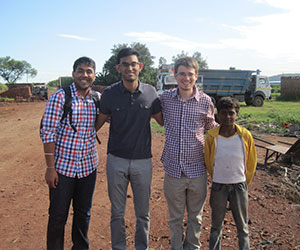 "My summer experience involved working with two other students as a part of Project RISHI in Charnia, Haryana, India. The goal of this experience was to evaluate a iron folic acid supplementation research study started by Project RISHI the previous ear, conduct focus groups with government community health workers (ASHAs), and gain a better understanding of the education and health infrastructure in Charnia. While in India, we were able to contact our advisors and partners at the Postgraduate Institute in Chandigarh, who helped us to setup our focus groups with the ASHA workers. The purpose of the ASHA focus groups was to fully understand the job of ASHA workers as frontline health workers, issues they faced in the community, and the feasibility of smart applications to supplement ASHA capabilities. We especially focused on getting feedback with the design of our application prototype. While in Charnia, we also focused on gaining a better understanding of the school infrastructure and visited two schools serving the Charnia area. We obtained feedback from the school teachers on areas of improvement and also coordinated a vision screening camp for the school children in conjunction with the Grewal Eye Institute of Chandigarh. Overall, this summer experience was able to provide us with valuable insight in the the challenges that the Charnia community faces."
Luqman Azhari
Research at Technische Universitat Hamburg-Harburg in Germany
Materials Science Engineering Student
"I spent the entire summer in Hamburg, Germany conducting research on ceramic materials as part of an internship with the DAAD (German Academic Exchange Service). Overall, the experience of working in Germany was very valuable, academically and personally. Academically, it definitely was interesting to experience the research culture and work ethic in Germany. It also helps to have this experience on a resume! Additionally, spending time in a foreign country where I clearly was out of place really gave me many chances to recognize the differences we have in the US, which I enjoyed yet sometimes struggled with. This experience did change my perspective and developed me as a person in various ways. In light of my experience with the DAAD program, if given the chance, I would definitely to go back to Germany again!"  
Kelsey Ann Berning
Research project at Shanghai Jiao Tong University, China
Biomedical Engineering Student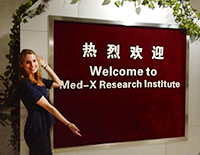 "The focus of my experience in China was researching at Shanghai Jiao Tong University, in a facility called the Med-X institute. I was the only foreigner researching at this laboratory, and all of my coworkers were Chinese. My research project was modeling radiofrequency heating for dual angioplasty treatment of atherosclerosis. This research enhanced my professional skills to work on a highly technical project in a very new environment. But it also stretched my personal skills to relate with people who at first seemed very different. I found more depth to my character with the help of Chinese friends who helped bring out traits within myself that I rarely was stretched to expose at home-- cultural sensitivity, appreciation for relationships, and the ability to view my home's status quo more objectively."
Ambar Pankaj
Internship at PriceWaterhouseCoopers in Abu Dhabi, United Arab Emirates
Industrial Engineering and Management Sciences Student
"I worked at PwC in the UAE (Dubai and Abu Dhabi) as part of a group of 39 interns creating policies and processes for the construction and finance departments. Our intern group was to determine how the company was actually functioning and create a policies and processes handbook to improve efficiency. Our intern group was one of the most international group of people I have ever worked with. I was one of only three students from an American university. The most challenging aspect of my internship was prioritizing our work into meaningful categories. I worked with a team member on such projects as streamlining construction (creating a "rent vs buy" analysis for tower cranes) and even interviewing a skyscraper project manager. Having limited work experience beforehand, interning in Abu Dhabi was exciting - I learned a great deal from my experience there. Due to this internship, I was able to help create different kinds of analyses, prepare and conduct interviews, and deliver successful presentations. All in all, this was a very successful consulting internship experience, thanks in part to Global McCormick."
Yoon Hyung Lee
Research in the Translational Neural Engineering lab at École Polytechnique Fédérale de Lausanne (EPFL) in Switzerland
Biomedical Engineering Student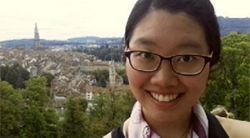 "My time in Switzerland was nothing short of spectacular and I am grateful for the opportunity that Global McCormick office has provided. As an aspiring physician scientist, I was excited to work on my project in robotic stroke rehabilitation that beautifully incorporated my interests in neural engineering and clinical applications of research. I had the opportunity to analyze hand kinematics as a preliminary step in developing robotic control of the exoskeleton. By studying opening/closing and grasping movements of the hand, I was able to validate a newly installed motion analysis system and the mathematical model established by another research group, which was to be applied to various types of movements for the use in TNE laboratory. It was a great experience to be welcomed into a friendly atmosphere and to learn about the various projects being conducted by the lab members. Because I was unable to participate in a pre-existing study abroad program, this was the perfect opportunity to explore a world outside the US. This was my first trip to Europe and learning about different cultures was an enlightening experience. In addition, I loved having the opportunity to travel to various surrounding cities including Interlaken, Geneva, and Zurich as well as places outside of Switzerland."
Mitchell Serafin
Internship in Robert Bosch GmbH in Stuttgart, Germany

Electrical Engineering Student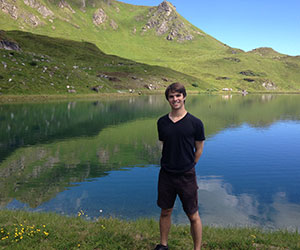 "I spent four months working as an intern for Bosch in Stuttgart, Germany. I worked in the software/system test group for airbag systems. My task was to design and develop an FPGA-based tool for use in extending the groups software test abilities. It was a great experience; the group gave me far more responsibility than I'd had in previous internships in America. As a result I learned a lot, developed my technical (and German language!) skills, and gained confidence. And of course living in Germany was a lot of fun. It was a great experience to have made so many European friends, both in and out of the office."
Robert Joseph Cavanaugh
Project at the Post Graduate Institute for Medical Education and Research (PGIMER) & George Institute for Global Health in Haryana, India
Materials Science & Engineering Student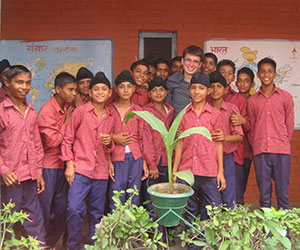 "I worked in Charnia, Haryana, India on a team to carry out focus groups with frontline government health workers, called ASHAs, as groundwork for developing a system that could fortify the local public health response to malnutrition and anemia and facilitate the ASHA workflow. We were interested in gaining a better understanding of the challenges ASHA workers face in carrying out their jobs and evaluating whether a mobile health platform could enhance their ability to serve rural villagers. Through the focus groups, we learned significantly about the strengths and short-comings of the ASHA system in Charnia and gained feedback on our application prototype. We also used our time in Charnia to learn more about the local food and education systems, which play a crucial role in reducing levels of malnutrition and anemia, by conducting interviews with school principals, villagers, and food vendors. While visiting the schools, we also coordinated with the Grewal Eye Institute to hold a vision screening camp. In reflection, our summer work earned us invaluable experience collaborating with scientists and institutions abroad to accomplish significant public health research."
Tomomi Suenaga
Project at the Foundation for Sustainable Development (FSD) through the Global Engagement Studies Institute (GESI) in Jinja, Uganda
Industrial Engineering and Management Sciences Student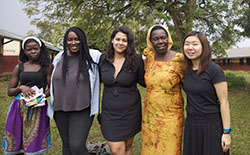 "I spent the summer working on a development project with an NGO in Jinja, Uganda. With a team of three other students, we collaborated with a women's savings group to start a small business in selling reusable sanitary pads. In many areas of rural Uganda, women and girls do not have access to disposable pads as they are too expensive. To tackle this issue, we developed a reusable pad design using locally available materials while considering important factors such as affordability and durability. We were also able to get a local school involved by teaching school girls how to make pads for themselves. Through this experience, I applied my design skills to a real project that affected real people. Conducting user interviews to local Ugandan women as we shared a traditional meal allowed me to gain a deeper understanding of the design challenge. Developing a design with limited resources and a foreign culture was challenging yet rewarding when we were able to present our community with a product that fit their needs. I am grateful for Global McCormick for giving me this unique opportunity. I definitely recommend McCormick students to go abroad, as it is one of the most rewarding experiences I had in college."