Faculty Global Opportunities
Jump to a Section

Northwestern University/Tel Aviv University
Call for Proposals and Virtual Workshop for Joint Research Projects: COVID-19 and Beyond
UPDATE: July 23, 2020
In recognition of  the urgent need for international collaborative effort to combat the current COVID-19 pandemic, and to bring our combined institutional strengths to bear on addressing this problem, the Northwestern University (NU) – Tel Aviv University (TAU) Joint Research Program on COVID-19 will offer two $50K seed funding awards on interdisciplinary collaborative COVID-19 research shared equally between the two institutions. From the Northwestern side, these funds are made available through a generous gift by the "Crown Family Fund for Engineering and Science Collaborations with Israel."
This updated call does not require any workshop participation. The workshop has been postponed indefinitely due to the extremely limited availability of COVID-19 researchers. Instead, interested parties may submit a joint 2-page proposal by August 15, 2020.  
If interested, but in need of identifying a Tel Aviv partner, please email Matt Grayson at m-grayson@northwestern.edu with cc to Benhar@tauex.tau.ac.il) with a one-sentence description of your research area and interest so that we may assist in opening up a dialogue with possible PI's at the partner institution.

INTRODUCTION AND PURPOSE:

The Northwestern University (NU) – Tel Aviv University (TAU) Joint Research Program is intended to support and promote joint research projects carried out by TAU and NU research groups through a Call for Proposals. Researchers affiliated with each institution [Principal Investigators ("PIs")] are invited to jointly submit research proposals for the development of collaborative research projects and the exchange of researchers between TAU and NU (a "Project") under the terms and conditions described below (complete terms and conditions can be found in a link below).
 
FIELD OF INTEREST: for this Call for Proposals is COVID-19.
 
Up to two (2) joint Projects will be selected by means of a call for proposals issued jointly by the two institutions, up to USD $50K for each Project, shared equally between both institutions.

ELIGIBILITY:  To be eligible under the program, a Project must include research team participants from both Institutions. Those eligible to submit proposals are tenure-track / tenured researchers who are affiliated with either TAU or NU.  

INSTRUCTIONS:  If you plan to submit, this is what you need to do:

1) Partner with an investigator from the other University. If you are interested but need help identifying a research partner at the other University, please reply to all in this email (with CC to Benhar@tauex.tau.ac.il) with a one-sentence description of your research area and interest so that we may assist in opening up a dialogue with possible PI's at the partner institution.  For your convenience, a list of researchers with research topics is also available to view here.

2) Prepare a joint 2-page research proposal and submit a single copy of the proposal per research team (in a single PDF file with all the additional required information) by email on or before August 15, 2020 to Prof. Itai Benhar at Tel Aviv University: Benhar@tauex.tau.ac.il
For further details, please see the full "Call for Proposals"
If you have any questions, you are welcome to contact: 
global.initiatives@northwestern.edu
Global Initiatives Faculty Ambassadors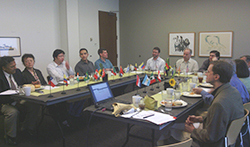 Global Initiatives Faculty Ambassadors meet periodically to connect, share and discuss McCormick international initiatives. As representatives of different global regions, Global Faculty Ambassadors are the point faculty in their departments for all things global. They are familiar with funding agencies and opportunities in their respective countries, promote research and student exchange and foster a healthy global perspective to the School of Engineering.
View Faculty Ambassadors by Country
View Faculty Ambassadors by Department
Faculty Global Networking
Northwestern Engineering supports, nurtures, and enhances McCormick global engagement activities which initiate new global connectivity. Travel and lodging support can be provided for faculty coordinated networking initiatives or teaming workshops here at Northwestern or abroad that pave the way for increased global opportunities for the McCormick community. To apply for global networking funds, please click on the link below, complete the Faculty Networking Initiative Request Form for Support and email to global.initiatives@northwestern.edu.
International Visitors
Northwestern Engineering is happy to coordinate high-profile international visitors upon a McCormick faculty or staff member's request. If you or your department will be hosting an international visitor for meetings at McCormick but are not sure on the appropriate visitation steps, please contact us at global.initiatives@northwestern.edu for guidance. Our office can help you create a solid meeting itinerary that will maximize your visitor(s) time here while enhancing the connections made within McCormick and Northwestern.
Please note our office needs at least 10 business days to process and organize an international visitor request. In order to initiate processing, please consider including the following information in your request:  
International Visitor Request:
Who – note all visitor(s) name(s), title(s) and institution(s) and who they would like to meet with at McCormick and Northwestern
What – include the purpose and background of visit
When – dates of visit, preferred meeting times, etc.
Where – ideal locations of visit, such as preferred campus, building and room locations. Note: Global Initiatives can provide transportation between the NU Evanston and Chicago campuses.
Why – note why this visit important and how will it contribute to Northwestern Engineering's global mission. Is there something in particular this visit can or should accomplish? If so, explain.
Global Initiatives 2 week (10 business days) internal process includes:
Evaluating request (visitor profile, institution ranking, existing connections, etc.)
Determining appropriate meeting contacts and their availability
Scheduling meetings, room locations, and transportation, if necessary
Communicating final meeting itinerary and details to all involved parties
Monitoring meetings and guiding visitors as needed the day they are at Northwestern
More in this section