Faculty Global Opportunities
Jump to a Section
Northwestern University - Tel-Aviv University Nanoscience and Nanotechnology Initiative
This new initiative will bring together scientists and engineers – graduate students, postdoctoral fellows and their faculty research advisors – from Tel-Aviv University (TAU) with their peers at Northwestern University (NU: Weinberg School of Arts and Sciences and McCormick School of Engineering) for research in the fields of nanoscience and nanotechnology. The goal is to facilitate a robust synergy and cross-fertilization of ideas among researchers at Northwestern University and Tel Aviv University, with a view toward long term collaborations.  The start date of the research visit should be between January 1 and September 1, 2022, with the end date determined by the duration of the research stay.
Read more detail and find links to the application here.
Global Initiatives Faculty Ambassadors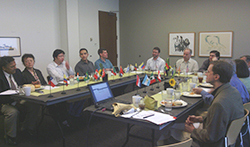 Global Initiatives Faculty Ambassadors meet periodically to connect, share and discuss McCormick international initiatives. As representatives of different global regions, Global Faculty Ambassadors are the point faculty in their departments for all things global. They are familiar with funding agencies and opportunities in their respective countries, promote research and student exchange and foster a healthy global perspective to the School of Engineering.
View Faculty Ambassadors by Country
View Faculty Ambassadors by Department
Faculty Global Networking
McCormick Global Initiatives supports faculty global engagement activities which initiate and promote McCormick-wide global connectivity. All funds are intended to support mobility/travel/subsistence costs. (No funds can be applied towards research/materials, etc.)

This application divides requests into two categories for mobility: for Faculty Global Networking and for Crown Mobility Funds for NU+Israel Research.

Faculty Global Networking refers to engagement activities which initiate new global connectivity beyond the interests of a single NU faculty member.  For example, travel and lodging support can be provided for faculty coordinated networking initiatives or teaming workshops here at Northwestern or abroad that pave the way for increased global opportunities for the McCormick community.

Crown Mobility Funds for NU+Israel Research refers to requests mobility funds specifically for research partnerships with Israel.  Weinberg faculty are also eligible to apply. This funding can be used for graduate student, post-doc, or faculty travel and subsistence costs on a joint research project.

Note McCormick Global Initiatives can only fund one request per PI per year (please no reoccurring requests). All requests that receive funding must provide a follow-up report detailing how the funds were used. For consideration of funding support, please complete the following application.
To apply for global networking funds, please complete the Faculty Networking Initiative Application.
International Visitors
Northwestern Engineering is happy to coordinate high-profile international visitors upon a McCormick faculty or staff member's request. If you or your department will be hosting an international visitor for meetings at McCormick but are not sure on the appropriate visitation steps, please contact us at global.initiatives@northwestern.edu for guidance. Our office can help you create a solid meeting itinerary that will maximize your visitor(s) time here while enhancing the connections made within McCormick and Northwestern.
Please note our office needs at least 10 business days to process and organize an international visitor request. In order to initiate processing, please consider including the following information in your request:  
International Visitor Request:
Who – note all visitor(s) name(s), title(s) and institution(s) and who they would like to meet with at McCormick and Northwestern
What – include the purpose and background of visit
When – dates of visit, preferred meeting times, etc.
Where – ideal locations of visit, such as preferred campus, building and room locations. Note: Global Initiatives can provide transportation between the NU Evanston and Chicago campuses.
Why – note why this visit important and how will it contribute to Northwestern Engineering's global mission. Is there something in particular this visit can or should accomplish? If so, explain.
Global Initiatives 2 week (10 business days) internal process includes:
Evaluating request (visitor profile, institution ranking, existing connections, etc.)
Determining appropriate meeting contacts and their availability
Scheduling meetings, room locations, and transportation, if necessary
Communicating final meeting itinerary and details to all involved parties
Monitoring meetings and guiding visitors as needed the day they are at Northwestern
More in this section