Alum Spotlight: Edward Newman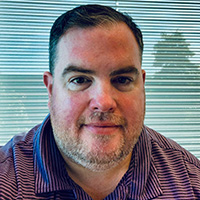 Edward "Ted" Newman (MEM '03) works in Edinburgh, Scotland as the Head of Infrastructure Solutions Centre of Excellence for the Royal Bank of Scotland. He relocated there from Naperville, IL. Outside of work, he's an audiophile with a secret talent for building spaceships in EVE Online. Here he shares the career benefits of his Northwestern MEM experience, and his advice for current and future students.
Can you give a short description of your role and job responsibility?
I'm responsible for leading the Bank's engineering of self-service IT capabilities. My team works with our internal customers and our industry partners to develop leading-edge IT solutions and enable our application teams to consume them easily. Our goal is the frictionless flow of an application into production in a safe, secure, and compliant way.
What's your favorite class or teacher in MEM, Why?
Mark Werwath's Project Management class and his teaching on product management literally changed my life. Mark is a great instructor and really took his time to bring his professional experiences into the classroom. That made learning much easier and showed the tangible results this sort of education could bring.
How has your MEM experience contributed to your career path and your current job role?
I focused on the Product Management aspects of the program and leveraged that for my career. The project and program management I learned in the program helped me with my role at the time, I even taught a class on value-driven project management for the company. I then began applying product management approaches to IT as I was consulting at the time which really helped many of my customers and led to me rising further in the organization.
What new job, position, project or responsibility were you able to secure that you believe can be attributed to completing the program?
I was able to weave what I learned about project management, statistics and metrics, finance, marketing, and product management into our approach on Cloud computing which led to new products and services and me becoming a recognized expert in the field. And all of that led me to this new role in a new country where I use the skills I obtained through MEM every day.
What new skills did you gain and how did this impact your career or professional life?
Leveraging data in the management of a project or a team was a key thing I took away from the program. Measure everything is an important aspect of DevOps and the new approach to IT and I feel like the MEM program gave me a ten-year head start on this.
What unique aspect of the program did you experience that you felt was unique to Northwestern's program?
The mix of business and engineering was one of my favorite parts of the program. Taking classes across so many disciplines enabled me to interact with my customers and colleagues better. I understand the fundamental drivers of the business side through the legal and finance classes I took and how to act effectively on data and information in improving our products and processes from the engineering classes.
How did the program structure help to make earning this degree a possibility for you?
The fact that the program has a lot of professionals teaching the class who understand what it is like to work and participate in the program was really helpful. They were able to inject the real world into the learning and gave some tips on how to make time in your busy schedule for learning. I would never have been able to get this education if I had to take a year or 18 months off of work to do it; the part-time nature was essential to my success.
What advice would you give to current and future students?
Do not be afraid to ask questions and bring your current work or the role you aspire to into the classroom. What you are learning can help you today, not just for some future role. Let your colleagues and manager know what you are working on in the program and find ways to incorporate it into your job. You might be surprised by the new responsibilities it brings to your doorstep earlier than imagined.