The Learning Exchange
Field trip to Accenture allows MEM, MPD2 students to showcase their talents while taking in valuable lessons for their futures.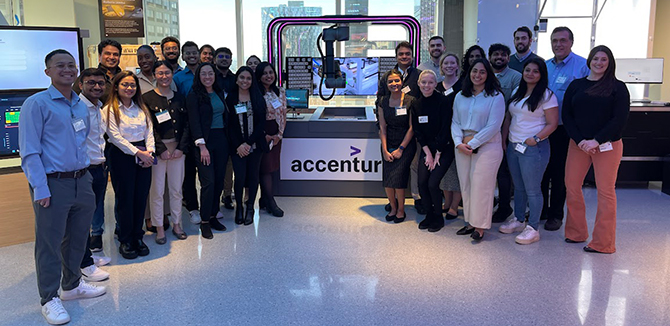 Students from Northwestern's Master of Engineering Management (MEM) program visited Accenture's Chicago Innovation Hub to learn how the global professional services company approaches emerging technologies and digital transformation.
In the process, the students did a bit of teaching of their own.
The students, who toured Accenture with students from Northwestern Engineering's Master of Product Design and Development Management (MPD2) program, put ideas they've learned in the classroom to practice to help generate new ideas for Intel, one of Accenture's clients. Accenture hosted a design-thinking session where the students pitched ideas directly to Intel, while also learning Accenture's approach to creatively brainstorm solutions to client problems.
The problem focused on improving the retail experience for Intel's IBM customers. Students went through a rapid ideation process where they learned about Intel and Edge computing, brainstormed opportunities for different personas, and then fleshed out their most promising ideas 
The students leveraged their own creativity, empathy, and user-centered problem-solving skills to propose 10 solutions that addressed everything from pricing and store navigation to employee retention and stocking. 
Their fresh perspective was greatly appreciated.
"To get feedback and thoughtful ideas from the students was amazing," said Christie Rice, account executive for client and Edge solutions at Intel. "Parts of the feedback were reaffirming, and others are completely new, which is exciting." 
Exciting was the word Rupa Bhagwat (MEM '23) also used to describe the experience 
"The design thinking activity encouraged us to think outside the box, challenge assumptions, and continuously refine our ideas through feedback and iteration," she said. "It was an exciting and hands-on experience that allowed us to apply design thinking principles to real-world challenges. 
The activity was just part of the Accenture experience for the students. Earlier in the day, the group toured Accenture's new Lookout Experience, a showroom-type space where they viewed and interacted with products of the future, including a facial-recognition candy dispenser, autonomous robot, and a vertical garden. Students also visited Accenture's Maker Lab, where they saw the company's 3D printers in action and tested an assembly line digital twin simulation.
Machine learning, artificial intelligence, Internet of Things technology, and data analytics were all topics discussed throughout the day.  
While learning how Accenture operates and applying classroom lessons to an industry project were memorable experiences, Bhagwat said one of the most enjoyable parts of the trip was being able to work and network with students from MPD2.
"Working with students from different programs exposes us to different ways of thinking and problem-solving," she said. "This exposure encourages cross-pollination of ideas, leading to a broader understanding of issues and innovative solutions."