Five Job-Hunting Tips for MEM Students
A panel discussion featuring students and alumni from the Master of Engineering Management Programs Consortium (MEMPC) featured ways job seekers can stand out from the competition.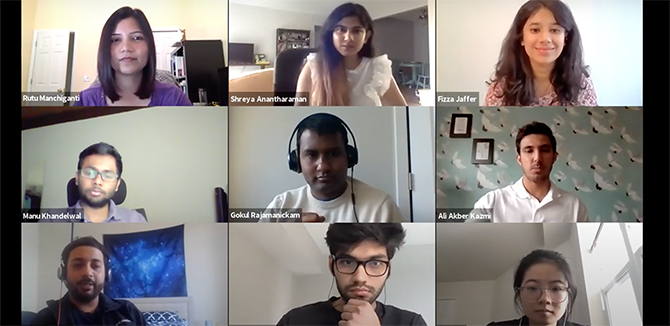 Finding a job can be a daunting task, particularly during a pandemic. It is vital that applicants have a strategy in place to go about researching companies, applying for jobs, interviewing with decision makers, and ultimately landing the perfect role.
The Master of Engineering Management Programs Consortium (MEMPC) held a panel discussion about navigating the job search that featured eight current students or recent graduates of schools within the consortium, including Fizza Jaffer (MEM '19), currently a product owner at American Express. Although the event occurred in April 2020, the advice discussed remains incredibly relevant today. 
Below are five tips the panelists said MEM students and alumni should use when trying to stand out in the job search.  
1. Look Around Before Narrowing In on a Specific Topic
While it is good to have a main interest, the MEMPC panelists agreed that too many job applicants have a background focused on just one topic. Instead, it is preferred to see somebody with knowledge in a range of different fields. Having a varied background allows an applicant to stand out and be comfortable in a range of different tasks.  
The MEM program has seven required core courses and two mandatory advanced engineering courses. In addition, electives are available on subjects ranging from analytics to information technology to project management. Instead of taking an elective on a topic that adds to pre-existing knowledge, consider going the other way and learning about something new or different that may be a difference-maker when job seeking. 
Job applicants with varied skills can leverage their knowledge to fit a wide range of roles. Using the flexibility in the course catalog allows a student to find common integration between fields and differentiate themselves from the competition.  
2. Research a business closely, and remember that not all startups are the same 
Finding a role at an established business can be a challenge, and some MEM graduates instead decide to apply for roles at startups that need their expertise. While that can lead to great success for some, prosperity is far from guaranteed. The Bureau of Labor Statistics reports that one in five startups doesn't make it to a second year, and only half are still in business after five years. Those applying to these new companies need to know what they're signing up for.   
Startups have a limited time to deliver products to their customers, so the runway for success is much shorter than for established companies. In addition, given the turbulence in the economy, particularly during the COVID-19 pandemic, many startups lack reliable funding. A person applying to a startup needs to know the risk involved. In interviews, applicants should ask about the company's funding situation and when the company is expected to be fully up and running. There is a great reward to helping build something from the ground up, but with that comes an unknown future, and an applicant must accept that fact beforehand.
3. Be prepared for any interview
The pandemic has changed how job interviews are conducted, and it's unclear if things will ever go back to the way they were before. Instead of flying into a city and going to an office to meet face-to-face with managers, human resources, and other decision makers, or with a recruiter, the majority of interviews today are completely virtual. This change shouldn't alter an applicant's preparation, the panelists insisted. A job seeker should be prepared to interview for any job. This means using resources that are readily available, including colleagues, peers, and instructors to get as much information about the company as possible.
In particular, going through mock interviews can be tremendously valuable to prepare for the real thing. These practice runs can assist an applicant nail down a script for explaining their strengths and background, and it also helps them have the confidence they can convert any interview into a job offer.  
4. Try to avoid comparisons 
MEM graduates land in a variety of roles and industries. While applying for jobs, trying to find the perfect match that fits your skill set can be a challenge. 
Panelist Fizza Jaffer (MEM '19) said there naturally is a lot of pressure to conform to what others are doing, especially when it comes to applying for jobs. When she was applying to jobs, she told herself that job searching is individual-based. An applicant is not competing with others, she told herself, but instead they are looking for the right fit.  
Today, Jaffer is a product owner at American Express, where she leads product ideation for smart enablement within the company's Customer 360 platform. Her goal is to accelerate stakeholders' time to market for new products. 
"I started by determining my strengths," Jaffer said. "Then I began looking for jobs where my strengths and existing skills overlapped with my aspirations. It's very important to know what you want, even if others are not doing that. Focus on your end goal and what leads to it, even if it's you alone walking down that path."
5. Hype up your MEM background
Not every person reviewing a resume or making a hiring decision will know what MEM stands for or how that distinguishes an applicant. But it's important that they do. That is why it is a job seeker's responsibility to make sure it is brought up and explained.
If it can't be mentioned organically during an interview answer, it is wise for applicants to go out of their way to mention the MEM program, including what they learned and how their education will benefit them in the role they are applying for. The panelists said to assume that MEM isn't as visible to outsiders as one would expect. So job applicants should be ready to explain what the degree means and how it will help the business.