MEM Students Help 125-Year-Old Company Improve Processes
Current Master of Engineering Management students Brandon Hsu and Shitong Xiong look back on their unique opportunity and reflect on what they learned from the experience.
Brandon Hsu and Shitong Xiong were still in their first quarter of Northwestern University's Master of Engineering Management (MEM) program when they earned a unique extracurricular opportunity.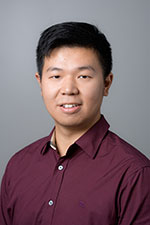 Hsu and Xiong participated in the MEM program's co-curricular practicum with local industries, which allows students the chance to take what they learn in the classroom and apply it immediately to a real business facing real challenges.
The two worked with Schmidt, a marking system manufacturer located in nearby Niles. Schmidt provides traditional and laser marking systems to a vast variety of industries, from aerospace to medical devices. The company is 125 years old and built its reputation among customers on its quality, service, and customizability. 
Hsu and Xiong recently shared a behind-the-scenes look at what their project was, what they were able to accomplish, and what they learned from the experience. 
What was the project you were tasked with?
The client receives mainly custom work (in 2018, 68% of their work was custom), so it is difficult to staff, prioritize, and manage each job order due to the high variation in the scope of work. The project was about exploring solutions and devising plans that could help the client reduce lost time and improve time to completion of each purchase order. We were told that success would be measured by the ability to reduce lead times on projects, maintain a required level of standard products, and better allocate personnel to increase productivity.
What were you able to accomplish?
We generated a report based on our research results, interviews with managers at Schmidt, and observations in the factory. Then, we created two project proposal statements of work for Schmidt: a digitization project and a job handling process improvement project. We presented both the report and project proposals to the client. The client was very happy and appreciated the alternate perspectives as well as the insights we shared with them.
What did you learn from the experience?
Knowledge and lessons
We learned about models for productions and the importance of job prioritization. We also learned the importance of having a diverse product line since the needs of customers can vary, as well as the demands. It also is important for a company to continue to innovate to stay ahead of competitors. For example, despite producing traditional marking systems, Schmidt also develops and provides laser marking systems to remain competitive. 
Interfacing with clients
We got the chance to talk with many people working at Schmidt, from technicians to the sales VP. We now feel more confident with our communication skills and better understand how to establish efficient interviews. 
Deriving insights from observations
We obtained our initial findings after walking in the plant and talking to engineers and technicians. With those findings, we came to a conclusion and had several proposals to tackle the client's problems. However, after we talked with more people in different positions from both MEM and Schmidt, our conclusion evolved and we managed to provide the client with a more feasible proposal.
Time management
Since we were also busy with our coursework, we didn't have much time to spare on this project. Because of the short timeline, we needed to create a detailed plan to allocate our time to this project and our studies. Our time management skills are now better after this project.
What were the biggest challenges you faced?
Short timeline
It was our first quarter as full-time MEM students. Everything was new, and we had to adapt to the environments, the courses, and busy student life. We could barely find time for this project after we finished all our coursework, however, we were required to complete this project within 10 weeks, so we had to run with the time we had.
Converging on ideas
We came up with many ideas for possible solutions that could help the client. However, given the limited time and real-world constraints, we found it challenging to narrow down ideas that were both feasible and achievable. 
Understanding the company's business and thinking about its perspectives
We previously worked in different industries and were not familiar with the company's products, business models, and market. We understood the products by looking through the company's website and talking to its project manager. We also walked on the shop floor to identify the problems. By talking to the sales manager, we understood the company strategy and product portfolio better, which helped us find a practical solution to the problem.
Identifying the cause of management failures
We identified our client's problems and tried to identify the root cause within the organization. We talked to Prof. Mark Werwath, who helped us find a direction to pursue, and we managed to finalize the analysis by utilizing our knowledge learned from MEM and conclusions from similar case studies.
Shifting mindset
We both used to work as engineers, and this was our first time to work on a pure business/management project. The scope was different, and the solution could not be worked out with equations.
How does this project enhance your overall MEM experience?
This provided us with experience working outside of the academic environment and helped us feel accomplished because our work can positively contribute to a company. It also provided us with self-assurance and affirmation of our expertise as well as a confidence boost that we could apply the knowledge we learned from MEM right away and put it into practical use.
In what ways will you be able to take what you learned from this opportunity and apply it moving forward either in MEM or after graduation?
We will be taking the knowledge we obtained from research results on process management and factory operations with us going forward. This knowledge is sure to be useful for us in our future careers. The Schmidt project provided us with an opportunity to get some hands-on experience with solving organizational problems, which are common within mid-size companies or even large ones. We will feel more confident and capable to solve similar problems in our future careers.
Is there anything else you'd like to add?
For future and current students, we highly encourage you to consider getting involved with a project through the co-curricular practicum with local industries. The opportunity lends itself to experiences that are difficult to find within the academic setting. Students will learn to apply what they learned in school to the real world and will provide a positive impact on clients.