Forming a Bond Between MEM and Northwestern Medicine
Urvi Thakkar (MEM '19) reflects on her internship at Lake Forest Hospital and her subsequent full-time job there.
One year ago, Urvi Thakkar (MEM '19) was an Operations Consulting intern at Northwestern Medicine Lake Forest Hospital. In that role, she developed a quantitative model to assess the Operating Room utilization and conducted a feasibility vs. impact study to help develop an implementation plan for the hospital to increase resource utilization by 30%.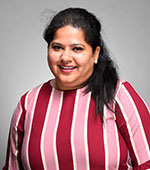 Today, Thakkar is back at Lake Forest Hospital (LFH), only this time she is a full-time Systems Engineer with the Throughput team. In that role, she applies core operational excellence principles within the healthcare domain to obtain an efficient and sustainable patient throughput at LFH. 
Thakkar was the first MEM student to intern with LFH, and she believes the fact that she was hired afterward will help forge a long-term connection between the hospital and the program. She recently talked about that, her work at LFH, and how MEM helped prepare her for where she is today.
What are your day-to-day responsibilities?
Chief among my responsibilities is running the Real-Time Demand Capacity Management initiative, which focuses on meeting the 8 a.m. to 2 p.m. bed demand within the hospital to ensure a smooth patient throughput. Other responsibilities include conducting data analysis and creating data models to support various throughput projects through the Define Measure Analyze Implement Control (DMAIC) phases.  
What excites you most about your job?
Healthcare is an extremely new space for me personally. Therefore, everything is a shiny new object and is exciting. If I had to be specific, I would say using operational concepts to better healthcare delivery is exciting. The attention we give to our patients is rewarding, as is seeing so much of our work translate so quickly into actual benefits for the patient. 
How did your internship influence your decision to return to Lake Forest Hospital?
Most students focus on a single project throughout the summer. When I joined LFH, I expressed interest in doing more than just throughput work and requested exposure to the strategy side of things, too. My managers listened to me and actually let me do three distinctly different projects that were focused on various throughput and strategy problems that LFH faced. The learning curve was steep and rewarding, and I was very, very well mentored. To see a team so dedicated to my learning and growth was extremely fulfilling and was one of the primary reasons I decided to return to Lake Forest Hospital. 
What does it mean to you to be a bridge between the hospital and MEM?
It's actually quite an honor. I was the first MEM student to be an intern at LFH, so I knew my performance and application of knowledge would determine how they viewed the current program and potential engagement with future MEM interns. I am excited to report that the hospital is now looking to make this a more formal and yearly endeavor so that each year, a MEM student will get a chance to intern at LFH. Being instrumental in this decision and serving as a good first example has been an absolute privilege. 
What were the most important lessons you learned during your time in MEM?
The importance of building your professional network has been the most important lesson I learned. And I don't mean network in the sense of the number of people you're connected to on LinkedIn. I mean a network of people who will mentor you, serve as your sounding board, and who will show you ways to grow. To me, the network that MEM and Northwestern University have helped me create is by far the biggest asset I will ever own in my life. 
What are your hopes for your job moving forward?
Going forward, I would love to formally learn health systems engineering and leverage that knowledge through my work at LFH. I look forward to attempting to fuse and suffuse analytics into every facet of decision making at LFH. By harmonizing analytical abilities and intuitive capabilities, I hope to lead teams in the technology and healthcare domains.