Discovering the Potential of AI in Sports
The sixth annual Master of Engineering Management (MEM) Industry Night featured Dr. Helen Sun, CTO at Stats Perform, talking about how artificial intelligence is revolutionizing the sports industry.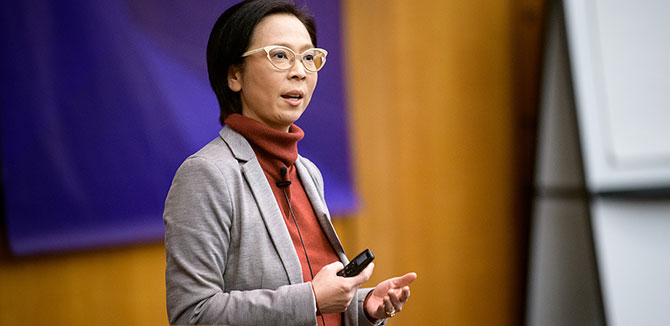 Artificial intelligence (AI) is changing many aspects of how we live and work, particularly in the field of sports. There are challenges that come with AI development, but despite that, the opportunities that come with the new form of technology makes today one of the most exciting time periods in human history. That was the message that Dr. Helen Sun drove home to attendees at the sixth annual Master of Engineering Management (MEM) Industry Night. 
"AI is hard, there are no playbooks," Sun said. "Have a can-do spirit and take challenges head-on. It will be most fulfilling [when you] achieve something that has never been done before."
Sun is the Chief Technology Officer at Stats Perform, where she is responsible for AI, innovation, global engineering, design, architecture, and IT. Her company leverages the latest advancements in AI to generate data-driven insights for the sports industry — an industry she said that recognizes the power of AI, from game preparation and athlete monitoring to recruitment and fan engagement.
"AI is going to change the way sports are viewed, understood, and played," Sun said. "We'll be able to gain a deeper understanding of the momentum and interconnectedness of the players and teams."
Sun also predicted AI will be used to create immersive experiences for a new generation of fans who have grown up interacting with e-sports and video games.
Current MEM student Ravi Shejekar attended the event, which also featured networking opportunities for students, alumni, and industry professionals. He said he felt the evening was a valuable learning experience.
"Dr. Helen Sun had great insights on where we are headed in this era of AI-driven products," Shejekar said. "She also emphasized what value it brings when huge sets of data are analyzed using machine learning technology and how it can be leveraged to solve issues."
Prior to her current role, Sun spent more than 20 years as a technology strategist and thought leader at Motorola Solutions, Salesforce, and Oracle. Although her focus at MEM Industry Night was on sports, she said that even someone who is not a sports fan could appreciate the power and potential impact of AI.
"You don't need to be a sports fan to appreciate how AI will change the landscape of sports," she said. "But at the same time, you might just become a fan after all."