Student Spotlight: Linus Waltenberger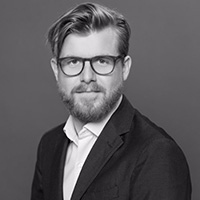 Linus Waltenberger, originally from Vienna, Austria, is a current full-time student of Northwestern's MEM program. He studied Building Science and Technology at the Vienna University of Technology and graduated in 2011. From 2011 to 2018, Linus worked as a management consultant in Germany and Austria. In addition, Linus served as an elected member on the district council of Vienna. In his spare time, Linus enjoys free-skiing and his secret talent is singing in a choir! Engineers and engineering managers are talented and responsible folks and Linus is a fine example. Can we all agree on that?
We asked Linus some questions about his experience in MEM and this is what he said:
What made you decide to pursue a MEM degree?
After working as a consultant for more than 7 years, I wanted to broaden my knowledge in business and strategy, while still clinging on to my engineering background and building on my analytical problem-solving skills.
Furthermore the flexibility of the program, an international student cohort, the possibility to take classes from different schools at Northwestern to broaden the curriculum, and the welcoming application process with Associate Director for MEM, Stephen Tilley, really made my decision to pursue a MEM degree at Northwestern easy.
Favorite Class/Professor?
I really enjoyed Negotiations for Engineers with Prof. Gail Berger. The class was great in teaching concepts, strategy, and the theory behind negotiations. Especially by letting you practice these skills in multiple negotiations with other students in class, I am confident that my negotiation skills improved and I am better off in business and everyday situations through the practice assignments that we had in class.
What is the most surprising aspect of your experience in the program?
How much I would enjoy going back to school and how different the experience of attending classes once you are at a different stage in life. How I approach the process of learning has completely changed from the time I earned my first master's degree. Working in group projects with other people that are highly motivated and have a very different background than myself is also a major contributing factor that makes me enjoy this program.
How does the program experience prepare you to reach your professional and career goals?
I think it is a mix of three factors. First, I am learning more about myself and becoming more self-aware. This is due to the fact that as a full-time student in a new setting (new city, new environment) I have the time to better reflect while being influenced by external and internal forces that change my perception of the world.
Second, the content that I am exposed to in the various classes of the program definitely adds skills to my resume that will open new doors and prepare me to engage in additional fields of business I have not been able to engage in before.
Third, the interaction and teamwork with a very diverse and international group of students in a top US university will definitely leave a mark on how I perform in diverse teams and fine tune my sensing of organizational behavior.
What is distinct about your program experience?  What draws you in?
An additional feature of my program experience at Northwestern that I really enjoy is that fact that I get to live in Chicago. I have always enjoyed living in big cities and trailing the urban lifestyle that accompanies Northwestern's location is just thrilling. Besides school I try to soak in what Chicago's got to offer: enjoying Tuesday jazz nights at the MCA terrace, gaining some miles on my running app while jogging along the Lakefront Trail, following up on recommendations from expert foodies by exploring West Loop's culinary scene, keeping the caffeine intake steady when walking around Wicker Park and Logan Square with a Cortado in my hand on Sunday mornings, and following up what Chicago's deep house scene has got to offer when checking out concerts at the Aragon Ballroom or clubs in River North.  
What advice would you give future/prospective students?
If you have the possibility to take a year off and pursue a degree as a full-time student you most certainly have the rare opportunity to recalibrate the tools that you have used to perceive, judge and explore life. Besides school you will find enough time to pick up new hobbies, explore hidden desires, meet inspiring people, consume cultural treasures, become mindful, gain some miles on your airlines bonus program and visit those places that have been on our 'things to see' checklist for years, or just enjoy the unbearable lightness of being.