Student Spotlight: Gabrielle D'Anna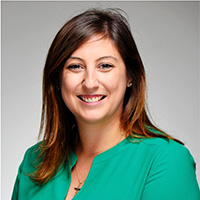 Gabrielle D'Anna is a part-time MEM student who hails from Staten Island, New York and graduated from Marquette University in 2016. Working as a Validation Engineer-II at Hu-Friedy Manufacturing Company, she often takes concepts learned in evening MEM courses and applies them at work the very next day. We asked Gabrielle to share some of the highlights of her Northwestern MEM experience so far.
What made you decide to pursue a MEM degree?
After researching both MEM and MBA programs, the MEM program felt like a better fit for me and my career path. It provides me the opportunity to integrate my technical background with the foundations of business and management in order to be a more strategic thinker.
Favorite Class/Professor?
My favorite class so far has been Operations Excellence with Dr. Watson. With operations being a critical part of engineering management, Professor Watson did a great job not only building a foundation, but diving deep into concepts like Lean Manufacturing, Variability, and Supply Chain Networks. Working in Manufacturing now, I was able to learn about a concept one night and apply it the next day at work.
What is the most surprising aspect of your experience in the program?
How much you learn from your peers and not just the professors. Our class is very diverse, not only geographically, but also in our technical experience. Being able to take advantage of that has allowed me to grow both professionally and personally.
How does the program experience prepare you to reach your professional and career goals?
The MEM Program will allow me to pursue leadership opportunities by helping me build a strong foundation for strategic thinking.
What is distinct about your program experience? What draws you in?
The opportunity to participate in the NUvention classes. These classes give us the opportunity to experience the entire life cycle of products through collaborations with other graduate programs within Northwestern.
What advice would you give future/prospective students?
One of the first things that MEM Program Director Mark Werwath told us during orientation is that you will get out of the program as much as you put into it. Investing in the time and energy to fully immerse yourself into the program will pay off significantly in the end. Not only through expansion of your professional network and vast knowledge to gain, but also the friendships you make.