Alum Spotlight: Christopher Mui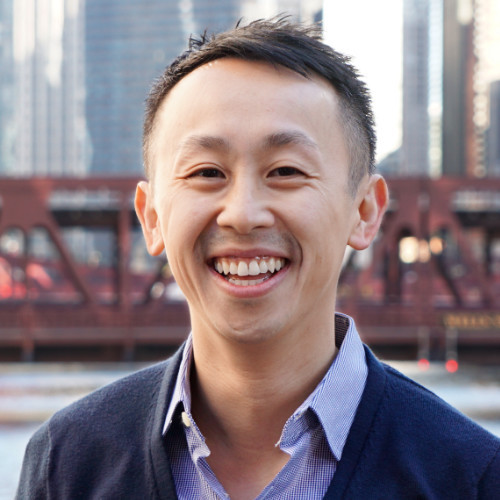 Christopher Mui, originally from Chicago, Illinois, is a 2015 graduate of Northwestern University's MEM program. He studied Computer Engineering at Purdue University and completed his first Masters degree from the University of Illinois at Chicago. Chris works with Moonshot IO as Digital Product Manager and is currently based in Chicago. He has a new-found interest in photography and his secret talent is Latte Art! Want to make your cup of coffee look pretty? Or want some tips on photography? You know who to reach out to! And make sure you bring him a hot bowl of noodle soup to get those pro tips.
We asked Chris a few questions about his MEM experience and his journey thus far, to which his responses were as follows:
Can you give a short description of your role and job responsibility?
I'm a consultant who facilitates the development of digital products across entire life-cycle – be it realizing products from new ideas or optimizing validated products for scale, I ensure each offering delivered is both lovable and valuable for the customer, and feasible for the business.
What's your favorite class or teacher in MEM. Why?
Hard to pick one, but I enjoyed my strategy and marketing courses; they provided a perspective and breadth to product development – something that I wasn't exposed to as an engineer.
How has your MEM experience contributed to your career path and your current job role (your progression into senior management from an engineering background)?
The program gave me a holistic understanding of how businesses operate, raised my awareness of how different disciplines work together to create impactful products, and eventually steered me into exploring a different career path – product management.
What new job, position, project or responsibility were you able to secure that you believe can be attributed to completing the program?
I made the leap from engineering to practicing product management at a digital transformation agency.
What new skills did you gain and how did this impact your career or professional life?
I gained the ability to work cross functionally, at the intersection of engineering and business.  Since completing the program, I've operated as a product manager and delivered digital products in the education, financial, automotive, logistics, CPG, and QSR spaces.
What unique aspect of the program did you experience that you felt was unique to Northwestern's program?
The program places an emphasis on the innovation mindset and start-up space, which is incredibly important to keep a pulse on for those who are looking to stay relevant and want to continue to build products and services that make a difference.  In retrospect, that emphasis is uniquely effective when like-minded individuals (students) from a healthy mix of different industries work together towards the common goal of complementing their technical backgrounds with an education that allows them to make contributions in different and more substantive ways.
How did the program structure help to make earning this degree a possibility for you?
The flexibility of course selection across different schools at Northwestern (in the evenings) made it possible, since I was working full time.
What connections were you able to make with classmates, faculty or industry and how?
I've kept in touch with a network of once classmates and faculty after completing the program, both socially and professionally.
Word of advice to future students:
The coursework is only part of the education.   While in the program, take every opportunity to gain exposure to unfamiliar industries and new ways of working via your instructors and classmates.