Women in Engineering Event Brings Alumni Together
Three MEM alumni share key lessons learned from the gathering.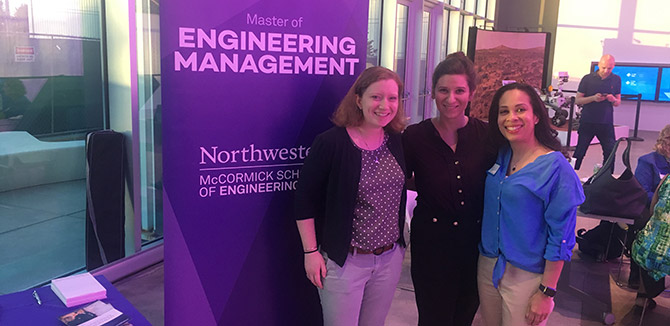 Northwestern's Master of Engineering Management (MEM) program proudly hosted a women in engineering event at Chicago's UI LABS this past May in partnership with IEEE Women in Engineering and the Society of Women Engineers Chicago Regional Section.
UI LABS is a collaboration platform that brings universities and industries together with startups and government departments to define problems, design partnerships and deliver scalable solutions to accelerate the deployment of emerging digital technologies
UI LABS CEO Caralynn Nowinski Collens spoke to event attendees about here career path in a presentation titled, "Heart, Gut, and Brain: Forging your path." After her talk, attendees were given tours of the facility, which includes the Digital Manufacturing and the Design Innovation Institute (DMDII).
Three recent MEM alumni shared their thoughts and highlights from the event.
Jackie Palmer (MEM '15): Senior Process Development Engineer, Mars Wrigley Confectionary
Lisa Myers (MEM '17): Stay-at-home mom, former project engineer and project manager
Rachael Hogan (MEM '15): Senior program implementation manager, Mattersight
What appealed to you about this event:
LM: This event appealed to me because I was interested to learn more about what UI LABS does and to see some of their projects. I had heard of them previously but didn't quite have a feel for the type of work they do. I also enjoy catching up with friends from the (Society of Women Engineers) and MEM, and networking with others at these events.
RH: I had heard Caralynn speak at our MEM Industry Night a couple years ago and was really intrigued by the development and mission of UI LABS. When I heard about this event I was really excited to have the opportunity to see the lab myself!
What were two or three things you learned at the event?
LM: I learned that we are in the midst of the Fourth Industrial Revolution, or Industry 4.0, in which technology is now embedded in manufacturing equipment, among many other areas of our lives. I did not realize there was a name for all of this. I learned that UI LABS has two main platforms: Manufacturing with the Digital Manufacturing and Design Innovation Institute and City Infrastructure with City Tech. In both cases, they develop solutions that manufacturers or cities can use. By quantifying and proving out new technologies, they help overcome barriers that may have prevented adoption of those technologies.
I also enjoyed seeing the advanced manufacturing lines they have set up. Apparently the physical set-up was simple, but integrating the numerous types of hardware and software took weeks. This is one of the major barriers for manufacturers, so DMDII set up various combinations and are developing solutions to the integration issues.
RH: I learned that Caralynn completed medical school before venturing down a more entrepreneurial path, which goes to show you can always follow your passions wherever they might lead! I also enjoyed hearing about the different types of projects that the lab has helped support with the City of Chicago, using engineering for the greater good.
What is one thing that surprised you?
JP: I was amazed to see special awareness technology and projections walking us through the instructions for the unit operation, and triggering alarms when a step was out of sequence or the operator reached for the wrong part. Even more amazing is the data collection that can be done, from bottlenecks to inventory control.   
LM: I was surprised at the scope of projects they can take on. Through relationships with hundreds of companies, institutions, and government groups, City Tech can understand the needs of each and suggest collaborations. For instance, they told us about an initiative with MasterCard, Microsoft, and the CTA to reduce overcrowding on the CTA Red Line during Cubs games.
Why is it important for the MEM program to host events like this?
JP: It's a great way to continue to have lifelong learning, stay current in industry trends, and continue to build an outstanding network with lifelong friends.
LM: It's important for MEM to host events like this because MEM wants to be at the intersection of engineering and business. That's exactly where UI LABS sits, and this gets MEM in front of people who are interested in the same things, as well as provides an opportunity for MEM students and alumni to connect with this type of work in and around Chicago.
RH:  I think it's fantastic for MEM to host events like this. Selfishly, it gives alums like myself a chance to stay engaged with each other and keep up with developments perhaps outside of our own industries. One of my favorite parts of the MEM program was learning from classmates in other industries, so events like these simulate that experience outside of the classroom.