Student Spotlight: Alexa Fisher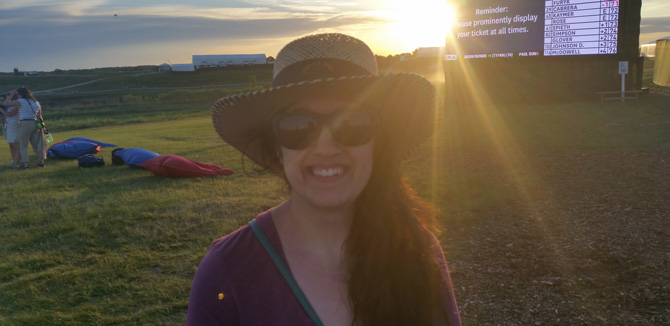 Alexa Fisher is an MEM part-time student and an Industrial Engineering alumna from Purdue University.  She currently works as a Process Engineer at Northrop Grumman.  Outside of work, she spends time with family, friends, and Thor (her dog) who she loves taking to explore different parks. Bowling is one of her favorite sports, in fact, her team won a local league last season.
We asked her a few questions to learn more about her experience as a student in the Master of Engineering Management Program at Northwestern University:
What made you decide to pursue a MEM degree?
I chose to pursue a MEM degree because I wanted to expand my idea of what a leader could be. I can continue to stay the technical course and be a leader, as a subject matter expert, or I can choose to follow the functional management path and guide a staff to success. With that, I needed a program with a diversity in coursework between strong analytical skills so I could stay technical, and the 'softer-side' of things, so I could effectively manage a group of people one day. MEM provides the foundation to be exceptional on either path – and even gives you the knowledge and confidence to trail blaze a completely different path!
Favorite Class/Professor?
It's a toss-up for me between Professor Berger's two classes, MEM424: Leadership & Organizational Behavior and MEM429: Negotiations. The class time was engaging from start to finish, with discussion free flowing where everyone's opinion could be heard; I was always excited for class! Both Leadership and Negotiations work on a very specific set of skills as a leader, and rather than just learn the concepts, Professor Berger designs coursework that forces self-reflection. It made everything significantly more relevant and created great personal growth. I frequently reference the materials and use concepts discussed in both classes.
What is the most surprising aspect of your experience in the program?
I am absolutely impressed with my peers! I figured they would be a stand-out group, but they've exceeded all expectations. The experiences and knowledge that is shared during class discussions is awesome because it spans so many different industries. I live in my little bubble with my work and listening to the whole world out there and the problems they are solving is fantastic, nothing better.
How does the program experience prepare you to reach your professional and career goals?
Starting the program, I wanted to make sure that I could be considered for a variety of different projects or positions. The program helps make that happen by offering a business focused curriculum, with electives available in all topics. I now have a strong background in such a variety of topics that I can be an asset in any situation.
What is distinct about your program experience? What draws you in?
New ideas and new perspectives draw me in each week. Typically, there is assigned reading for each class and it is consistently relatable. The cases describe a similar issue I have experienced or make me think about something I can change or update in my own work. The discussion stays relevant, for example, in Marketing with Professor Marasco, we discussed the new musical sensation "Hamilton" and the buzz surrounding the star Lin-Manuel Miranda. It was a pop-culture sensation that made for a great analysis.
What do you feel you're learning from Northwestern's program that you might not be experiencing elsewhere?
I enjoy the campus connection that I get from Northwestern. It also brings you closer to your peers and activities to get involved with. I was able to attend a networking event with the Industrial Engineering Undergraduates where I could share my experience and hear about their job search.
Once you've graduated and are looking back, what do you think will be the most valuable thing you will have received or learned from this program?
The most valuable thing I've gained from the program is a confidence in my leadership characteristics. I have been able to explore different aspect of leadership and I find myself trying different ideas in my interactions at work.
What advice would you give future/prospective students?
It is never going to be the right time in life to go back to school but make the time. It does come with small sacrifices along the way. You'll have to prioritize schoolwork over spending time with family or friends, or that beach vacation, but it gets easier as you progress in the program. The schedule naturally adjusts itself to accommodate the school. So, go for it! I have a strong feeling it'll turn out to be one of the best gifts you could ever give yourself.