My Internship at Generac Power Systems
Siva Raman looks back on the lessons he learned during his MEM internship.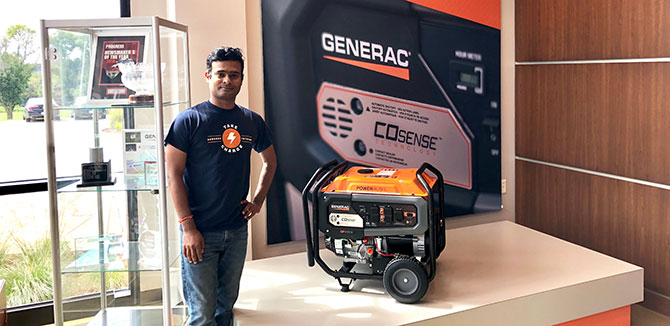 By Siva Raman
I came to the Master of Engineering Management (MEM) program at Northwestern Engineering last year with five years of experience working as an engineer. I felt ready to make a career change, and I was curious to know how engineering businesses are actually managed. I wanted to work at a company that makes connected products for industry, but I didn't know what that experience would be like.
MEM helped me find my answers.
This past summer, I had the opportunity to be a product management intern at Generac Power Systems in Waukesha, Wisconsin. Generac is the top manufacturer of home backup generators, and it also manufactures the widest range of power products in the marketplace, ranging from portable and residential products to commercial and industrial generators
Generac is looking to lead the industry in connected power devices solution space, and I was able to directly contribute to this effort. I performed competitor analysis for industrial and home generators, specifically focused on connected (IIot) solutions. Generac has a product called Mobile Link, which uses WiFi to provide users with on-time statistics and maintenance updates. As Generac says, Mobile Link "lets you check on your standby generator's status, or receive timely notifications when something is needed, using your computer, tablet or smartphone. With Mobile Link, you'll always know exactly what your generator is doing — or not doing."
I was able to perform the responsibilities of a scrum master and project manager for a project to improve user experience and increase product adoption. I also identified consumer pain points and defined product requirements for Generac's engineering team, and I was able to assist in product launch and product roadmap preparation.
The best thing about my internship, beyond the introduction into the industry, was the exposure I was able to get. As product manager intern, I had high visibility in the company. The company and my boss also let me sit in on a variety of important meetings, even if I wasn't going to be contributing to the conversation. They wanted me to get a look at how the business worked, and I am incredibly grateful for the opportunity.
Remember, I came into the internship with no experience as a product manager. I went into the role trying to learn as much as I could about the position as I considered whether to make a career pivot. The internship allowed me to tread in the water and try it out before putting my full heart into it. You can romanticize about a career or industry, but until you actually experience it, you don't know if it will be what you want or if it will be boring.
Being able to evaluate a job before you take it full time is really valuable. That's why the MEM internship makes sense.