Lessons Learned From MEM's Two-Day Certified Scrum Product Owner (CSPO) Workshop
Fizza Jaffer (MEM '19) talks about why she participated in the Northwestern Engineering event and what she learned from the experience.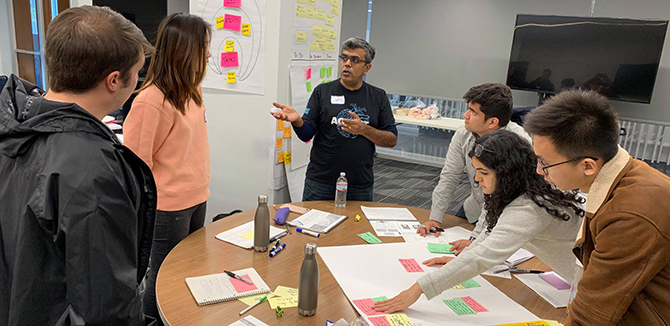 In today's digital world, businesses and technologies are evolving at a rapid pace. Within organizations, product managers occupy one of the most critical positions in that they are tasked with keeping the process of product development running smoothly. It's a challenging job, but it is also one that can play an incredible role in the health and vitality of a company.
To help students interested in product management get additional hands-on training and preparation, the Master of Engineering Management (MEM) program at Northwestern University recently held a two-day Certified Scrum Product Owner (CSPO) workshop. The event was organized and led by Vibhu Srinivasan, Director of SolutionsIQ Agile Software Lab at Accenture.
Fizza Jaffer (MEM '19) participated in the workshop and shared her thoughts on the experience after the fact.
Why were you interested in participating in the CSPO workshop?
The fast-paced technological advancements make it imperative for product managers to stay abreast with the latest developments. The increasing market competition calls for a greater awareness and sensitivity toward the customers' needs. Developing a product for months only to realize it was a futile exercise due to poor response wastes time, human resources and financial resources, too.
The Scrum Product Owner workshop ensures timely revision of product development and improvisation that keeps in mind the dynamic nature of technology and customer needs. The frequent "sprints" help teams re-strategize their methodology in the course of the product development. To experience and adapt to such agility was the reason why I took part in the CSPO workshop.
How would you describe what you did during the workshop?
The two-day workshop was a simulated industry experience. We divided into teams and were asked to ideate a new product. We structured the product roadmap and developed sprints, but then we were suddenly asked to switch teams and refocus on another team's product. This element of surprise made us reset, readapt and refocus on a different aim. To put it in a word, it was "agility" personified.
What were the two of the biggest things you learned from the experience?
I learned to break down a "vague" idea into actionable, time-bound items to achieve the ultimate deliverables in collaboration with teammates I never worked with before. I also learned the importance of tracking "To do-Doing-Done" Items and to not lose sight of the goal.
What does it say about the MEM program that you're able to take advantage of workshops like this?
The fact that Northwestern Engineering's MEM program had an existing Product Management course and was able to organize a hands-on, industry-simulated CSPO workshop speaks a lot about the program. MEM ensures it trains its students to have the knowledge needed to meet industry requirements. The workshop added value and helped the students assimilate the foundations of the PM course in conjunction with the idea execution.
Is there anything else you'd like to add?
I will look forward to similar opportunities in MEM where I can work in accordance with the industry practices and deliver results that I never thought I would be able to!