Alum Spotlight: Amber Aggarwal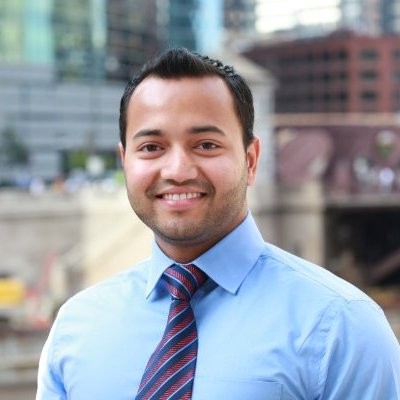 Amber Aggarwal, originally from Delhi, India is a 2017 alum of Northwestern MEM program and a Bachelor of Science graduate (Mechanical Engineering) from Cleveland State University. While at MEM, he was a Sr. Mechanical Engineer at Motorola Mobility, he now works as a Sr. Camera Module Engineer at Microsoft based out of Seattle. Amber is a travel and food aficionado who loves hiking in Pacific Northwest and drools over Indian, Thai, Italian and Ethiopian cuisines. Considering his recent association with the program he shared his insightful and germane experiences with us for our alumni spotlight feature:
Can you give a short description of your role and job responsibility? 
As a Sr. Camera Module Engineer, I'm responsible for delivering industry leading, high performance and smallest possible camera sub-system for Microsoft's Surface products that include the 'Surface Pro' series, 'Surface Laptop', 'Surface Book', etc. In short, I help you take a selfie from your tablet/phone (Motorola days).
What's your favorite class or teacher in MEM, Why?
I enjoyed all my classes at MEM, however, the most memorable ones were the first and last course. The first class I took was 'Decision Tools for Managers' with professor Amjed Shafique. This was touted as one of the more difficult classes in MEM but my experience was quite different. Professor Shafique made this class easy to follow while learning intricate quantitative tools that I could immediately use at work. My last class was 'Strategic Management' which is generally regarded as the best class in MEM with professor Donald McNeeley. He made sure to give us a holistic and comprehensive view of all the concepts learned throughout MEM with great examples and case studies.
What new skills did you gain and how did this impact your career or professional life?
As an engineer, I am already detail-oriented and analytical but MEM helped me be more strategic in my approach towards problem-solving. The program helped me understand the big picture and I was able to illustrate this to my colleagues and managers. The skills gained from classes like Negotiations, Marketing, Finance, etc. has helped me keep up with folks from different organizations in different disciplines within Microsoft and beyond which is extremely valuable to build my credibility as a trusted employee.  
What unique aspect of the program did you experience that you felt was unique to Northwestern's program?
All MEM students are required to have work experience before joining the program. This requirement brings a unique global perspective that students from different parts of the world bring with them and share with other students. It was fascinating to learn about market trends in South America, Africa, Asia from peers.
How did the program structure help to make earning this degree a possibility for you?
I attended this program part-time so the fact that the classes were offered in the evenings played a huge role in making this program a success for me. After a gruelling day at work, it was refreshing to learn something new and different which motivated me to keep going.
What connections were you able to make with classmates, faculty or industry and how?
I was able to connect with a lot of talented individuals during MEM. In fact, I keep myself connected with Northwestern Alums at Microsoft. 'Networking' is widely encouraged in all the classes at MEM. It forces you out of your comfort zone and helps you build the skills necessary to present yourself professionally. Once you try, getting used to this takes no time and before you know you master this skill.
Word of advice to future students:
Students should make use of EVERY opportunity, however big or small and interact with folks outside of the classroom. Programs like "Externship" gave me the opportunity to shadow a Northwestern Alum at Microsoft before I even thought about working here. It gave me a rare glimpse of the inner working of Microsoft and learn about its culture. It also helped me make valuable connections who helped me through the interview process. Finally, I'll leave you with these words by the great author Edward Everett Hale, "I am only one, but I am one. I cannot do everything, but I can do something. And I will not let what I cannot do interfere with what I can do." Do the best you can in everything you do!